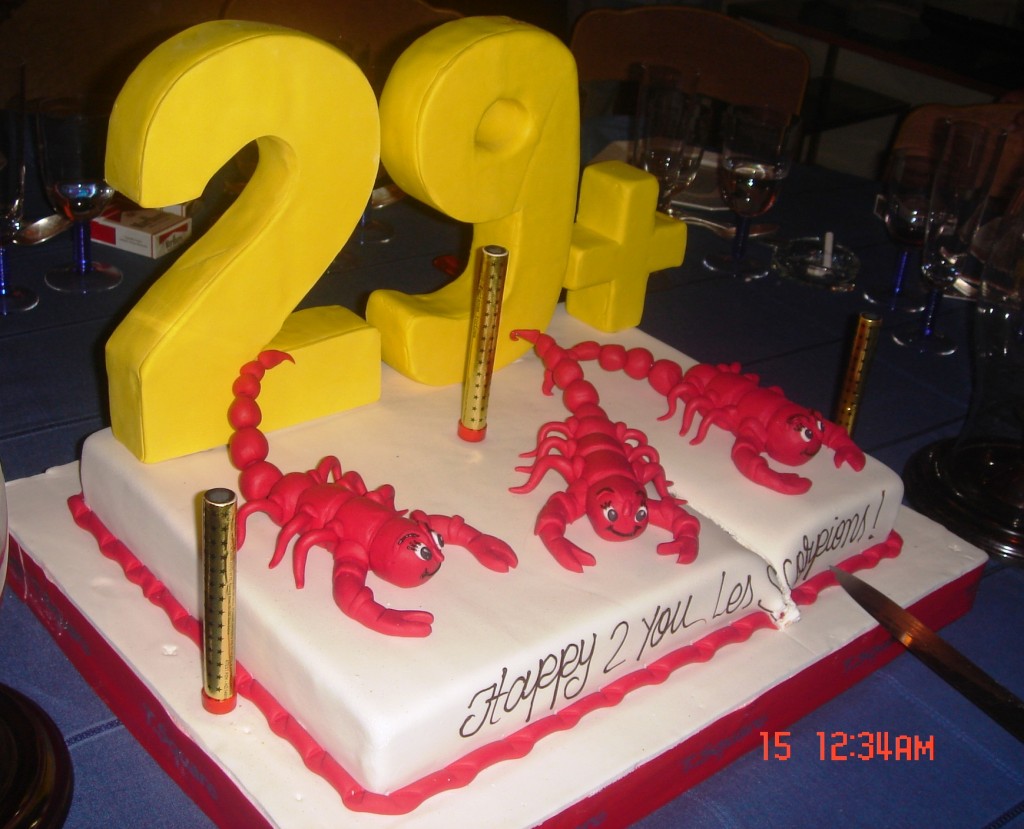 TODAY is MY Birthday! I'm officially one year YOUNGER ;)!
Oh, and in case you're wondering…
YES, those are baby scorpios on the cake since I'm a November child.
NO, it's not this year's cake and I'm not 29 – there's a plus sign right next to the 9.
NO, I"m not sitting in front of my laptop on my Bday writing this post. Actually, yeah, I am. But it's only a couple hours into it.
YES, I have every intention of having a rockin' time (hopefully) to celebrate this momentous event.
I've been wanting to write a post like this for quite some time now, but I suppose I didn't build up the courage or better yet, the balls, until now.
Besides the small About Me section on the Home page and the WTH is nG? page, getting personal on nittyGriddy is something I don't do. But once in a while, it's okay to make an exception.
I see more and more people doing the personal post in blogs. Actually, I've read a few up close and personal style posts lately which encouraged me all the more to write my own and share it with you today. The only difference is, mine wont' be THAT up close and personal. Not the kind of news that'll have you calling your BFF at 8 am to gossip. I'm keeping the juice to a strict minimum :(.
Sorry folks, but I'm a rather private person and I live in a tiny country, where like Cheers, "everybody knows your name" [this line sounds much better if you sing it – go ahead, you know you want to :)!]
But, this post is still pretty good, so keep reading!
And here it comes…
"Without further ado and blah blah", I present you with 17 + personal but NOT SOOO personal things about Griddy.
1. I love AND hate my birthday.
I love the fact that people – even the one's you don't talk to everyday and the one's that live abroad – remember you and always have the kindest things to say.
I love how the checks and presents come rolling in

– the checks cause I know the bank won't call again for at least another month lol and the presents – well, who doesn't like ripping them open?!
I love that even though I hate the idea of turning a year older, I mean younger, I still make a big bash out of it and celebrate with my XXX closest friends.
I love that I can use "sorry, no can do, it's my birthday" as an excuse for not meeting with a client on this particular day – as I just did yesterday.
I love seeing all the messages on Facebook that I sit and reply to individually – yes, I actually take the time to do that!
I love that I'm in such denial about getting older – NOT old – that I still open my passport to triple check that I was actually born in 19xx.
I love blowing the candles on my cakes – yes, that's plural – one at home with my family and one with friends.
I hate how I always head to the mirror to stare at my face just to make sure it hasn't aged or changed in any way. PHewww, thank God! Still no wrinkles :)!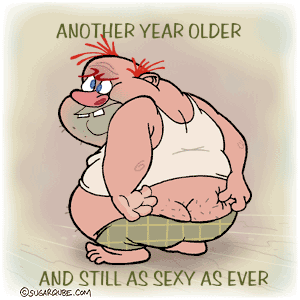 2. When I first started

nitty

Griddy

, I had no clue what it was going to be about.
Really, I didn't.
And you can clearly see that from my first few posts – the one about my first blog, the one about the pig farting fiasco, the one about the donkey being turned into a zebra, the one about the drunk kid and the giraffe…I kinda sound like a commercial for Friends

– you know, the one where…
All I knew then,  is that I wanted to write – my passion. And I'm happy I did, because I've learned more in a year than I ever have.
I've come across and gotten to know some incredibly insightful bloggers, and I've learned a ton from them.
I even talk like a Social Media blogger now…SEO this, Plugin that, I should write a Post about this, do you Meta tag, Google Analytics or Alexa, what's your Klout, follow my RSS, Tweet this, RT that, is your blog Monetized, Garrett or Godin, Mashable or TechCrunch…
All I know now, is that if I continue to put my heart and soul into this blog, it will turn into something great.
3. I may not look it, but I played fast pitch softball for the NCAA's.
Crazy but true!
I was actually a huge athlete until I graduated college. A jockette if you like.
Sports were pretty much my life since as early as I can recall. I have more All-Star patches from high school than I can count.
I pretty much dominated tennis, kicked ass in soccer and rocked the bleachers at softball. Yes, I had an ego the size of Australia. Why Australia? For one, that's how far I could hit the ball; and two, it seems all the great bloggers are from there lately lol.
I've been playing softball since I was 7 and I absolutely love it. Everything about it. The psychology of the game, the competition, the thrill, the sliding and diving, the fun – just not the early morning practices lol…But unfortunately, I haven't touched a bat in over 12 years.
So, now I'm just lady like without the glove :).
4. I'm a smoker.
Don't give me that look! I know it's a bad and ugly habit.
But in my sorry-ass defense, I first started (way back when) because they told me it was cool. And it was – so I thought.
Just holding that Marlboro outside the campus gates had all the other high schooler's looking up at me with that famous, popular crowd, head nod that said "hey, what's up?"
Or maybe they were just doing that because I was a Varsity athlete? Hmmm…
I admit that I enjoy smoking. Especially after a meal or with a drink. But I also admit that I'd give anything for enough will power to stop. Not cut down. Cold turkey stop!
It's by far my greatest if not only, regret. And to tell you honestly, I'm petrified of continuing. No explanation necessary.
But the odd thing is, I don't like smoking in the dark, or outside if it's really windy. I don't know, it just tastes different.
Son of a B@#$%- I'm actually holding one now as I type! WILL POWER, where are you?!
5. I can't stand being lied to.
Okay, who does? I mean, seriously, do people really think you won't find out one day? Maybe not today or tomorrow, but a lie can only go so far before it comes back to slap you in the face.
I can handle a harmless little white lie – hell, we all do that. But flat out bullshit straight to your face? No, No!
You see, the thing about me is – I don't look stupid. And I'm not! Some people just have that stupid look about them but are actually brilliant. I'm plain out smart, and even worse, I'm kinda witty. So please don't insult my intelligence by feeding me crap. I ain't buyin' any!
Wow, tell us how you really feel Ingrid lol!
6. I love my friends more than anything else in the world.
Actually, I treasure my close friends. They're almost like family to me, and some actually are.
There is nothing I wouldn't do that's within my power or means for a good friend. You know why? Because they would do the exact same for me. And let me tell you, I am beyond blessed with some of the most amazing friends a girl could have.
If one is feeling down, I will go so far as acting like a buffoon to make them laugh. That's the other thing about me which I'm gonna slip in here. I love to make people laugh, especially my friends. I have a good sense of humor and consider myself to be relatively funny, so why not put a smile on someone's face if I can? After all, I do it for you quite often with my posts :).
I could write an entire book here but I won't. Instead, I leave you with this quote by William Arthur Ward which pretty much sums up a good chunk of what friendship means to me.
"A true friend knows your weaknesses but shows you your strengths; feels your fears but fortifies your faith; sees your anxieties but frees your spirit; recognizes your disabilities but emphasizes your possibilities."
7. I've watched one too many movies.
You may be thinking – so has everyone. But seriously, I win here.
I've watched so many Hollywood's and Bollywood's that I practically live in them at times.
I still expect to be swept off my feet one day like Bed of Roses – even though I know deep down that it doesn't work that way – anymore.
I want to take karate lessons after I see another one of Jet Li's flicks.
I want to become a lawyer after I watch an episode of Law and Order.
I'd rather not mention what I wanted to be after I saw Pretty Woman lol. Com'on, so did every girl!
I wanted to be a baseball champ after I watched The Natural – and what do you know, that one, I accomplished :).
I wanted to start scuba diving to find the blue diamond the old lady threw overboard from the Titanic.
I wanted to be an archeologist because of Harrison Ford – well, that and I lived in Egypt for many years.
You get my point?
Basically, I wanted to be a shit load of things. But you know what, I'm ME. And bottom line is – I love being ME cause ME ain't so bad after all – could be much better – but, I'm an okay gal :)!
8. My favorite food is Lebanese food.
No, it's not just because I'm Lebanese – well, maybe a little ;).
But seriously, have you tried it? I'm not just talking the basics like Hummos, Taboule, Shawarma and Falafel. I'm talking the real stuff. The Kebbe be Labnieh, Bazella w' Riz, Shish Barak, Kafta ou Batata bel Feren…
There are so many yummy dishes that I could fill up this entire blog with more names you won't understand or know how to pronounce if you don't speak the language.
I guarantee you, it's by far the richest food out there.
Sure I love Italian, French, Mexican, Indian and Chinese. And God knows I could live off Sushi for a month but hands down, Lebanese all the way!
9. I can't cook to save my life.
It's not that I suck at cooking, I really don't know how. Not even rice!
And I'm not proud of it. I actually mentioned this before in my post about the Epicurious iPad App.
What's funny is that I lived alone for many years and probably should have learned how. But…
I attempted to cook steak many times, but it pretty much tasted like charcoal.
Then I thought – how hard can eggs really be? Luckily, not so hard. My sunny side ups, I'm happy to say, are eatable.
As for spaghetti, let me put it this way. I throw a string at the fridge. If it sticks, then they're good to go. If not, then ooops.
Actually, I don't know why I'm talking in the present tense here. The last time I tried cooking any of the above was when Clinton was doin' the dirty with Monica lol.
Note to my future husband (one day) – Sorry!
10. I'm a sissy drinker.
It's true. For some reason, I'm not the biggest fan of alcohol although I really try :).
I've been drunk maybe two or three times but that's about it. I've been tipsy a few, but still sober enough to drive and make sense of my words.
My favorite drink is the one most teenagers start off with. The Screwdriver. But mine tastes like watered down orange juice since I always ask the waiter to pour a touch of Stoli or Grey Goose (decor, as I refer to it) and the rest, pure orange juice. Oh, and full ice of course.
As long as I don't taste the vodka too much, I'm fine and can drink a couple.
I can also do the other and even sissier girly shot – Sex on the Beach.
I'll drink a few sips of Champagne, just for the toast but I don't like the smell of it, much like Whiskey.
I pretend to like white wine, but I squirm with every gulp.
As for tequila – been there, done that – but Jose and I just don't click.
So sad, I know!
It's not so much that I like being in control of myself, but more so that I really don't like the taste. I'll keep trying though ;).
11. I don't sleep before the wee hours of the night.
To say that I'm nocturnal, is an understatement.
For some reason, I just can't sleep early. Plus, I need TV. 8 out of 10 times, I'll wake up to the blue screen.
I've been that way since birth I think.
I got used to doing homework at night and realized that I concentrated better when it was dark and quiet outside. That and I was the queen of procrastination; hence the countless all nighters I've pulled – till today.
I simply work best under pressure.
Needless to say, I don't do morning meetings.
I'm useless before 11 am. I'm awake, but my thinking cap isn't on – unless I've been up all night.
Don't get me wrong. I'm not lazy, even though I can be. I work my ass off, especially on this blog, but I just don't do it at 9 am.
12. I speak 4 languages.
English – obviously, French, Arabic and Spanish.
I've been speaking all of them since I was a child.
Where I come from, most people speak 3. And if you've been to Lebanon, then you know we mix all 3 in our daily vocab. Actually, one sentence can have a word of each. Totally cool and understandable – for us.
French, English and Arabic are mandatory in schools here. But I grew up abroad and was in the American system my whole life where only English was taught – until high school where a foreign language was required. That's where I learned Spanish.
French and Arabic on the other hand, are spoken at home, and like English, are also my mother tongues.
Remember what I said about little white lies in #5? Well, here's mine:
On my resume that I sent out after I graduated college in Boston, it said I spoke 5 languages. I used to include Egyptian Arabic lol. True, the dialects are very different. But it's still Arabic. So maybe it's just half a white lie ;).
13. I detest being told what to do.
Okay, so I can act like a spoiled brat at times, but seriously, who likes to be told to do something they don't want to?
Just let me figure it out and do it on my own.
The more I'm told to do something unappealing to me, the more I'm inclined to do the opposite.
I'm disciplined – at least I used to be much more than now. But please don't push me.
Not that my parents will ever read this but just in case, SORRY!
On a brighter note, I was a pretty good kid. I never got into any BIG trouble. Probably because I was too scared to pay the consequences lol.
When a client sends me an email requesting if we can meet at a certain time, then yes, absolutely. But when they send me an email telling me the meeting will take place at X o'clock. Then NO.
My college coach once told me to run the mile again cause she didn't think I ran it under 7 minutes the first time round. Are you kidding me?
I stormed into her office and told her to go @#$% herself. That was probably the first and last time I lost my composure – and my head. And boy did I regret it.
I was running laps like I was training for the Boston marathon the rest of the day lol.
14. I very rarely lose my temper.
I'm as composed and diplomatic as they come – 90% of the time
I can be boiling inside to the point where I want to open a can of whoop ass and shove it down your throat! But I will remain calm and composed and speak in a low and polite tone. Believe me when I tell you that it's hard as hell.
I learned long ago, that you don't get what you want by yelling. You don't get people's respect by being impolite or rude. And nobody hears you if you're screaming.
There is nothing more powerful than remaining calm when the person in front of you isn't.
There is nothing like staying polite and dignified when they've done something so shitty that you actually want to swing a bat at them and yet you force yourself to look them in the eyes and speak calmly.
There is nothing like indifference – even if you're not!
Sure, I can be sarcastic. I do it often under such circumstances and I'm quite good at it. But I'll try to be sarcastically cool with a disappointed look.
For me to lose my temper would mean that all lines have been crossed, all barriers broken. And I don't like me when it comes to that.
15. I'm a shitty karaoke singer.
I'm being kind with my 'shitty' adjective. I couldn't carry a tune even if it killed me.
Actually, music is not what you call my forte.
In my car, I sound great. But that's because I'm the only one listening.
In the shower…well, it's already raining, how much more damage can I do?
I was a soprano in my high school choir because they felt sorry for me. I stood at the very back.
I played the same song on the recorder (Mary Had a Little Lamb) for 3 years cause I couldn't read the notes.
The only song I can actually sing, and I'm so embarrassed to say this, is "Ice Ice Baby".
For some retarded reason, I sang it as a joke once and somehow it stuck. So now, if I must make a fool of myself and sing in public, that's the one I do.
I pretend to be making fun, but I'm actually pathetically trying to rap my way to rhythm.
My advice to you is EARPLUGS!
16. I love to travel.
Long distance, short distance, doesn't matter. Love it, love it, love it!
I have visited more countries than I can count and have lived in some of the greatest and most cosmopolitan cities in the world.
I will spend my last dime on a trip somewhere, anywhere! I think discovering new places is one of the most fulfilling things in life.
My greatest asset is that wherever I go, I usually know someone – actually many a one! That's the thing about my friends, they're not only great, they're also everywhere!
17. I'm damn proud of my family, background and education.
More than you can imagine, actually.
My family comes first in everything.
They have offered me a life that others dream of, an education that others fight for and a home that others yearn for.
I owe everything I am and have to my parents who without a doubt have raised me to the best of their abilities for they have instilled the proper values in me.
They have taught me to do what's right. To be honest, virtuous and kind.
To take responsibility for my actions – even though I don't always do.
To improve myself and make use of my full potential – even though I ought to be doing more.
To be polite and respectful – even though I should be more towards them.
To strive to be better than they are – even though they're my idols and I have yet to reach their ankles (an old Arabic saying).
For that I am blessed and grateful everyday.
I could have continued this post for at least another 10 pages, but I'll spare you the endless reading ;). I hope you enjoyed it none the less.
Your thoughts are always welcome here. So go ahead and share them if you like. And feel free to add a little about yourself if you feel inspired to do so. But most importantly, send some Bday wishes my way :).