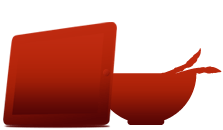 I'm far from being the next Julia Child. Actually, I can't cook to save my life. And by that I don't mean that I'm a bad cook, I mean that I'm a NO cook! Alas, sad but true.
The simple reason for why I said Julia Child instead of going with a more recent culinary master like Martha Stewart, Wolfgang Puck, Jacques Pepin, Alain Ducasse, Jamie Oliver…is this:
Last November I watched the film Julie & Julia – you may have heard of it. It's a contrast between the life of Julia Child during her early culinary career in Paris and Julie Powell – a young New Yorker who aspires to cook all 524 recipes in Child's first cookbook in 365 days; a challenge that she chronicled in her blog that would in turn make her a published author. This movie is actually the first major motion picture based on a blog.
Only half-way through the movie, and I was already inspired! I couldn't wait till the end to get started on my very own blog. I bet you expected me to say that I was all of a sudden inspired to cook! Well…maybe to at least learn a recipe or two. Long story short…in less than 24 hours, I had already set up nittyGriddy and written my first post.
And now that that story is out of the way, let's move on to the actual purpose of this post which is: to tell you a little bit about the Epicurious application for the iPad.
The Epicurious Recipes & Shopping List application from Conde Naste Digital is brought to us by the award-winning site, Epicurious.com. The newly updated iPad app is similar in features to its sister iPhone app but bigger and better. It includes over 30,000 mouth-watering recipes from popular magazines like Gourmet and Bon Apetit as well as from well known cookbooks, chefs and restaurants. This next-generation kitchen companion is the ideal stove-side partner.
Here are some other features that this yummilicious digital cookbook app offers:
You can browse recipe collections from weekend dinners and brunches to spring cocktails and desserts.
You can search food and drink recipes via keywords or filter your searches by what's in your fridge, what's in season, what's healthy, what holiday it is…
You can add recipes to your favorites box as well as email them to friends or better yet, significant others if you're trying to place a hint :)!
You have access to hundreds of thousands of ratings and reviews from Epicurious members.
You can add ingredients to your shopping lists and check them off as you find them in the store.
You can cook with the help of your kitchen-friendly iPad by following recipes step by step.
You have access to nutritional information for thousands of recipes.
You can constantly update the menus online.
I think this app is gonna' give traditional cookbooks a run for their money. I'm on the verge of downloading it myself now just to see what recipe I can stare at the longest before I swipe the page to the nearest and easiest turkey and cheese sandwich – because THAT – I can actually make;)! Wait…I just discovered something! There's a section aptly named "I Can Barely Cook" that will walk you through the simplest great tasting meals. I can't believe they read my mind and included an entire section for kitchen-challenged, food-loving folks like me. What more could I ask for? It's like 'Cooking for Dummies' ;).
Did I mention that Epicurious is free? The only thing you'll have to pay for is your ingredients. So, all you food aficionados…download this app now if you haven't already, get your iPad's to the kitchen, get out your pots and pans and get started on an agreeable and delectable iCook session with the cook's companion.
If you'd like to see how the Epicurious application works, then check out this quick demo from TiPb Apps.
[image credit (top left): Epicurious.com]