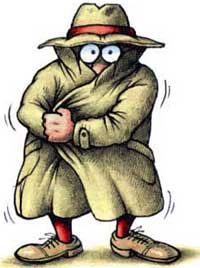 Hello My Lovelies,
And welcome to the first post of my new series – Bring IT! 😀
I've been looking forward to starting this, as I've got about 10 weeks worth of questions sitting in storage – also known as my little big book lol.
As you know, the point of this series is to create an engaging community; one where bloggers (and non-bloggers) can meet, share, support and learn from one another.
I know I have a ton to learn from you and I'm hoping that Bring IT! will allow us to listen to our respective experiences as well as exchange views, tips and ideas.
So bring whatever you got, cause I'm all ears – plus a little bit of mouth ;).
Alright. Enough with the blah, blah…Time to Bring IT!
Over the course of my blogging journey, I've asked myself this question a few times and now I'm asking you:
How Much Should You Reveal About Yourself to Become (or be Labeled as) a Successful Blogger?
It should go without saying that every blog needs an About page. Yes, we've heard it a thousand times. But what's in your About page, posts or comments?
How much of your actual self are you putting out there and why?
Do you need to portray your personality in your "online voice" (or writing) for your business to succeed?
What is your comfort zone?
Obviously your first answer is, "it depends".
It depends on your job, your brand, your personal life…
It also depends on your niche or theme; your "real life" personality and privacy concerns; whether you use a pseudonym like James from Men With Pens and so forth.
There are a multitude of reasons for this but I'm interested in your particular ones and how or why they apply to you.
As For Me…
I believe people can identify with what they feel is a real human being. One that has similar (or even different) thoughts, problems, reasonings, character…One that will listen and reply to you.
We are drawn – at least I am – to the unique personality of an author. To their tone and writing style. To the humor they bring, the value they offer, the thoughts they challenge, the passion they show, the knowledge they exuberate, the liveliness they portray, the interest they demonstrate…
There is no doubt that some of my personality is visible through my nittyGriddy voice. I think it's a big part of what attracts my readers.
My focus is to provide you with useful information that relates to Social Media, but to do so in an entertaining manner; with a little wit, smarts (not farts, Gini) and sarcasm.
But I also realize that I don't get too up close and personal either. I don't talk about private issues regarding my family and friends or use their names.
I share what I think is appropriate or relevant to the topic at hand – whether through my posts or in my comments.
I often use a story-telling format to give an example but I make sure no personal names are involved.
This blog is not about self development (although it helps me develop more everyday), nor is it a reflection of my personal everyday life.
But I do think it's important that you get a feel for me as well. How I think. How I express myself. What I like or dislike. What qualifies me and what doesn't.  What kind of articles interest me…
Thus, one of my reasons for publishing 17 Things About Me, if You're curious to Know on my birthday a couple months ago.
What About You?
What are you willing to share with strangers and virtual friends?
How much of your clothes are you taking off (metaphorically of course lol)?
Is it helping you achieve your blogging goals or online success?
Bring IT!
[image credit: The Sydney Morning Herald]