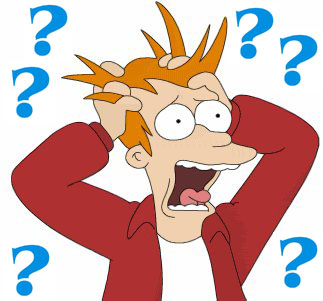 Hello My Lovelies,
Are you as excited as I am for round 2 of Bring IT!? Yes…No?
Okay, so maybe this series isn't what you've been impatiently waiting for all week, but you can't blame a girl for showing a little enthusiasm, right ;)?
I was overjoyed (as in jumping up and down in my head) by the turnout on last week's Bring IT! It was certainly brought, and then some!
The comments were so thorough (Griddy-length) and I learned quite a bit; both from and about you. I hope you feel the same way, cause after all – that was kinda the point.
So, thanks again for taking the time to share how much of your self you're willing to reveal to your readers and for adding to the community as a whole. I truly enjoyed and appreciated the engagement that went on.
If you didn't get a chance to leave your pennies, make sure to head over there and tell us how naked you get on the net.
It's a metaphor people! Sheesh!
Unless you're (insert cool hot dude's name here lol), I have no interest whatsoever in you stripping down to the nitty-gritty. Ha!
Alright, moving on to this week's Bring IT! question…
What is Your Biggest Challenge as a Blogger?
What do you struggle with most?
Or in other words – what is the hardest thing you face as a blogger?
I think it's safe to say that every blogger aims to create value for their readers somehow. We always want more traffic, comments & engagement, shares, likes…Even if we know that it's really quality over quantity that matters.
But what about these factors:
Remaining consistent
Crafting compelling content
Creating value (whatever value may be)
Establishing credibility
Keeping motivated day in and day out
Implementing SEO strategies
Attracting subscribers
Building an email list
Monetizing efforts
Higher rankings
I'm not gonna' spell them all out for you, cause you know what YOU struggle with. These are just a few of the popular ones.
As For Me…
I probably struggle with most of this list, but I'm only allowing myself to share 2. Damn you word count and attention spans lol ;)!
1. Motivating to learn and implement SEO strategies – that's a big one for me.
I'm the writing kind of blogger. I'm ATTAC – "all things techie with abbreviations challenged".
I don't do the whole keyword search thing.
Besides filling in tags and part of the "All in One SEO pack", I don't do much else. No Market Samurai or any other ninja like tools for me.
I don't have PayPal and therefore am limited to what I can purchase online. But that's another story.
Everyday, I say I'm gonna' work on my SEO. I have all the necessary pages bookmarked, all the free plugins and add ons installed and yet…
I suck at this and I wish I could hand over my WP password to someone like Alex, Ana, or Tristan (and a few others) to do it all for me, but that would defy the purpose.
2. Not taking so long to write each post – Long, as in time and not length ;).
I always want the post I'm working on to be better; to have a catchy image, to be void of any typos, to be more entertaining, useful and easier to read…and therefore will go back and forth 100 times before I hit publish.
You see, I'm kind stuck in the anal stage when it comes to writing. It has to look and sound perfect to me.
A teacher once told me that there was no such thing as an A+ paper. He was right.
There's no perfect blog post either – no matter how hard you try to make it one. Accept it and move on (if you can).
I'm also easily distracted (damn you Twitter & co.) and tend to multi-task.
Instead of focusing on one post at a time, I tackle 8. If I don't get into a zone or "focus mode", it could take me hours to complete a 1000 word post.
I know some people use a stop watch. I don't.
I've never written a post here that took less than 45 minutes to complete – regardless of the length.
Alright, enough about me. I'm much more interested to read about you.
What About You?
Don't be shy…Bring IT!
PS – Don't forget to lend helping hand (in the comments) if you know how to make someone else's blogging challenges a little easier.
[image credit: selldomainnameguide.com]