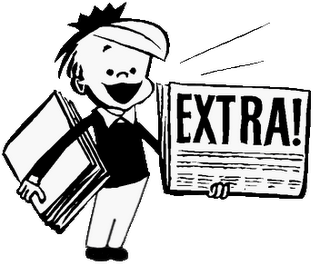 Hello My Lovelies,
Well it seems my SuperPost has a little bit of competition today with the Super Bowl XLV, so I will bow out gracefully and pretend that the 200 million people that usually read this series are otherwise occupied watching the Steelers and Packers (as well as their cheerleaders) fight for the trophy of trophies.
May the best team win.
Moving on…
I hope you all had a fantastic weekend.
As for me…I've had better weeks. But hey, such is life.
Violins won't be necessary. I'm still as giddy and sarcastic as any teenage school girl. Well, maybe like the older sister of a teen age school girl, cause let's face it – I'd be pretty balsy to try and convince you all that I'm 16 ;).
But on the bright side, my week in the blogosphere has been just as pleasant as always.
Well, Looky Here…It Seems that I'm a Badass!
Yup, that's what it looks like.
This here is a great big shout out to Diana Adams from the Rebels Network and Adams Consulting Group as well as Amy D. Howell from Howell Marketing Strategies for labeling me as one of Twitter's Top 75 Badass Women :D.
Okay, so that smiley is a bit on the geekish side but it kinda shows off my teeth. Plus, who cares? I'm a badass so I can be a little nerdy if I want to – so Ha!
In all seriousness though, some fabulous ladies are on that list, including Christina Kingston, Shelly Kramer, Erika Napoletano, Anne Deeter Gallaher, Marjorie Clayman, Kat Jaibur and 68 other badass gals, so make sure to get to know a few of them if you don't already.
Oh, It Was Broughten!
I wanted to say a quick but HUGE thank you to all of you who shared your valuable pennies on my new series Bring IT! this week. I learned a lot about many of you.
I was pleased as hell with the level of engagement, which makes me even more excited for round 2 this coming Wednesday :).
If you didn't get a chance to tell us what you reveal of yourself online and how much you tell your readers about you, then by all means – hit the comments and spill your guts!
Publicity at it's Finest or Worst?
In other news, well actually – in all the news – it's been about Egypt this week. Oh, plus a little Kenneth Cole.
Now I'm sure you've all heard by now of that infamous Tweet that's made it's way into every other PR blog and post.
If you ask me, it was in poor taste. But I'm not gonna' get into the nitty-gritty details here but feel free to share your thoughts on that.
If you haven't been following up, then I suggest you read any one of these good articles – including the comments.
In Other Blog News…
Once you're all done here make sure to stop by Danny Brown's house (not the one where he actually lives please) today for his inaugural episode of Sunday Brunch. Seriously guys, you don't want to miss Danny's insight on Social Media Policy, especially with that lady-killer accent of his ;).
On another note, my good friend Gini Dietrich needs your help finding a new name for her Top 5 Stories of the Week series. Gini was actually the one who helped me decide on SuperPost Sunday and I have every intention of going over there and sharing a few of my witty and wacky pennies with her.
Okay, phew…that's it!
So…
"Without further ado and blah blah," here are this Sunday's SuperPosts on all things Social Media, Blogging Tips, SEO, Internet Marketing, Traffic Building, Online Money Making Tools and more.
Social Media
In this video I interview Mari Smith, author of Facebook Marketing: An Hour a Day. Mari talks about the Brand of You and how to monetize your personality on social media. You'll discover the steps needed to build…
It's no secret that I love social media. I am very active on many platforms such as onTwitter, Facebook, LinkedIn, Flickr and Youtube to name just a few. And although I am not afraid of sharing parts of my life on these platforms…
Welcome back to our Symposium on Sucking at Social Media. So far you've learned how to create a crappy Twitter profile and the basics of how to suck at Facebook. This week, we will be tackling the most professional…
Early in my blogging days I spent a lot of time seeking out networks to belong to where I could engage other bloggers and promote my articles.  After sorting through dozens of networks, I eventually settled on a handful…
Your phone rings, and a voice loudly tells you: "Hello, this is your Social Media wakeup call.  Get up, and don't ever sleep through that alarm again. Do you hear me?!" An almost unbelievable situation unfolded on the…
For the last few years I've been delivering and refining my Science of Social Media presentation. A few weeks ago, I gave it at Harvard and recorded it. This is the first time a full length video of this presentation has been…
Blogging Tips
This week, I've been reading The King of Madison Avenue—an interesting biography of ad man David Ogilvy (aff). I've always been fascinated with Ogilvy and see a lot in what he's done as relevant to bloggers. So here's…
With nearly a couple of million blogs online and so many covering the same topics it can be a daunting task to gain a level of recognition and establish a brand. There are so many "me too" sites that you must find some way…
I want to make this post as quick and painless as possible. I know…shocking for me huh?! Today I want to show you how to increase your brand recognition through your RSS feed. In my opinion this is severely under…
I hate blogging. It stinks. No, better stated, it really, really stinks. Whether it's your personal blog or the blog for your small business, the whole idea of content production ain't no fun. In fact, in my quest to make sure you…
Have you ever wondered why people like Oprah are so powerful?  All she has to do is give her word of approval – blink an eye and a book will become a best-seller… blink an eye and a whole farm will no longer go mad over cows…
Today we're going to talk about something gross. If you're not up for it, I suggest you leave now, but if you think you can make it through the muck and mire and make it out on the other side okay, we'll go together…
How many of you have great content and 0 traffic? Could it be that we've all be misled? Could it be that "Content Is King" phrase is a thought-cutting technique designed to over simplify the way you approach building…
Your website must load fairly quickly to satisfy Google and your visitors. Part of your Google ranking depends on the speed in which your website loads. And of course, if your site takes forever, most of your visitors will lose…
Web analytics is more than a bunch of numbers and graphs. Take a chance, step outside the box and turn your analytics program into a high-powered tool for writing dynamic, engaging content! Once you realize…
SEO
Newly published websites require lots of tasks to be done on their first month to be able to see how feasible they will be. Tasks generally include generating traffic, building links, getting pages indexed by major search…
Traffic Building
Getting traffic to a blog is the major challenge a blogger faces. Many have read about various traffic generation strategies, but they find it difficult to get traffic to their blogs because these tips are no longer as effective…
Online Money Making Tools
If you browse around the web you'll mostly find people talking about selling websites, and about how profitable it can be. While that is true, the opposite is also true. That is, buying websites can be quite profitable too…
Alex Whalley is  another awesome blogger who started blogging at the same time when i did. I've learned so many things from Alex! It's really cool to get awesome tips from those who has been blogging for a while…
Internet Marketing
My brand is getting stronger every month – I deepen my community, get more clients and improve my business. But hey – this ain't happening on autopilot or because Lady Luck is sprinkling her magic powder on me – no…
Every time you publish a blog post or send a message to your email marketing list, your readers learn from you. But they may be learning something entirely different from what you think. Your headline might say "10 Tips…
The internet has been around for a long time now.  It's hard to believe what we ever did before it.  The ability to get information on virtually any subject has drastically changed in the last 20 years…
MishMash
Does your business have a blog? Are you looking to generate engaging comments and new daily visitors? If so, look no further. This article showcases 10 top blogs in multiple markets. Follow their lead to take your blog…
Anybody who knows me well knows that I hate the word nice. Ironically I very rarely use the word hate, but when it comes to nice it's the perfect adjective. There's a deeper point to my dislike for this word – it comes down…
I saw Jack Scrib deliver a keynote once. I was in San Francisco for my first conference as a blogger. This was before I knew who Jack Scrib was, or most of the "A-listers" for that matter. So there I was, sitting in a gigantic…
When my friend Sarah asked if I'd contribute to a series called "28 Days to Get Your Shit Together", two things occurred to me: (1) Gee, thanks Sarah, now I'm going to be forever google-paired with an article that has the word 'shit'…
As I was trying to decide what to write about for this blog post, I Googled "get your shit together" to see if anything came up that inspired me. What I found, instead, was, well, a bunch of shit. So then I thought, "How do I write…
Let's get something straight: passion is not a requirement for business success, and the seemingly 24/7 'passion-in-business' industry is selling you a pup. Despite the ever-multiplying "find-your-passion" gurus…
Our society has become enveloped with open source communication. For the most part, who you are, what you're doing and what you're thinking is being shared across the world (of course it's our choice)…
[image credit: via Cronicas do Frank]