1 Year and Still Goin'…
TODAY IS  nittyGriddy's ONE YEAR ANNIVERSARY! HAPPY BLOGOVERSARY TO MOI ;)!
Believe it or not, it's been a year since I joined this fabulous and unbelievable blogosphere that has in such little time altered my life, working hours, passions and goals.
I'd like to tell you that I'm pleased with my blog's outcome and progress so far – and I can and can't! There's a reason for both.
Allow me to explain…
What I Didn't Know
To be honest, when I first began blogging I had no clue as to what 'that whole blogging thing' entailed and what it really meant. Like many others who know squat about blogs, I assumed they were mostly personal, and I certainly wasn't interested in writing for the masses about my private life or that of my friends. Nor was I too keen on interacting with people I don't personally know (I actually still abide by that ridiculously hard-ass principle with my personal Facebook account). But at the same time, I knew I wanted to write – more than anything else. And so I did – about anything and everything.
I had read numerous blogs for work or fun but nothing concrete or educational about the rules of engagement, the tips and tricks, the do's and don'ts…I hadn't the faintest idea of what being part of the blogosphere included; the new friends and connections that could be made, the silly orangy sign that read RSS, finding super keywords for SEO, traffic building, Meta tagging, the whole Twitter folly, guest posting, pingbacks and trackbacks, permalinks, widgets and plugins, the joys and perks of commenting, Google Analytics, WordPress, StumbleUpon, Reddit and Digg, Seth Godin and Darren Rowse…pretty much the whole shindig and shebang!
I obviously knew what most were – I work as a Copywriter for crying out loud – but I had no clue that blogs depended on all of them to survive (except for Seth and Darren)!
Everyday I read, read and read some more. And everyday, I learned a little more. I did that, until I found my niche. Now I keep reading and I keep learning, but my blog has a theme, a style, a purpose, a mission, a vision, an objective and an engaging atmosphere.
What I Didn't Do that I Do Now
But here's the thing, I was stupid! Okay…maybe not stupid – much too strong of a word and let's face it, I'm everything but! Let's just say I wasn't wise enough to know what I wanted yet and what to look for. I didn't start reading and learning what I should have before I began.
It took me a while to realize the potential that a good and consistent blog could have and the doors it could open. It was only months later, that I took the 'not-stupid' hat off and put the 'wisen-up' thinking cap on! And only then, did I experience the thrill of being part of this immensely vast and overwhelming virtual society.
So, YES! November 27th, 2009 may be the day I registered nittyGriddy.com (and 4 other names) on Just Host, and published my first blog post, but it certainly isn't the day that I became a passionate blogger and Social Media enthusiast; one that wakes up every morning wanting to read the next useful article that I can learn from, Tweet and comment on; one that goes through the day searching or thinking about what I can blog about next; one that can't carry on a conversation without mentioning something about blogging or bloggers.
What I am thrilled about however, is the last few months – which to me have been the differentiating factor as to how my blog and I have evolved. These are the ones that brought me to where I am today. Besides all the positive stats, they brought me to meet all the wonderful peeps that I've so thoroughly enjoyed interacting with.
My Reason for Writing this Post
For my 1st anniversary, I was initially set on writing a special post sharing what I've learned about blogging so far and what my goals are this coming year. But instead, I thought it more appropriate to mention the sites and bloggers that I've met or come across along the way; those that have supported me; those that have taught me more than many of my IV league college professors; those whose words made an impact; those that have encouraged my writing; those that have Tweeted and retweeted; those that have commented till their fingers dropped…It is because of these folks and more that I have come to love and be proud of being a blogger!
This is my version of Thanksgiving :)! This is me saying "thank you, muchas gracias, grazie mille, mille merci, shukran and tausen dank to all of YOU – my fellow blogger friends, readers, commentators, mentors, Tweeters…
I would have loved to tell you all that your checks are in the mail or that your gifts are being Fed-Ex'ed, but then I'd be a shitty liar – much like a shitty singer ;). So instead, I hope you'll accept my simple yet sincere good wishes.
"May you all be blessed with nothing but health, happiness and a boat load of bloggin' success!"
IMPORTANT Note: These are in no particular order.
Although I would love to name and talk about every single person and blog that I read, admire and learn from – I can't. So if my early Alzheimer's temporarily kicked in while writing this post and I forgot to mention you, then my sincere apologies. Truly, deeply, honestly! I beg of you not to hate me or verbally lynch me. Instead, I kindly ask that you add your name in the comments. But if you feel the need to curse me for my short-term memory loss, then please be gentle and sweet; my blog is rather sensitive about her age lol :).
Who I'm Thankful For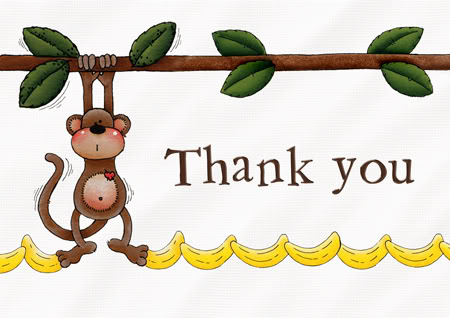 Mashable

– I don't know you Pete, but besides being pretty, you're what I aspire to become. Well, not you exactly, but your blog – a Social Media empire with many minions of writers! But with me as Queen Bee :D.
Danny Brown

from

DannyBrown.me

– You, your accent and your insightful (and even snarky) words, all rock! I have learned a ton from you and I look forward to continuing. Both of your blogs have become a part of my daily religious reading! Thank you for being an intelligent, supportive, engaging and encouraging blogger friend :). You're a wonderful and prime example of an A-list blogger with an attitude that's not too big and almighty to give the rest of us the time of day. And I for one, greatly appreciate that Mr. Brown!
Hesham Zebida

from

FamousBloggers.net

– I don't care how non-perfect your English writing skills are ;)! Cause for one – your posts are always useful or helpful in some way or another. And two – you truly are an inspiration to many – including me. Thank you for allowing Famous Bloggers to be the host of my first 2 guest posts! Through your hard work, dedication and friendly nature, you have succeeded in creating an awesome community and I'm honored to be part of it.
Tristan Higbee

from

BloggingBookshelf.com

– I'm gonna' disappoint you and keep this shorter than my usual novels lol. You're a fantastic writer who has managed to grasp my attention in every post and eBook you've written! Your talented knack to whip up what seem like daily posts is incredible! You're witty, amicable, engaging and supportive and I thank you for that Mr. Higbee :)!
Thu Nguyen

from

BloggingFor.info

– Every time I visit your blog to read another one of your fabulous posts, I walk away having learned something new. But the thing is Thu, I can never seem to leave your blog having read just one post, somehow you get me to crawl through one page after the next ;). It's a pleasure learning and engaging with you my very cool and ambitious blogger pal.
Michele Welch

from

NewBizBlogger.com

– Michele ma' dear, your sweet nature is admirable and your weekly wraps are the epitome of perfection :D. Not only are you kind but you're also generous and genuine with the information you share. Your posts are always so informative and your writing style leaves us wanting to read more. I have no doubt that your blog and business will continue to boom.
Patricia Millman

from

LavenderUses.com

– Now like I told Tristan, I'm gonna' make the effort here to not write you an eBook ;). I came to know you before I actually met you. Your comments are not only everywhere I go, but they add real value and portray the kind of person that you are; genuine, interested, unselfish, kind and encouraging. I hope your blog flourishes even faster than those lovely lavenders of yours that you love so much. Your presence and passion are clearly obvious and I think I speak for many when I say, "

come back soon and leave another of your super 2 cents

:)."
Aaron Lee

from

AskAaronLee.com

– Aaron you Twitter King, you :)! I don't think anyone needs to tell you how great the Social Media content on your blog is. You wouldn't be where you are today if it wasn't. You're much wiser than you are young and we all have a lot to learn from you. Regardless of the hundred of thousands of followers you have, you still manage to make time to engage and get to know certain peeps. I for one, am grateful for that. I hope that in the process, you were also able to find enough time to study for and ace your exams ;).
Christina Kingston

from

CtKingston.com

– Tina ma' dear, I could pretty much write an essay about you lol! What can I say? Your genuine and straight-up nature and character are a breath of fresh air. Your writing style is just fabulous – much like you. Your oumph and pizazz make you the rockin' gal that you are! I'm grateful for our new found friendship and I look forward to continuing our long and humorous discussions :).
Gini Dietrich

from

SpinSucks.com

– My dear Mrs. Spin Sucks. For some reason, I'm inspired to list all the US presidents names here but I'll spare you the dorkiness ;). To you others reading this, I say,

"never mind, you just had to be there."

I love the interesting content you provide on your blog – plus your posts are usually short and very informative  – contrary to the length of my useful ramblings ;). But what I look forward to even more are our amusingly witty Twitter chats and commenting sessions. You are simply an all-round super gal that I thoroughly enjoy learning from and talking to. Stay cool!
Troy Claus

from

TroyClaus.com

– I came to know you through that awesome Danny fella' and I'm glad I did! I think I've read every post of yours since the day you took up blogging. They're well thought-out and written and always to the point! And although my comments may be longer than your actual posts, I thoroughly enjoy leaving them for you as I always look forward to your amusingly witty replies – see pages 4 and 9 ;).
Mars Dorian

from

MarsDorian.com

– It's true Mars. The World Needs You! Your positivity, dedication, assurance and energy are remarkable. Not only that, but you're a pretty cool dude as well ;). You're always willing to help but also capable of listening and I respect that. You have undoubtedly made an impact in the blogorealm [I'm trying not to be repetitive with the sphere thing lol] and will continue to do so. Your will is inspiring and your posts are always entertaining to read and very much useful. Thanks for spreading your passion and influence. May the force be with you :D.
John Aguiar

from

JohnPaulAguiar.com – Your story and passionate reasons for blogging are truly inspiring and heart-felt. Sénior John, you were one of the first folks to believe in my blog's potential when you so generously featured me in your post, "Top 10 Up and Coming Women Bloggers" a few months back. For that, I am super grateful. Your blog rocks the block in content and resources. And on top of that, you're kind and encouraging and your ego-boosting compliments and #FF's are always appreciated :D. Salud!
Olin Hyde

from

OlinHyde.com

– The distinguished gentleman entrepreneur whose posts make me feel like going back to internet school and familiarizing myself more with some of today's web words :D. In Laymen's Terms Olin, your posts are well thought-out and researched and I often like to read them twice. Not because my brain is below average nor do I have ADD. But because I genuinely want to learn more about strategies and the Web 3.0 – and the detailed posts you provide allow me to do that. You're an earnest peep with a creative and analytical mind who has a flair for intelligent ideas and discussions. I appreciate your continuous support and interest.
Ana Hoffman from TrafficGenerationCafe.com – If there ever was a Tzar(ina) of SEO, you'd be her, Ana :). When you click publish on a new post, I'm all over it! I never thought that SEO, link building, traffic generation, blog auditing and all those other dreadfully essential tools of success, would captivate me so much. And yet you have found a way to keep my eyes glued to your daily posts of ever-so useful tips and tricks and pools of tools! I don't know how you do it, but please keep doin' it. I'm lovin' my daily dose of Cafe learning :).
Notable Mentions of Bloggers I'm Thankful for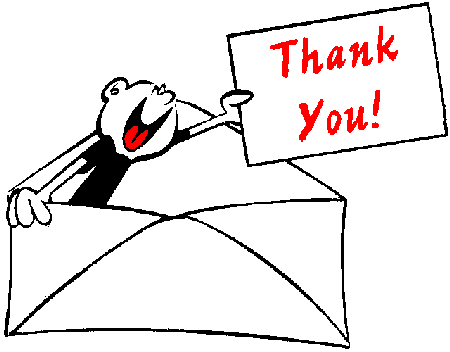 [image credits: Happy Blogoversary via Creative Home Expressions; Thank You Monkey via Picture Depot; Envelope via Show Me Money Biz]