[NOTE: The original title of this post was "Drunk McHumping"]
How much must one guzzle down to make the term 'drunken stupor' the understatement of the year?  I mean c'mon Sean; a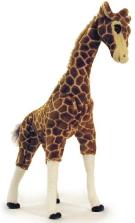 stuffed toy giraffe? Was it the long slim neck and the soft spotted coat that tickled your pickle…not once, but twice?
Yes, you guessed it right! A highly inebriated 24 year old horndog by the name of Sean McDowell was simply smittened by a 4 foot stuffed giraffe outside the bug a boo store for children in Oregon. Boo indeed! Humpaholics Anonymous (HA) will be expecting your call in the morning  you naughty, naughty boy… that is of course once your massive hangover has passed and you've been reminded of your happy humping adventures!
Come to think about it, this would make one of the best bedtime stories that a bitter divorcee could tell her kids. "Come on guys, it's time for bed…tonight, I'm gonna tell you the wacky tale of how daddy mounted Melman".
And if you dont believe me, click on the link below and see for yourself.