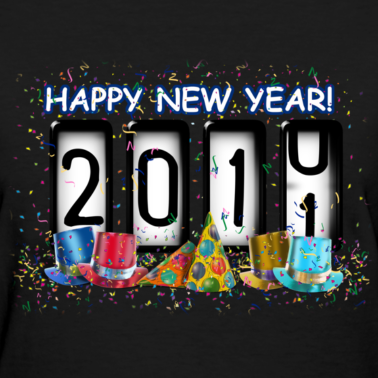 It's Almost Time…
Well, it's that time of the year again when we get all excited to write that famous yearly list of things we will and won't do and what we'll change or make better. The same list we've been making for the last decade. But somehow, we still manage to put on our ambitious face and start typing away with an air of confidence and conviction.
"Yes, this year will be different. This year, I will turn my life around. This year, I will follow through with my resolutions. This year…"
But alas, I can tell you as of now that this year – I'll still be smoking but hopefully much less, I still won't go to the gym for it bores me and I still won't be able to save a penny for I enjoy spending them way too much.
I'm far from being negative, quite the contrary. I'm hoping that my witty tactic of reverse psychology will work on me Ha!.
It's funny, I could have sworn I wrote this same post only yesterday.
Is time flying by or what?! It seems that every year goes by faster and faster and I find myself at the same intersection deciding what road to take – which path will lead me to the most desirable life. And yet here I am.
I have no intention of getting philosophical on you. Not on a holiday such as this which calls for nothing but drunken debauchery and thoughtless actions by relatively smart people who sometimes turn stupid for a special occasion ;).
A Rant worth Ranting About
I was actually all set on posting this article yesterday, but wait till you hear the outrageous excuse I have for you. And no, my dog did not chew up my screen!
You see, there was thunder and lightning all day long and when that happens, the Neanderthals that I get my internet connection from stop the internet so that the cable wirings don't go haywire! That's right – it seems that I'm living in the ice age when it comes to the internet. And that my friends, is why I had a total of 5 minutes worth of internet access and couldn't publish this post earlier! So sad and yet somehow ridiculously funny!
Did I mention it's winter in most parts of the world – including here? This should be interesting.
If thunder + lightning = no internet, then…winter = typewriter + fax machine twice a week!
Oh, and don't get me started on my upload speed or I'll have to rewrite the title of this post. Needless to say that the F word and other profane expressions will rank quite highly for KEYwords!
For a country that has it all and then some – we sure are light years behind in all things telecom. But how else would our government – I mean Ministers – I mean highly charismatic and intelligent thieves – make their money if it wasn't by charging us retarded amounts for even more retarded connections! Please excuse my politically incorrect use of the word here. What I meant was "ridiculously high" amounts for "ridiculously slow and unreliable" connections.
Okay, enough ranting and on to the resolutions!
The Usual Suspects
This time last year, when my blog had 3 readers, I wrote a similar post which listed the 12 most common New Year's resolutions made by people. If you're too lazy to click and find out what they are, here's a little recap for ya:
Quit smoking
Drink less
Get rid of the belly
Start using gym membership

Pay off debts
Save money
Plan a vacation/travel more
Reduce stress
Spend more time with family
Help others/volunteer

Get a better job or get a job
Be happy
Let's be honest, I don't think these have changed. It's not like you're gonna' find – walk on the moon, write a best-selling novel or grow balls to sky dive – on everyone's list. But you're sure to find at least one of the above.
Well, I'm doing things differently this year. I don't give a hoot about your regular resolutions – actually I do, but I needed a good intro for this next line lol.
I'm more interested in your Social Media and blogging ones.
But I do sincerely hope that you make more money, lose weight, quit smoking, become kinder, travel more and lead a healthier life. Really I do cause I want these things for myself as well.
So here's the deal. I'll share a few of my Social Media resolutions, if you share a few of yours. Yup, it's middle school all over again and little Calvin Griddy has just challenged you to a game of Peek a Boo.
I'll show you mine if you show me yours ;).
Here's what I intend (aspire) to do to improve my blog in 2011!
Some of these may be vague but I'm not very big on numbers. As long as I see positive results for each of these points, then I'm doing my job.
My Social Media Resolutions
I want to smoke less while writing my blog posts – the screen will be more visible if the white cloud is less thick lol.
I want to introduce the new redesign of

nitty

Griddy – sooner than you think :).
I want to start filling in all the SEO sections of my "All in One SEO Pack" – I think it's about time.
I want to run keyword searches and finally use Google's Webmaster Tools – better late than never.
I want to publish no less than 2 posts per week, as well as 2 guest posts per month (I'm already working on 4 GP's for January) – I'm going for more but I'm staying on the safe side with this declaration. I've also come to terms with not being able to compete with the "master guester" – Onibalusi Bamidele.
Speaking of Guest Posts – I will be accepting them here on

nitty

Griddy at some point in the near future :).
I want my Alexa rank to be at 80,000 or less by the end of June. It's at 109,000 now.
I want to find a way to create ClickBank and PayPal accounts so I can finally purchase Dan Lew's Keyword Winner, Market Samurai, MaxBlogPress Subscribers Magnet and several other online products – Lebanon is unfortunately not on PayPal's list and therefore cannot create an account; but the ultra-popular Lesotho is! Go figure!
Once I create these 2 accounts, I want to become an affiliate for Headway (the theme of my upcoming new design), JustHost (my Hosting company) and a couple others – why not support products I like and use? Plus an extra buck here and there would be kinda nice :).
I want to build and manage an email list (using AWeber or similar) so that when I finally have something to offer, I have those people to offer it to.
I want to double my subscribers – not that I have that many to brag about.
I want to double the number of monthly visitors I receive – so far, so good – but we can do a hell of a lot better. Right guys?
I want to significantly increase the number of Facebook fans and Twitter followers I have – I'm much more interested in active followers and engagers and therefore would rather have less followers who regularly interact and add value than a million who don't. But if I had to put a number to each then…300 new FB fans plus 1,000 Twitter followers by June.
I want to meet more fantastic and intelligent peeps like the one's I've met already :D.
I want to attend the 2011 BlogWorld Expo in Las Vegas – at least it better be in Vegas again!
I want to have written 2 eBooks by June – you should be seeing the first one very soon!
I want to apply more of what I learn about blogging and all the things that come with it.
I want to include a new weekly (or bi-weekly) series that will revolve around a topic of discussion – I will throw out a question – give my take on it and then hand it over to my readers to share their thoughtful and plentiful pennies.
I want to design a kick-ass landing page for my Facebook group and another one for my Twitter account background – by a pro of course! I've got a few people in mind for this but feel free to show me what you got!
I want to learn the basics of HTML and CSS – the very basics! I'll be honest – although I'd love to know how to do a few things for myself, the thought of becoming a pro at these doesn't excite me too much!
I want to win an award for "The Longest Value Added Comments in Blogging History" lol. I swear I don't try. The novel lengths really do come naturally. Patricia will attest to this. And although Danny, Gini and Troy may be ROFL, I'm hoping they'll either invent the award or at least vote for me hehe.
I want the blogosphere to know the name Ingrid Abboud and to refer to

nitty

Griddy!
I have about 10 others to add here but I think these will do for now.
Now Over to You…
What are your New Years resolutions? Social Media or not – I'd love to hear them.
HAPPY NEW YEAR MY FELLOW FRIENDS AND BLOGGERS!
WISHING YOU ALL A FUN-FILLED YEAR OF HEALTH, LAUGHTER, LOVE AND SUCCESS!
MAY 2011 BE EVERYTHING YOU WANT IT TO BE AND MORE!
"Hope for the best and you may get lucky. Try, try and try your best and you may just succeed!"

Ingrid Abboud aka Griddy
Now did you really think I'd write an entire post without including a fun little New Year's video for you? I didn't think so!