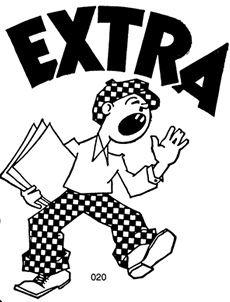 Hello My Lovelies,
Welcome back to another great year! Well, I'm hoping it will be or else I'll try my damn hardest to make it one!
I'm assuming you're all back to normal working mode and that all the festive drunken-ness and hangovers are well behind you. Unless of course, you had another of those nights yesterday. If that's the case, don't let me keep you from your nap!
I have a few announcements for you this week, so bare with me. And yes, they're interesting – Jeez!
In last week's SuperPost, I mentioned something about potentially, maybe, but probably not – showing you a picture of a half-naked belly dancing boa handler (you'll just have to read it to know why). I also said that I'd be listening to creative pleas for why I should post that picture here.
Well, I'm sorry to disappoint you my friends, but I'm still thinking about it lol. I'm not sure how relevant it would be to Social Media, although I'm sure that many Social Medians could generate some ideas for a different kind of article. If, you catch my drift.
A Sharp Shooter's Plea and More…
However, I would like to give a little BIG shout out to Brankica from Live your Love who left quite the persuasive comment in regards to that. Take a look for yourselves!

So, had there been a winner to this plea thing of mine, Brankica would have taken home the gold.
Shhhh, not a word Howie!
Your frequent visits and comments rocked but did you not see the subheading of this paragraph? She's a sharp shooter Howie! It means her aim is spot on. So if we're smart, we'll be nice and sweet to her LOL.
In all seriousness though, I'm sorry that I didn't publish it here and that your trophy is invisible but I"m hoping you'll forgive me all the same.
Folks, I suggest you start following this up and coming blogger if you don't already. I read two of her articles this week that I greatly enjoyed.
The first is about a Human Spammer whose name will ring familiar with many of us. He's been seen on quite a few of our blogs leaving non-spammy looking comments that actually are. In the second post, Brankica compares two of her great loves: Blogging and practical shooting. Two great reads, so make sure to check them out.
My 'Bloggafriend' Michele Welch Wrote an eBook!
That's right! My very talented blogger pal Michele Welch from New Biz Blogger has just published a superb free eBook that all of you should download!
It's called The Synergy of Business and Blogging: Top Techniques from 31 Successful Bloggers and featured inside are 31 of some of the best posts from around the blogosphere. So please make sure to click that link and download. Trust me, it rocks! And it's well worth the read and keep.
You're sure to find some of your favorite bloggers in there with some A+ blogging tips and more! Oh, yeah…I'm in there too :).
Thank You Michele for taking the time to put that fantastic resource together.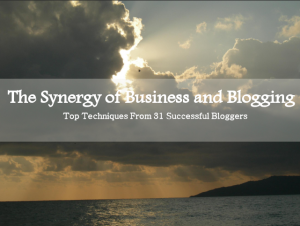 Taking Alexa
Now, I know it's not that big of a deal, but I still wanted to say a little congrats to ME for breaking the 100K mark in the Alexa ranking system. I'm now at 98K and I'm smiling.
If you recall from my 22 Social Media Resolutions post, I said I wanted to be at 80K or less by the end of June. I'm hoping that following through with the 21 other "challenges" will help.
Okay, that's it. I'm done for now but make sure to check back soon (very) for my next post!
And now, let's move on to the goodies…
"Without further ado and blah blah," here are this Sunday's SuperPosts on all things Social Media, Blogging Tips, SEO, Internet Marketing, Traffic Building, Online Money Making Tools and more.
Social Media
Judging by her school-issue personal photo, Twana Florance appears to be a mild-mannered, middle-aged matron from Twin Falls, Idaho.  But there is no Twana Florance. Twana is probably some teenager in a Third World…
It shouldn't come as any surprise to you that 2011 is the year of integration. This past year you got to play with social media tools and figure out which were most applicable to your business. Now it's time to stop playing and integrate your traditional, digital…
Blogs are awesome.  I assume you agree with this because you're reading my blog as well.  A lot of you may have started becoming avid readers and to follow blogs, like myself, with the advent of social media.  In the last two years I have seen…
This post was in my draft folder since a long time. Today i finally got some and completed the list of some awesome women bloggers who are rocking in the blogosphere. I am not going to put in huge bloggers like erica  or lisa irby because…
For any companies who are looking at social media and wondering how it can be best utilized or for those who are already involved but feel they are not making the most of social media's platforms, the following three examples highlight…
Social media is crap. Social media is a waste of money and time. Social media can't be measured so we're just wasting energy. Social media doesn't offer lead generation. Blah blah blah. I've seen a ton of criticism about social media and what it can…
There have been plenty of things you've had to buy in the past 45 days so I thought I'd give you some FREE eBooks found around the web to help out your pocketbook and your sanity. Plus they're really good books so you're gaining free…
For the last few years, I've occasionally guest-edited the free "Ned's Job of the Week" e-newsletter. If you don't know about it, it's a free weekly newsletter that lists job postings sent to Ned Lundquist, ABC, by subscribers (as well as many he finds himself) in the spirit…
I have always been a huge fan of networking both on and off line. I see so many people that are missing out on some really simple techniques to power network and get results from it. Networking really isn't as difficult as people make it out to be…
Blogging Tips
Leaving comments on other people's blogs is a useful strategy for sending more traffic back to your own site. If you make an interesting observation or add value with helpful advice, some readers be curious enough about you to visit your blog…
Bet You $100 This Will Work: Ask Your Readers Questions.. Yeah, just like that! Simple as you read. If this doesn't work, I will give you $100. I'm not rich or anything near that but I'm so sure this will work I want to risk my bank balance for…
One of the reasons that I'm so madly in love with WordPress is the thousands of plugins available. It doesn't matter what you want to accomplish on your blog, there's probably a WordPress plugin that will allow you to do it. This list is the 15…
Do you like social media blogs?  Me neither.  They can be dry, boring, pretentious and down right geeky!  I found a social media blog that is humorous, exciting, down-to-earth and, well, a little geeky.  (Face it, when you are an internet social media blogger…
I could write a thousand points/posts on how to build a better blog but I think it's easier if I just tell you what not to do. Even that is a bit forceful, so how about I introduce you to three blogging stereotypes, and ask – no plead that you do not…
Guest posting is an awesome way to get your name out there, and I think that every blogger should write guest posts frequently. I try to do one every week or two, though I've been slacking off the last couple weeks…
I've seen some comments left here recently that has left me debating with myself whether I should approve them or not, so I've update this post I've written in September. In a previous post I explained how you can use blog…
Internet Marketing
One of the frightening things about human behavior is that horrific social practices are often only recognized as such from a distance. Practices like slavery, binding of feet and infanticide—which seem perfectly monstrous to us—seemed normal…
MishMash
"You girls are twits." "Huh?" "That's what they're called. People like you that use Twitter. Twits." Maybe it's a sign of maturity (gasp, not me?!) that I chose to ignore and refrain from engaging this conversation that took place in my apartment…
I'm absolutely sure you wouldn't answer YES to that question yet majority of we entrepreneurs exemplify various forms of laziness in our entrepreneurial journey more times than we would like to come to terms with. So much emotional sentiments…
I blogged in November about these 2 companies that in my view are Conversation Platforms or Conversation Engines that can power the discussions on blogs and media sites way better than anything on Facebook…
Disclaimer: This post won't be for everyone, but that's okay.  It's meant for one specific person: my MeMe. This week is the week of my MeMe's funeral.  If you follow me on any of the social networks, this won't come as a surprise to you…
During the 1980s the big joke was Corporate Dilbert Speak. You know what I mean. That's when we were all cognizant of the shifting new paradigm into total quality corporate governance, while nurturing the proactive leadership process…
[image credit: via Emmett Idaho]