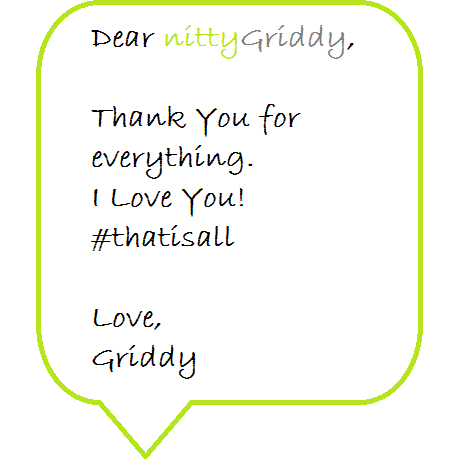 Hello My Lovelies,
It's Wednesday – your Monday blues are gone, your work week is half-way done, your clients all rock and your friends all love you! So now smile and put your thinking helmets on, cause it's time for you to Bring IT!
I already asked you what your blogging motivators are and what sets you apart from the crowd, so by no means is this week's question a repeat.
I'm also not asking you why you blog. I did that a while back and a long overdo eBook is in the making :D.
What I am asking you however, is this:
What Has Blogging Done for You Lately?
What benefits have you enjoyed and what rewards have you seen SO FAR because of YOUR blog?
What good (or bad) things has blogging brought you?
Is it online success? Potential clients or new business opportunities? A new job? New connections and friends? Better communication skills? Speaking gigs at conferences? Global exposure? Book publishing deals?
Blogging can be a liberating experience – especially when you realize you've built a healthy blog that's starting to thrive. The success you enjoy online can slowly start to pour into other areas of your "real" life.
You know what actually?
Why do we say "real" life?
There has to be a better term for it because let's face it, this IS a part of my real life! I do something that pertains to blogging everyday – and it's very real. Much like many of you – I too have an offline life – and a very active one at that. But today, blogging is just another part of my world in general.
As for Me…
I started blogging because I love to write. Simple as that. I had no clue what it entailed or where it would take me. Heck, I never imagined that I'd become hooked and meet some kick-ass individuals along the way.
Had I known then what I know now, I would have started long before and learned the ropes earlier on. For, although I became a blogger a little over a year ago, I didn't really start to BLOG until after last summer – and our summers are long so that means Autumn ;).
In the few months that I've become more "serious" about blogging, these are some of the things I've enjoyed or benefited from. They came to me because of my work here on nittyGriddy or elsewhere.
I've become a better writer
Now, I've always been a pretty decent writer (I'm not bragging it's just one of my forte's – I suck at Science for example – no Bunsen burners within 10 feet of me please), but I've become a better "engaging writer"; one that speaks with her readers and not to them; one that encourages them to join the conversation.
As you well know, I write the way I talk – in the sense that I actually mouth the words while I'm typing (doing it now lol). This style of writing isn't a luxury I can always afford to do. My clients in the banking or construction industries wouldn't be too fond of my copywriting services if I were to really tell it like it is ;).
I didn't think blogging and personal development would intertwine so much. But this particular series continues to do just that.
Sure, I use to find myself all the time writing in my little diary – but only to get lost again for another year until I remembered it. I found a new interest which turned into a passion and everyday makes me want to become better at what I do. I found a new discipline.
It also helped me build more confidence in my abilities.
I greatly improved my personal branding through my logo, visibility and writing. It's helped me get my name out there and establish stronger credibility and trust. After all – any honest blogger will tell you that they want to be considered as a respected and trusted source.
Being recognized on lists such as Top 10 Up and Coming Women Bloggers, 125 Fearless Female Bloggers, Twitter's Top 75 Badass Women and a few others also helped achieve this. But there's still a long way to go.
Blogging has this incredible power to slowly mold you into an "influential" person.
Because of this blog, I've had (and continue to have) numerous potential clients contact me for copywriting and Social Media services.
I didn't realize I could offer Social Media services so soon, but it turns out that I know a heck of a lot more than I thought. Oddly enough, it's true – we always know more than we think, but less than we want.
I've recently taken on 3 new clients thanks to nittyGriddy.
Interview requests & speaking gigs
As a college athlete, my team and I were in the spot light quite often. Hell, I think I was one of the only Lebanese girls on earth to play fast pitch softball lol – so I had my fair share of media exposure.
Because of my online work and presence, I've been interviewed (an continue to be) for the communications and Social Media skills that I possess and for the kind of person that I am in general. It seems that my words are having some kind of an impact – little by little.
I've also been asked to come in and explain Social Media (best) practices to companies Marketing teams as well as partake in panels. These help establish my expertise and further reinforce my personal branding.
New friends and connections
I don't believe there's a blogger out there who can deny this. If you can, then you have no interpersonal skills whatsoever and you're doing it wrong! If that's you – then welcome to this community :). Watch, listen, learn and now talk WITH the nice folks who are already here.
Seriously though, networking (without it being work) has got to be the most rewarding one of all, and if you and I know each other, you'll surely agree with me. I've met some remarkable people who I'm honored to say make up this blog's community – many of which I call friends.
That's probably the one thing that could be portrayed as a negative – although I don't want it to be.
I'm enjoying this journey so much, that it's led me to often neglect other priorities. I find myself putting off "real" (here's that word again lol) work – the kind that pays – because of a lack of motivation.
Whenever I start working on a client's project, I become distracted and realize that I'd rather be working on my next blog post. I'd much prefer to be writing about something that interests me, something that's mine.
Now you obviously know that I could go on with a few more examples, but I think I've said enough already.
What About You?
What opportunities or good things have happened to you since you started blogging?
Bring IT!