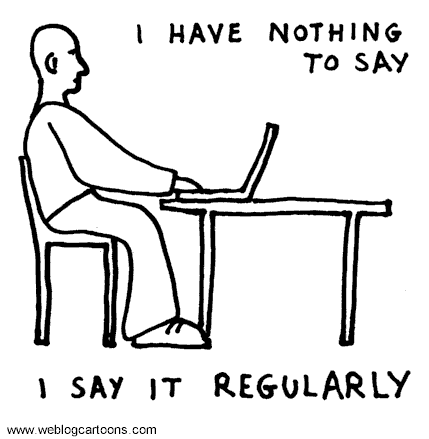 Ever have one of those days where you know you WANT to write something good and your readers expect you to because it's one of the days you generally publish – but as hard as you try – you got nothin'!
I was probably suppose to end that with a question mark but it's pretty much rhetorical, since I'd be willing to bet that most of you have experienced a day like that.
You sit and try to focus – and you look at the clock and maybe panic a bit. But then you come to your senses and realize that it's not the end of the world if you miss your usually scheduled Bring IT! post or if it's not in tune with the one's you usually write ;).
No one will hate you or forget you if you occasionally get side-tracked. Just know your limits and don't exaggerate.
Try your best to remain as consistent and frequent as possible and your readers will still be here. Oh, and you might want to click on that link as I think you'll enjoy the article that comes with it. I'm not making any promises but I'm somewhat confident.
So here I am writing about nothing but somehow it's something nonetheless. Call it "free association" if you will – where your mind – uncensored – leads the way, and your fingers glued to the keyboard, play along.
Have you ever tried that – where you just start typing and see whatever comes out?
How am I doing so far?
Are you still here?
Or are you ready to leave, thinking "what the hell is Griddy on today lol?"
Free association is this little exercise we use to do back in college. If you were a Psychology major like me, then you know exactly what I'm talking about. If you weren't, then this blog post is pretty much what it is – a little bit about nothing and something – much like the highly acclaimed show, "Seinfeld".
And NO – I didn't just compare myself to Jerry or Kramer or any of those guys but if you think about it – they did pretty much talk about nothing; or nothing in particular, that is. There was never a theme, or a set topic for each episode. It just felt like they opened their mouths and whatever came out…came out!
So this is me, just typing and hoping to God I'll have enough 'cojones' to press the "publish" button once I'm done. Because let's face it – I've pretty much opened myself to get bashed here and that's fine. I can take it!
But the question is – can you?
So this is what I'd love for you to do today over in "Central Perk" – otherwise known as my comments section.
I want you to NOT THINK! I want you to just start typing and see what comes out. But you have to promise to click submit once you're done. No one will judge you – not here anyways.
You can tell me if you've ever tried this before or you can respond to this post or you can talk about underwater basket weaving for all I care. Just start typing and see what comes out.
But remember – don't think, don't analyze! Just let yourself be free and say what you feel and what comes to mind.
If you're thinking "shit" then say "shit"!
If you're thinking of the chores you have to do later, then tell us about them.
If your thoughts are all over the place, then hey…show us where they're leading you.
What do you know?! Out of nothing, I created a little something ;).
So what the hell!
Show me some "free association" and Bring IT!
PS – you can totally applaud me on managing to write a blog post well under a thousand words. I don't mind lol ;). And Yes Gini – go ahead and poke fun of me as I know Mufasa will be right there with ya and Davina might even have an acronym for this miracle.
And another PS – if you're more in the mood for a kick-ass case study on how British Airways is using Social Media, then definitely head over there and share your thoughts.