Twitter and Airlines
I recently read a great post by Aaron Lee on the importance of replying to Tweets.
Aaron used the example of the airline industry where approximately 86% of tweets are directly related to customer service – therefore requiring a timely response.
In his article, he noted that US Airways customers were somewhat furious at the lack of engagement and no-replies. Instead, what US Airways does, is direct their customers (in their actual Twitter profile and not in @replies) towards an extensive feedback form on their company website.
Obviously, they're missing the entire point of Social Media and the "real time" factor. You see – the word "social" is there for a reason. And if you're on Twitter, you may as well use the damn bird the way it was intended, or save yourself the trouble and don't use it at all!
Aaron's post inspired me to do a little case study of my own, as it got me thinking of the airlines I travel with most and what they're doing right or wrong when it comes to Social Media.
After looking at MEA (Middle East Airlines – Air Liban), Air France and British Airways (BA), I decided to start with BA and tell you what they're doing and how they're doing it.
I also fully intend to write another blog post about all the things MEA is doing wrong – or not doing at all for that matter! Which is unfortunate, seeing the excellent airline that it is.
British Airways Heart Social Media
The purpose of this article is NOT to simply praise British Airways for the highly-regarded airline that it is. We all know of their rather prestigious reputation. But even the best, make mistakes and have angry or unsatisfied customers at times.
My intention is to use BA as an example for how other airline companies should be using Social Media if they aren't already.
Heck, as much as I enjoy travelling with them, they still managed to lose my suitcases 7 times. But in their defense, Heathrow is THE busiest airport in the world and they did find them each time and deliver them straight to my house. Of course – I was less calm at the time while waiting for them ;).
I was also quite upset when I found out that over 150,000 or so of my miles had expired. Yes…I know miles have an expiry date but for God's sake harass me about it if you must. I sure as hell don't want to waste free tickets!
Can you imagine the look on my face while talking to their customer rep as he informed me I had no miles left on my frequent flyer card? This was pre-Twitter or you can be sure you would have seen a tweet or two from my part!
But in all honesty – I suppose part of the blame falls on my lap as well. Either way – my mourning period has been over for quite some time now lol. [Note to self: Go through all frequent flyer card statements soon]
With all that said – I continue to fly with BA because they normally have top-notch service, their flight times are abundant and practical, their plane seats are comfortable, their on-board entertainment is awesome, their staff is friendly and attentive, their duty-free full out rocks and I pretty much know my way around their international terminals at Heathrow with my eyes closed.
A Deeper Look at BA's Tweeting Habits
Here's a snapshot of BA's Global Twitter account and profile. I say "global" because they also have a separate account for North America.

As you can see they're following back a number of people and are actively tweeting. One important thing I noted was that their profile informs people when they're online – which is both good and bad.
You see – an airlines company the size of BA (one of the biggest in the world) is operating 24 hours a day, 7 days a week! So when I see they're only available to answer customer's tweets from Monday to Friday 9 am to 5 pm GMT, it poses a problem.
What about customers flying in the evening or on weekends? Surely, there are millions of those.
What if I need assistance on a Saturday? Is there no one who will reply to me until Monday? What about the time difference with the rest of the world?
That kinda sucks and I was actually surprised to see this rather strict time frame.
Either way – I would strongly advise they have a support team or person on Twitter both past 5 pm and over the weekends to reply to folks in "real time". I don't see this tiny added budget ruining them any time soon.
Now take a look at part of their stream.

As you can see, BA replies to both negative and positive tweets. And that's the way it should be!
Their stream isn't solely composed of shameless self-promoting tweets. They might not be RTing people's articles much, but they ARE talking!
MediaPost's Research Brief noted that "The Retail Consumer Report" that was recently conducted showed that "by listening and proactively responding on the social web, retailers have a chance to turn disgruntled customers into social advocates." It also goes on to say that of the 68% of consumers who posted a negative review and were replied to, 18% of them turned into loyal customers and went on to buy more.
There is NO perfect company out there! That's a given. But when a company decides to get on board the Social Media train, they can at least listen to their customers who "feed them" and reply in kind. After all, if done correctly, it can only help them grow and generate loyal followers!
Not only does BA pay attention to each tweet, but they take on a friendly and personalized approach when responding.
They refer to you by name; they answer your query and point you in the right direction for more; they give you the direct number to call for a specific inquiry; they congratulate you on your complimentary upgrade; they wish you a safe flight; they apologize for any mishap; they thank you for your feedback; they pass on your comments to the appropriate department…
They pretty much are a prime example of what an airlines company should be doing on Twitter… And that is – to be ENGAGING and not simply engaged – for there is a very big difference as Danny Brown cleverly pointed out in one of his recent articles.
So I decided to test BA and send them a little tweet of my own.
And here is their reply about 1 1/2 hours later.
Test Results: Passed with flying colors!
My Thoughts: British Airways speaks the Social Media language fluently!
What About BA's Facebook Page?
Surely you didn't think I'd forget Facebook as being part of the Social Media world now did you? Good – didn't think so ;).
British Airways' FB page looks pretty recent as there's nothing past April 26 – but that doesn't change the fact that they've amassed almost 55,000 fans and are actively engaging – maybe not responding to each comment but they're participating and asking questions nonetheless.
They actually have 5 tabs besides the regular pre-set categories like "Wall", "Info" and so forth.
Here's a snapshot of their main landing page for "Great Britons".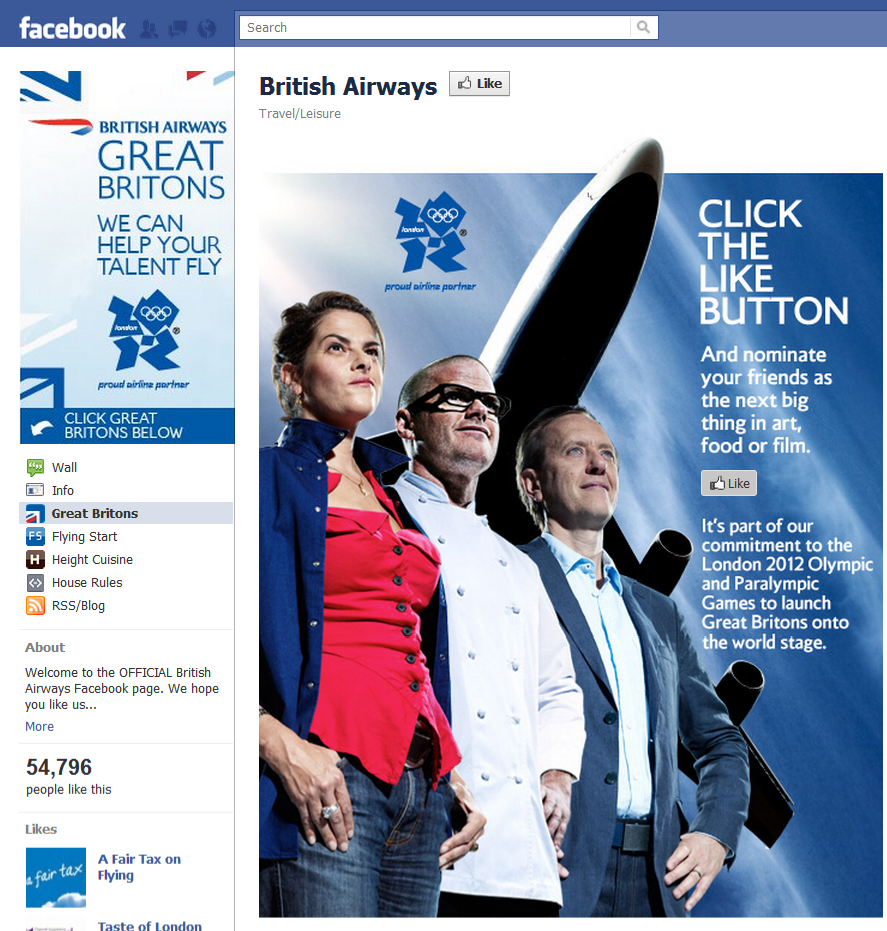 It might not be the most glamorous and fun-filled page you've seen, but there's a clear call to action – and if you ask me – it's better than many I've seen!
Now take a look at their menu on the left – you'll notice the categories and as I mentioned above – each has a creative design of it's own. Now that's pretty impressive!
"Flying Start" is their year-round fundraising initiative with Comic Relief.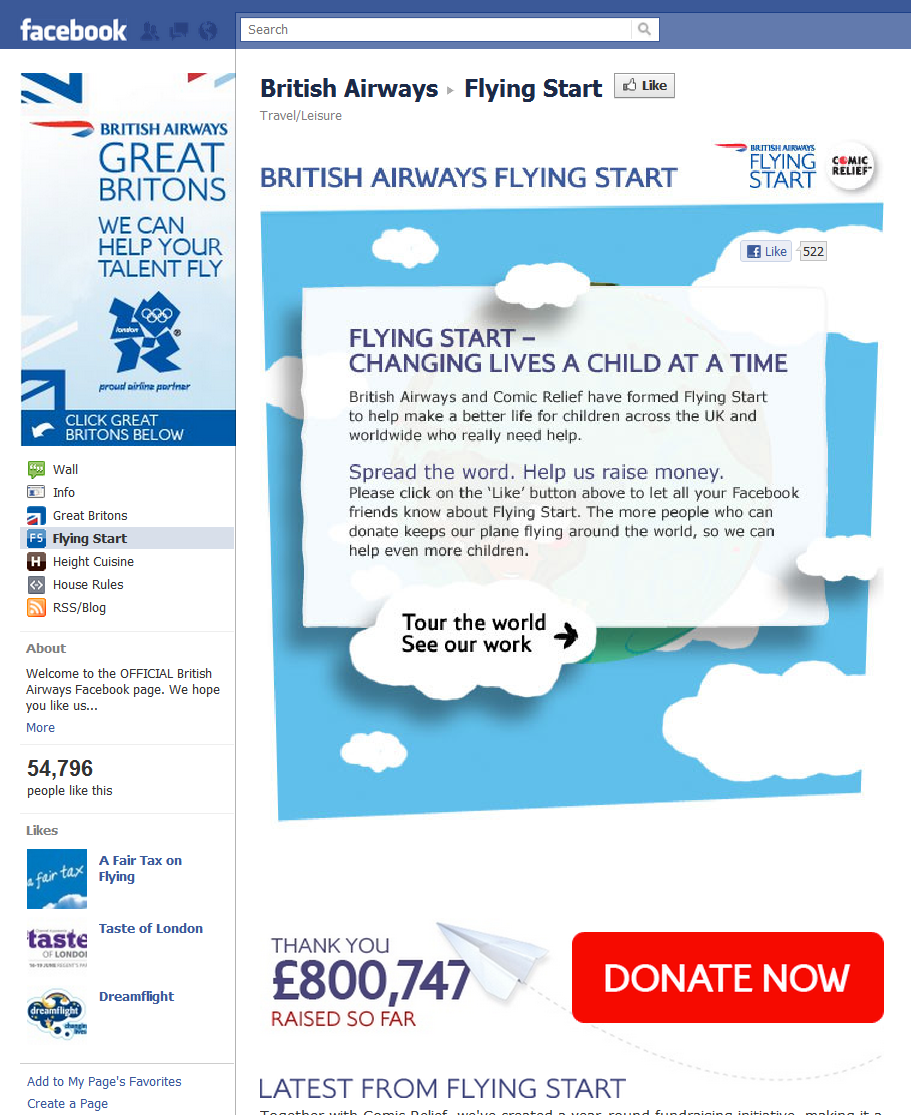 As you can see, this page has several calls to action including a "donate" button and a video at the bottom which isn't visible on this screenshot.
The same thing goes for their 3rd tab entitled "Height Cuisine".
This one actually features some delectable images of food served on their flights as well the experience of it as the plane gets higher. It also features cooking challenges that you can take on. Pretty neat and very nicely done.
You'll notice they even have a tab where you can subscribe to their blog via RSS and another for "House Rules" where they've spelt out a set of guidelines for you to follow while visiting their page. Now these are all fine and dandy as they go through points such as mutual respect, offensive language, copyright infringements, intellectual property rights and so forth.
One rule that did stand out however, was this:
"You may not post any advertising, spam, selling and links to external sites. This includes posts used to direct traffic to other sites, blogs or Facebook pages."
Does this mean I can't tag them when I link to this article on my Facebook page? Do they not want their fans to see all the cool things I said about them here?
Hmmm…Okay, but I sure hope they reconsider this soon.
Now like I said, their Facebook page is still relatively new, but it does look like it's taking off on the right foot.
Here's a nice snapshot of a recent posting and part of the conversation that came from it.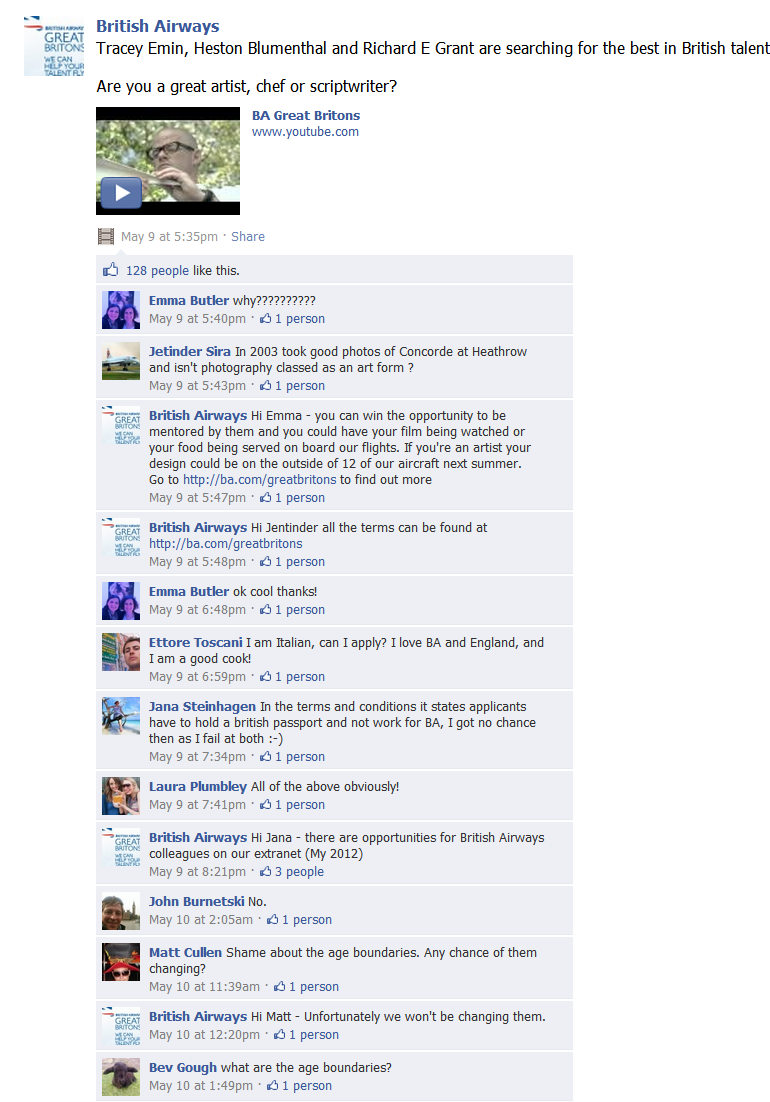 It might not be as witty and "happening" as Gini Dietrich's Facebook page for Arment Dietrich and Spin Sucks, but hey, one could only hope ;).
My Final Thoughts
If you ask me, British Airways is doing a pretty darn good job of keeping their ears open and their mouths talking when it comes to their Social Media presence.
As for their Facebook efforts – they're definitely on their way. I think the different tabs are fantastic and their designs for each – even better!
Overall Advice:
Keep doing what you're doing – listening, engaging and responding in a timely manner
Hire a team to handle your Twitter account on the weekends and past 5 pm GMT
Sign your tweets (initials) so we know who we're talking to if it's not always PL as mentioned in your profile
Loosen up on the Facebook guidelines and allow people the liberty to tag you in their blog posts or anywhere else – as long as it's appropriate, respectful…and not SPAM
Be a little more engaging on your Facebook Wall – although you're doing this already, just try to reply to more people (see other posts to see what I mean here)
Post more often on your Facebook Wall – between April 26 and today – May 16 – you have a total of 7 posts. You can do better ;). Although that doesn't mean to bombard us with 10 a day either lol. I do love how you're asking your fans questions though.
Edit your Facebook Page URL so that it reads Facebook.com/BritishAirways and not Facebook.com/britishairways?sk=wall
What do you guys think about all this?
Any other tips you can give British Airways about Social Media?
Have you had a good or bad experience with BA on Twitter?
What other airline companies are using Social Media the right way?
Don't be coy now. You know I secretly smile and clap when you stop by and share your thoughts.