Hello My Lovelies,
Contrary to my usual Wednesday Bring IT! series – I'll be the only one Bringin' the goods today :D!
This may be one of the shortest blog post you've seen from me, so don't gasp! And don't be snarky either ;). It may be short but there's a lot of sweat and happy tears behind it.
As some of you already know, I put out a call to the blogosphere 2 weeks ago for people to drop by and let me know when they publish their blog posts along with a few other things I had asked for.
264 comments later…plus slightly swollen fingers and a bit of blurred vision…
I'm pleased to present you with The Practical Guide to Blog Posting Schedules.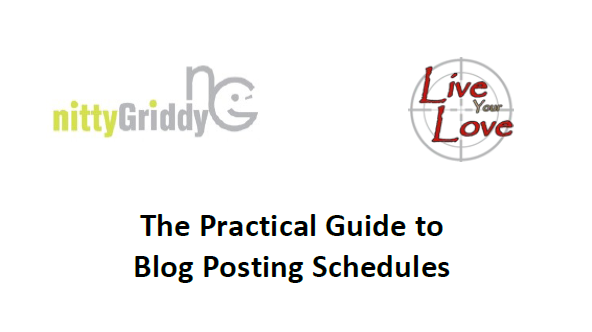 Inside, is a nice and neat table of 82 blogs (the one's whose authors came over and commented) along with their direct links, authors, taglines and publishing days. I tried to keep it as basic and simple as possible so as to make it easy to follow. I hope you find it useful. And if you don't, you can always keep it as a souvenir lol.
But before you download it, please make sure to thank my good friend and partner in crime Brankica from Live Your Love, for her very cool design and PDF skills. She's the little techie genius who turned my shabby looking Excel sheet into this pretty PDF file I got for you here.
Oh, and Bran also spoon fed me the instructions to install that nifty little "Share to Get" button you see below.
I always say 2 heads are better than one, and in all honesty, I couldn't have worked with a better head on this project.
You see folks, that's the beauty of using Social Media the way it was intended. You make friends along the way, who sooner or later come to the rescue when you need them or turn into great business partners and collaborators.
To grab yourself a copy of this FREE guide, all you have to do is share it on Twitter or Facebook. Yup, that's the cheap price you gotta' pay. But if you ask me, it's kinda worth it.
Why Should You Get this Guide?
Cause Brankica and I worked hard to make it
Cause your blog hopping life is about to get much easier
Cause everyone's doing it; it's cool
Cause you can discover new blogs
Cause you can connect with some new bloggers
Cause you no longer need to remember when some of your favorite bloggers publish their new posts
Cause it looks pretty and it's simple to refer to
Cause you like me or Brankica or both of us
Cause…
Enjoy!
And don't forget to share your pennies in the comments.
To get your FREE copy of The Practical Guide to Blog Posting Schedules, click on the button below.
Note: This clever little feature is brought to you by Coud:flood – another of ViperChill's brilliant cloud creations.