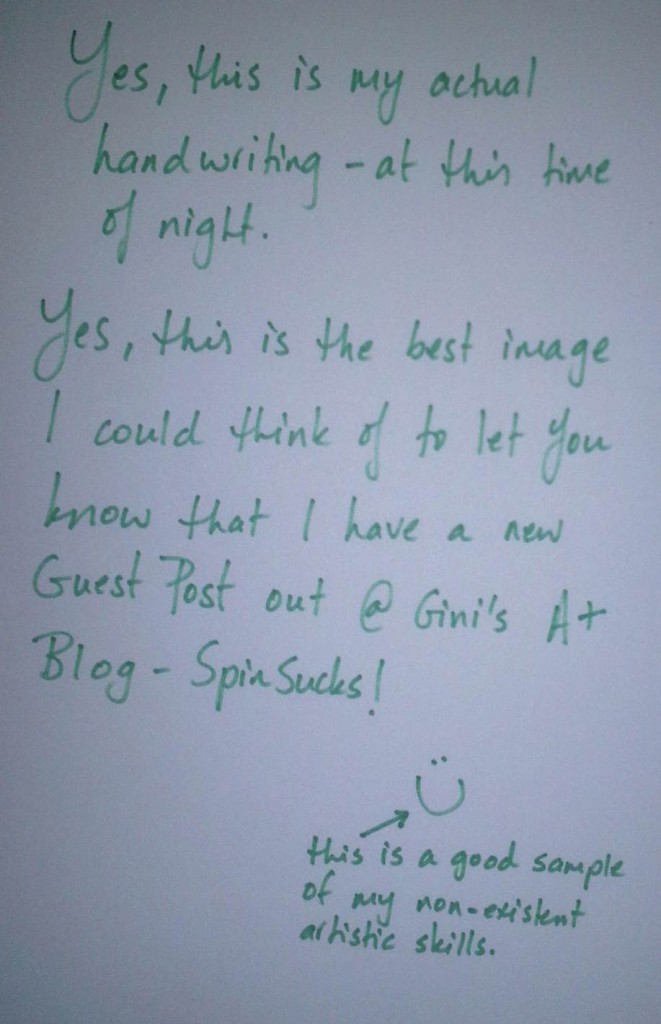 Well it's here and it's well worth the read – if I may say so myself!
My latest Guest Post is out at SpinSucks :). You may want to check it out as it touches on one of the most debated topics around the blogosphere – How Long is Too Long?
Oh, and it's obviously more exciting but less kinky than the title sounds – trust me ;).
When Gini Came Knockin'
The fabulously witty and delightful – not to mention smart as hell – Gini Dietrich was kind enough to ask me to GP for her.
I'm not sure why, but I'm guessing she likes me and my sarcasm or my writing. Or maybe it's both those things ;). I don't know but either way, I'm just thrilled she gave me the opportunity to appear on her incredibly interesting and popular blog – which by the way, always has some of the best comments around!
If you're not familiar with Gini and SpinSucks (highly unlikely) or their barking second in command, Jack Bauer, you really need to GASP at yourself! Really, I mean it…just Gasp out loud and slap yourself silly cause you're missing out on some highly insightful posts on all things Communication, Social Media, Advertising, SEO, Marketing and more.
Are you still debating whether to go over there or not?
Cause I'm kinda hoping you're long gone already and debating my topic over there.
But if you're still here you should know (if you don't already) that SpinSucks was just named as one of the Top 10 Social Media Blogs for 2011 by the highly ranked and regarded, Social Media Examiner. YaY and WOW and Way to go "Aunt Gin Gin" ;).
Griddy – over and out!