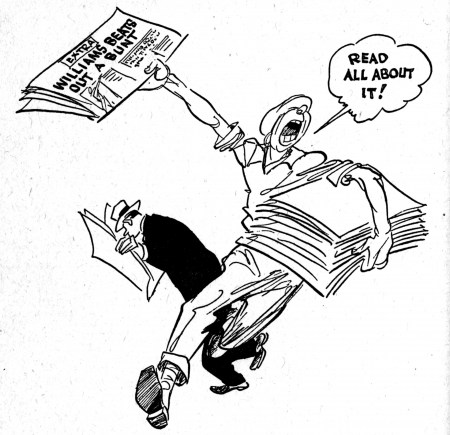 It is with great pleasure that I present you with the incredibly smart and funny, Gini Dietrich from Spin Sucks who was kind and fabulous enough to step in and write this week's introduction to my SuperPost Sunday :).
If you ask me, I think she kicked ass. And I know I'd love to see her do these more often – if she'll oblige, that is ;).
Thank you Gini. I'm  honored to have your wise words of wit and wisdom on nittyGriddy.
Hello my lovelies!
Do I get to say that even though I'm not Griddy? (Editor's note: Absolutely you do!)
This crazy woman doesn't sleep. I swear! I don't know how she does it. She must sleep all day, but what I do know is I'm always at work until 4 a.m. her time and she's still Skype-ing me. And speaking of Skype – she can make me laugh really hard via a few instant messages.
This week? Damn You Auto Correct. Definitely check it out, but only when you have about an hour of your life to waste. It is some funny, funny stuff, especially if you have an iPhone. Go ahead. Check it out. We'll wait an hour for you to come back.
Back? Funny, right?
As I type this, Griddy is saying adieu to some friends so she asked me to step in and write the intro. While I'm not as, um, verbose nor as clever as she, it's a great honor to give you this Sunday's SuperPosts on all things Social Media, Blogging Tips, SEO, Internet Marketing, Traffic Building, Online Money Making Tools and more.
But before I go, be sure to ask Griddy about four ways (and don't you dare delete this, Ingrid!). It's fun to watch her get all flustered.
(Editor's note: So strange – I have no clue what she's talking about here lol)
May your week be full of wine, cheese, shoes, and happy reading!
Social Media
I saw a video from @chrispirillo on Youtube where a viewer asked Chris whether Facebook or Twitter will die first? His respond to that question was that Facebook will die first. The reason to that was…
Memo To: Social media gurus Re: Stop making up language. It's hurting my brain From: PR pros and internal communicators. We love you. You know we do. You have done so much for the industry. You write research reports that change how we look…
I haven't been useful in a while so I'm thinking, it's about time to throw some tips and tricks your way. As many of you know, I started to work for  Paratus Communications in London. The lovely  Adam Vincenzini and I do all the digital stuff…
You should know by now how much of a facebook fanatic I am.  Since last year, I have not been blogging much about other social media apps except facebook. Well this week, I decided to do them justice by introducing you…
Blogging Tips
Everyone knows how important branding is and we recognize Coca Cola, Mercedes or Apple in a split second. Brand is basically an identity that can take different forms like logos, names, colors or slogans. But not only that…
I'm a little freaked about this post.  I'm afraid people will read only the blog headline and get out their pitchforks and torches.  So please glance at least a few more sentences before hitting the comment section, OK…
We see them come and we see them go, bloggers and internet marketers. It's an international dream isn't it? Start a website, stick some ads on it, sit back and cash in! Eh, wrong answer! I have built several businesses over the last 3 years…
Since I started this blog in April 2009, there have been a number of resources that have played an integral role in the growth of my blog and all of my social media efforts at my day job running Flightster. Every product below…
I'm not your average "status update" (linkless) type of tweeter. Most of my tweets are retweets of awesome content that I've run across. I still take time to engage and interact with others by joining conversations and responding…
If there's two things I've learned since first starting my online business journey, it's this: 1. Your About page will be one of your most viewed pages on your site. 2. Your About page is not about you, it's about those looking to find out more about you…
You're supposed to have a stiff upper lip…right? Remember, you blog for you and no one else.  The thrill of writing is the reward.  Only self-centered, fame-hungry, glory hounds care about comments and retweets.  Right? Well, not quite…
Internet Marketing
This blog post might make some people mad. And that's okay. This is my blog, and I have the right to express my opinion, right? 
I wanted to take the time to talk about a few of those really popular internet marketing/blogging fads…
I haven't posted for a little while, because I have been really busy doing important things. But I'm presented with a problem. When I don't post, my traffic tends to drop. I get traffic from Google, of course, which is New Traffic…
Design blogs are a shining example of masterful ways to generate viral buzz and traffic; there's a lot that we, as bloggers and business owners, can learn from them. This post is about some of the amazing ideas you can take…
Online Money Making Tools
My readers know that I tell it like it is. And, I'm about to do it again. … Because I get asked questions fairly often, and sometimes those questions make me want to bash my head up against the wall. The typical template of that question goes something like this….
MishMash
This past weekend, I went to a movie theatre in Santa Monica to take in a viewing of True Grit with my friend Tim. Upon arrival, I had to hit the ladies' room. I walked in and began the push door open glance WTF – next stall routine until I found…
Jamey breaks right, spins back left, cross over dribble, pushes inside… the clock is ticking… 5 seconds to go…. down 2… dribbles back out to the three-point line, fakes left, back right… pulls up, releases the shot…
There's a lot of talk about relationships in business, and how to make business more human. There's also a lot of talk about how businesses need to be more like friends, and treat people the way you would your friends…
I had the great opportunity to get a sneak peek of Chain of Life 2.0 a few weeks ago and several weeks to ponder the impact of it in the San Ramon Valley Community (and beyond for that matter). I was attending some of the afternoon…
Your fired! What would you feel/think if you heard this? Afraid or relieved? Angry or excited? There have been many people in the last few years that have taken a ride on this roller coaster and are now back in the game,  while some are still struggling…
Uh oh. Edelman is in trouble again…this time over a media request from Ragan about Best Buy On. Mark Ragan, who most of you know if you're in the PR industry, asked one of his reporters to contact Best Buy to interview them about their new…
I'm changing the way I record my daily blogging diary. Go check out the last entry or two to see the new format. Tomorrow's my birthday (I'm 25!) and I'll be getting ready for a trip to Seattle, so I don't really…
[image credit: via Escuela de comunicación política]