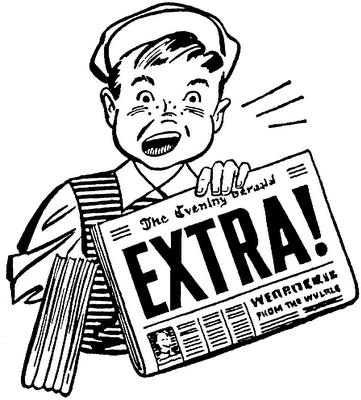 Hellooo My Lovely nittyGriddy Readers,
Looks like Sunday's here again! Wow, that was quick!
New Name for My Weekly Roundup Posts
In last Sunday's Weekly Roundup, I asked my blogger friends and readers to vote on what I should name this weekly series. I was rather hesitant between a couple options and was unable to make the decision for myself, so the good peeps of the blogosphere stepped in to lend a helping hand :).
Thanks a mil to all of you who took the time to leave your comments including Thu, Extreme John and Michele. They were all taken into consideration and were very much appreciated.
As you can see, SuperPost Sunday is the lucky winner!
About That Smart Gini Dietrich Woman
I wanted to give a special shout out to the fabulous and incredibly smart Gini Dietrich from spinsucks.com. Gini was kind enough to give me her opinion as well as some wise SEO advice which I hadn't thought of. A very BIG thank you to YOU. Oh, and YES Gini, you win lol :-)!
Here are the comments she left for me on last weeks Weekly Roundup.

If you're not familiar with Gini's uber popular blog, I highly suggest you head over there once you're all done here. There's tons of valuable information to take in from the many insightful articles on Communication, Social Media, SEO, Marketing and more.
SuperPost Sunday – The Roundup
I'm gonna' attempt to do something today that I don't often do in my blog posts. GET STRAIGHT TO THE POINT without my usual entertaining rambling lol ;). Although, I did a bit of it above, but just a bit!
So…
Here it comes…
"Without further ado and blah blah," I present you with this week's links to some of the top articles I've come across that revolve around Social Media, Blogging Tips, SEO, Internet Marketing, Traffic Building, Online Money Making Tools and more.
If I may say so myself, I think this is a pretty kick-ass roundup (as usual), so make sure you make a little time to read as many of these as you can. Think of it as constructive homework lol ;). The fun kind, that you won't be graded and quizzed on later.
Don't forget to voice your thoughts in the comments.
Social Media
There's nothing like the basics to help bring things back into focus when you feel lost. In "Marketing 101," the acronym AIDA stands for Awareness, Interest, Desire and Action. This is the most simple and rudimentary…
The great thing about social media (and blogs that talk about social media and how it can be used for personal, business, blogging, marketing and more) is that there's a ton of information available on how it can…
I would not describe the hospitality industry as a community of early adopters when it comes to social media. As a specialist in hotel reputation management, I've watched hoteliers confront companies such as Trip Advisor…
Online Money Making Tools
AdSense checklist has just been recently launched by Google for publishers that are just starting or interested in improving their experience with the program. The checklist consists of five parts, offering basic recommendations…
In blogger circles, the word "monetize" is a huge buzzword. Everybody is looking to "monetize" their blogs. Typically, you already have a blog and then you think, "Hmmm, how can I make money with this thing?"…
SEO
Link building is one of the most important parts of any good SEO plan. Your success in optimizing your blog for search engines as well as generating traffic to it depends almost exclusively on link building. But, where do you start? How do you…
Rich Skrenta has been at the core of search longer than I have been in the SEO market. He is famous for launching sites like DMOZ and Topix. His most recent project is a search engine called blekko…
MishMash
Whenever I tell people I work from home, this is the common reaction, "I could never do that because I would spend all my time sleeping or watching T.V." It's pretty amusing to hear a statement like this because I'm not a very motivated person…
Every blogger has tools they like to use to get different tasks on their blog completely. Doesn't matter what you need to get done on your blog, there is more than one tool to help you do it…
In the process of building the first mailing list here, it became so obvious what should be more relevant for my daily efforts, content creation. In addition, this goes to say that articles that are evergreen should be something which will always…
I guarantee that just about everyone reading this is a preblogger. Whether you're getting ready to launch your very first blog or are a seasoned pro busy plotting your next uber-successful online venture, the majority of us are in some stage…
I've lost count of the number of guest posts I have written this year but I'm very sure I have written over 270 guest posts. One question I get asked often is that how on earth have I been able to write so many guest posts? How am I able to…
Want some attention from a  twitterer/tweep/twitter user or a person who tweets? Not getting any attention from them? Great! I'm going show you some which helped me to get some attention from other twitter users, whether they are…
Believe it or not, there's a lot that we can learn from sex and apply it to marketing. You Need to Warm Them Up First. You wouldn't approach a complete stranger with this opening line, "hi, how are you? Do you want to have sex?" In business…
I have spent a lot of time thinking about diversification within blog posts and articles that I publish on sites like Associated Content. The reason for so much thought on the subject is because every blogger on occasion struggles…
In the ongoing race between the 3 premium WordPress theme titans – Headway, Thesis and Genesis – Headway, in my opinion, has managed to drastically differentiate itself from the others making it the preferred choice for…
[image credit: via PCMA Convene]