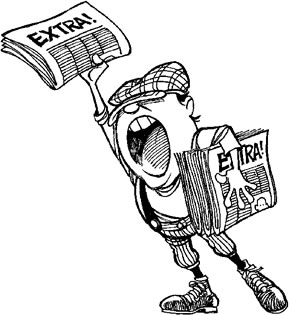 Hello Dear nittyGriddy'ers,
Yeah, that doesn't really sound right does it? Hmmm…well, at least I tried! Don't make fun! The name nittyGriddy doesn't give me much room to work with, okay?! Mashable has it easy with Mashers, TechCrunch with Crunchers, Boing Boing with Boingers, CopyBlogger with…oooh tough one…CopyBloggers! Needless to say, I just made all these up. But you get my meaning. So, a little compassion for my sudden lack of creativity would be nice, thank you ;). Either that or here's a thought…you suggest another option for me!
Alright, give me some Link Luv now!
Welcome to the second week of "SuperPost Sunday!" Damn it! That's not the name I originally gave this weekly series. Okay people. It seems I seriously need your help today. I am the most indecisive person I know and therefore am gonna' need you to vote on a name for my weekly roundup. I'm giving you 3 + 1 options (I started with 6 – yikes!) below and I'll go with the most popular one. Or, what is most likely to happen, is that I'll find a way to use both (mix & match) because if you recall from last Sunday's weekly roundup, I said a little something about being spoiled and that… "if I have a choice, and cannot choose, I choose them all."
So here goes. What do you think I should I name my weekly series?
Link Luv – Weekly Roundup

(same as now – cause I luv the Link Luv thing)

SuperPost Sunday

(get it, get it? Superbowl Sunday!)

OR…and my most probable option. I keep the name as it is now, but occasionally slip in "SuperPost Sunday" inside the post. That way I get the best of both :).

All 3 options suck! Find another one! (As if I would believe you)
Post your choices and comments!
Well, until you come up with a winner (or I do my mixing thing), I may as well share this week's roundup of fabulous articles on everything and anything that I've come across that is Social Media, Blogging Tips, SEO, Internet Marketing, Traffic Building, Online Money Making Tools and more. This is a great roundup, so take the time to read as many of these A+ articles as you can.
But first on the agenda is a new feature called New Social Networking Sites that nittyGriddy Recently Joined
These are sites I recently registered for that are mainly targeted at bloggers. I'm actually borrowing this brilliant little idea of adding new sites I've joined from blogger friend Michele Welch over at NewBizBlogger.com. And yes, I asked her first! Thank you Michele :).
If you're not familiar with Michele or her popular blog, then I suggest you head over there asap and check out some of the fantastic online business tips she has to share.  WAIT!!! I didn't mean right this second. I meant after you've read all the goodies that I have for you. THEN, you may go see Mrs. NewBizBlogger :).
New Social Networking Sites that nittyGriddy Recently Joined
I was going to tell you a little bit about each of these sites, but I would much prefer and insist for that matter, that you go and check them out for yourself. If you're a blogger and are not a member of these 3, I strongly recommend that you become one.


And now…this week's roundup of kick-ass posts!
Social Media
Increase the value of social media by playing to the strengths of each platform. A good online presence engages an audience by giving them what they want, when they want with as little distraction as possible. Put another way: We love signal and hate noise…
A couple of weeks ago, I promised to write about the additional social media trends I'm seeing for 2011. If you missed the first four (content, FTC rulings, net neutrality, and customer engagement) you can…
The headline in yesterday's New York Times business section was instantly exciting: "Kleiner Perkins and Partners Create $250 Million 'Social' Fund." Another progressive venture fund, this one driven by social justice rather than…
To say that I'm a huge fan of quotes is a massive understatement. But then again, who isn't? I'm willing to bet that 8 (5 is too little, 6 doesn't sound right and 7 is too popular) out of 10 offices have either a framed poster, a paper weight…
Guest Blogging
If you run a blog and want it to grow by hundreds and thousands of readers, you're eventually going to want to guest blog. It's not only an excellent way, but pretty much the only way to get quality inbound links and build…
It appears that the sphere has been talking a lot about guest posting these days. Why not? It is the best of both worlds, for the guest blogger and the host, as there are many advantages by doing so. Problem is that there are people…
What's smarter? Putting all your eggs into your own blog basket or placing a few real fine blog posts on another person's blog?  If you've pondered these thoughts, keep reading…
MishMash
Last week Jim Kukral surprised a lot of people announcing he was quitting blogging. His post sent a ripple through the socialsphere, some wondering if blogging had been killed in a world where Twitter and Facebook offer outlets…
Every blogger wants to be successful and happy, right? For new bloggers, it can seem like such an uphill battle to get visitors and comments on your blog. You spend so much time writing the perfect article, but…
I've been doing a lot of soul searching the past 6 months or so, and have really come to a conclusion about business success. I've always been a believer in taking action, but like most of us, sometimes do not practice what I believe…
Today I want to talk about something that has been on my mind lately. I'm going to put a bold statement out there and say that the attention of the A-list is not what's going to make you a successful blogger. I should know since…
I'll admit it – I don't like to say no. Whenever someone has a request, I'll say yes where I can help it. Part of this is because I don't like to leave people in the lurch. The other part comes from not wanting to disappoint others. And yet…
I am friends with almost 2,500 people on Facebook, and myFacebook page has around 340 fans. Yet today, I gave a guest post of mine exposure to an additional 90,000+ people by doing three simple things…
A little over a year ago, Brian Clark gave us a What Not to Wear guide to blogging. Brian laid the groundwork for the inherent value in talking about what'snot working. And if you haven't read the post, clickity-click…
That's all folks!
Same time, same place, next Sunday for another round of rockin' posts from around the blogosphere. But don't forget to stop by during the week as well, new posts are on the way!
Until then, Happy Frickin' Halloween. Hope it's a spooktacular one!
Cheers
[image credit: (top left) via Tracy Seeley's Blog]