Battle of the Biggies
Slide over and make room for HEADWAY!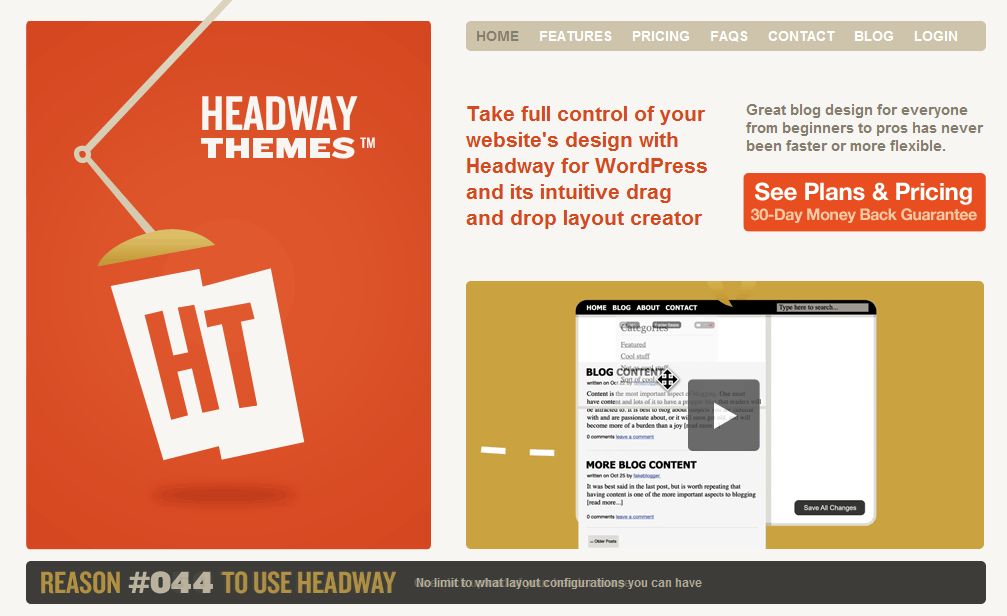 In the ongoing race between the 3 premium WordPress theme titans – Headway, Thesis and Genesis – Headway, in my opinion, has managed to drastically differentiate itself from the others making it the preferred choice for many. Not to say that Thesis and Genesis don't have their own awesome perks, loyal followers and claims to fame – for they certainly do and more. They're both unbelievable themes/frameworks in every aspect and come highly recommended from all sides of the blogosphere.
I know Thesis is an all time favorite for many A-list bloggers and I can totally see why. Heck, I was pretty much set on purchasing Thesis until I came to terms with how CSS challenged (CSS being the operative word here) I really am. That's when a cool blogger pal of mine, Mars Dorian, suggested I check out Headway.
I watched a few idiot proof tutorials from Danny Brown and others and BAM! That was that.
Why I Want to be Powered by Headway (From A Non-Coder's Perspective)
I'm going with Headway for 2 (of many) obvious reasons.
1. Easier to customize and play around with
Headway is the only theme to have the Visual Layout Editor; a simple and intuitive drag and drop method of customization with minimal if any CSS/HTML/PHP coding. You can actually build the exact site you have in mind, without having to know any kind of programming or design codes. Plus, you get to see the changes as you're making them.
Whether you're a newbie or a professional developer, Headway has some killer features for you, including a Quick Start Wizard, Strong Built-in SEO, Easy Hooks, Leaf Templates, Free and Automatic Updates, Extensive and Easy to Follow Documentation and Video Tutorials and a heck of a lot more.
You see, as I previously mentioned, I'm what you call a "technically (coding wise) challenged but otherwise intelligent (very) individual". So when I came across these super benefits as well as the overall simplicity factor, I was pretty much sold and hooked from the getgo. I was also up till 6 am toying with the darn thing – 2 nights in a row!
Two words: Frikin' Awesome!
2. Top notch support and customer service
Headway has an active online community and customer service that is as present and hands-on as the Interpol! Okay, maybe a poor analogy, but you get what I mean. All you need to do is mention Headway on Twitter (with or without the #) and POOF – the friendly genie that is Grant Griffiths (Co-Founder of Headway) or another of his many dedicated team members magically appear to assist and advise. And if you don't believe me, ask my blogger friend and distinguished entrepreneur, Olin Hyde, who also recently went with Headway.
Now, when I say POOF, I'm not simply talking post-purchase. I hadn't even bought the theme yet when "Super Grant" came into contact with me. All I did was merely imply that I was interested and he was just as willing and available to answer any questions I had.
You may be thinking, "of course they're gonna' help and pamper you, they want you to buy their product." Well, you know what? It worked and good for them! Who the hell doesn't like to be well taken care of? Talk about promptness and efficiency; Headway has just redefined the meaning of superior customer service in my book. Actually, they should write an eBook on the subject and send it to all the TeleCom companies out there – for free, with a repetitive message that reads, "please hold, the next available download will be with you shortly." Just a thought :).
"If you're CSS/PHP challenged like me…AND you don't have the time or patience to learn coding… AND you don't plan on having your blog designed by a tech-savvy webbie… BUT you want an awesome lookin' site…Then Headway is the right framework for you."
What Headway and a Famous Country Singer Have in Common
Uhh…not much. But here's how I'm bringing them one step closer.
They say that in order to succeed in Marketing and business in general, "you either have to be first, best or different". Actually, this quote is accredited to country singer Loretta Lynn. And I don't care how funny she talks, she's spot on! Take your pick, cause Headway fits any one of those 3 adjectives.
Me Persuading You that My Rambling is Useful and Entertaining
Alright, I've gotten a bit carried away. I know. I often tend to do that ;).
This post WAS NOT intended to be about me and why I chose Headway Themes. Although so far it has been. In all honesty, the thought of writing about my experience with Headway once I'm all set up, is lurking in the back of my brain – even though I've pretty much covered a good chunk of if here. Mind you, all this talk and I still haven't properly learned to master it nor has my blog been upgraded to Headway – YET. Not because I don't want to, quite the contrary; I'm so excited to have a kick-ass looking site (to match my content), that I'm considering hiring a creative pro to help me get my theme, style, look and feel just right for nittyGriddy!
This post IS, sorry, I mean WAS SUPPOSED TO BE simply what the title implies – a showcase of some sweet looking sites and blogs that were designed using the awesome Headway Premium WordPress Theme. So, without further ado and blah blah (I'm officially coining this phrase since I pretty much use it in every other post), I present you with 13 rockin' Headway'ers; from the wildly creative to the simple and classy.
Damn It, I Lied! I'm Not Presenting Diddly Yet, There's More Further Ado and Blah Blah
While surfing the net to find my top 13, I came across 4 very helpful sources – amongst many others.
Teeny Discovery About Rent A Geek Mom and Me Being Slow…er than Usual
Immediately after writing the previous paragraph, I went ahead and contacted Caitlin to inquire about her "geek to the rescue" type packages. I then proceeded to tweet @GrantGriffiths telling him I sent @RentAGeekMom an email to see about her services since she seemed to specialize in Headway. Part of my exact words to Grant: "she has some "A++ rockin' #headwaywp web design skills." As if I was informing him of something he didn't already know. Well, it seems I may have made a public ass of myself on Twitter for not putting 2+2 together and realizing that Mrs. MommyGeek is actually part of the awesome Headway Team. I guess the odes, posts and banners plastered around her site should have been a dead giveaway. Obviously, they somehow flew right over my head.
Turns out, Caitlin even wrote some documentation for Headway's latest 2.0 version which was released only days ago. I really hope she mistakenly deletes or blindly zaps the part of my email where I idiotically suggest to provide her with my new downloaded version of the theme if she were to need it – if all worked out and we were to work together, that is.  Please God, let her not think I"m a complete ditz who simply thought she was the most loyal, devoted, enthusiastic, fanatical, Headway cheerleader. Actually, with this post, it kinda seems like I may have joined that cheerleading squad myself :).
If I Don't Show the Sweet Designs Now, My Readers Will Personally Show Me THEIR Top 13 Kick-Ass Martial Artistic Moves
Come to think of it, this article really should have been entitled "Random & Endless Ramblings and Musings about Headway" since that's what this is. But because I've gotten you to read this far, I may as well show you the 13 good lookin' designs I was suppose to moons ago. But one thing you can't hate me for, at least I hope, is that I managed to write a rather original and not so dull and monotonous post. Yes, that would be me tooting my own horn ;).
Final Note: I decided not to include the personal Headway blogs to some of my favorite A-list bloggers – Danny Brown, Chris Garrett, RemarkaBlogger, Jim Connolly and John Haydon. Not because their sites don't rock, for they sure as heck do and then some! But because they've been used quite often as examples and are already extremely popular. But you should most definitely check them out for yourself.
On another note, I used this fabulous little Firefox add-on called Screengrab! to capture the home pages with one simple click.
Phewww…it's finally your turn to share. What other great looking Headway sites did I miss? Feel free to add a link to your Headway site.
8. Secondhand Karl and the Temple of Tryptophan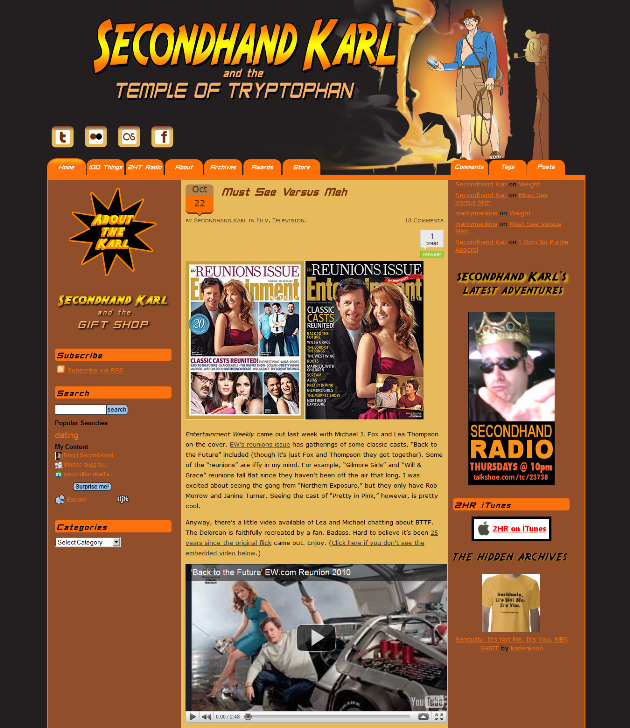 9. Bonsai Interactive Marketing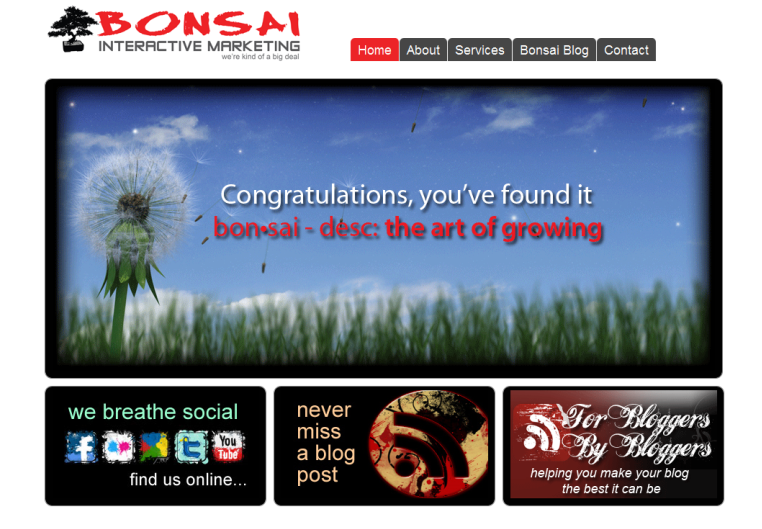 10. Blog Tech Guy
11. Edge of David
12. Smart Shine