To all you social media fans…Part 3 – the last part of my ongoing article "18 Great Books on Social Media" [see Part 1 and Part 2] is here! If you've been following these posts, you will recall that in Part 1 I mentioned that there are well over 100 books that have been written on the subject of social media. Therefore, if you know of any others, please feel free to add on to this short yet worthy list and if you've read any of the ones mentioned (or not), I would love to hear your take on them.
[Books 13 to 18]
13. Crush It!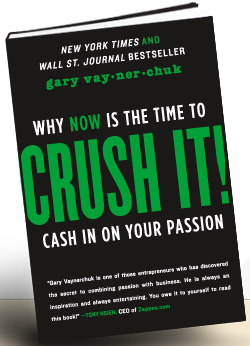 In "Crush It", Gary Vaynerchuk shows how anyone can build a career around what they're passionate about. He also delivers both high-level and platform specific strategy and analysis, allowing you to take advantage of the current business environment while preparing you to succeed as it changes and evolves.
By combining practical analysis and strategy with the same passion and humor that's made Gary one of the most in demand keynote speakers in the U.S. as well as network television's go to wine expert, "Crush It" is essential reading for anyone who wants to understand and harness the future of business and work.
By reading "Crush It", you will learn things like:
Why social media has evened the playing field, destroying the "gate-keepers" who had previously dictated the distribution of content.
How to build an online business around your passion without quitting your day job.
Why Twitter and Facebook are just tools and not a social media strategy.
How to take advantage of the half-billion dollars in advertising that are moving to the internet
Why storytelling is the most important business concept in the current marketplace
You can buy this book on Amazon for $13.59 or less.
————————————————————————————————————————-
14. Marketing to the Social Web (2nd Edition)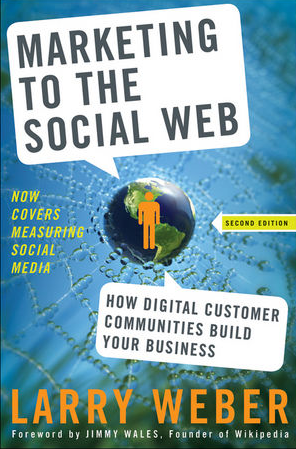 "Marketing to the Social Web" is an updated and expanded version of the popular guide to social media for the business community.
Marketers must look to the Web for new ways of finding customers and communicating with them, rather than at them. From Facebook and YouTube to blogs and Twitter-ing, social media on the Internet is the most promising new way to reach customers. "Marketing to the Social Web" (Second Edition) helps marketers and their companies understand how to engage customers, build customer communities, and maximize profits in a time of marketing confusion. Author and social media guru Larry Weber describes newly available tools and platforms and shows you how to apply them to see immediate results and growth.
Rather than broadcast messages to audiences, savvy marketers should encourage participation in social networks to which people want to belong, where dialogue with customers, and between customers, can flourish. Networking sites like MySpace, Facebook and even Flickr are the perfect forums for this dialog; this book shows you how to tap into this new media.
Marketing and Public Relations expert, Larry Webber, presents an exceptional opportunity to use these new tools and models to reach new markets, even in today's fragmented media environment.
You can buy this book on Amazon for $17.96 or less.
————————————————————————————————————————–
15. Secrets of Social Media Marketing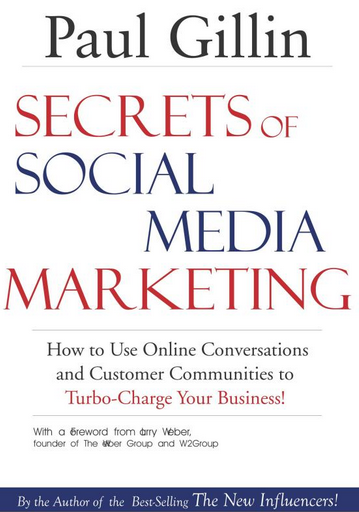 "Secrets of Social Media Marketing" is a handbook for marketers and business owners to use in deciding how to employ the new social media for online marketing. Social media has quickly moved from the periphery of marketing into the forefront, but this is a new and quickly-evolving field and there are few established formulas for success. Building on the lessons set out in Gillin's acclaimed and oft-reviewed "The New Influencers: A Marketer's Guide to the New Social Media", this book provides practical advice on strategy, tools, and tactics. It is a hands-on manual that will educate marketers on how to extend their brands, generate leads, and engage customer communities using online tools.
You can buy this book on Amazon for $10.85 or less.
—————————————————————————————————————————
16. The Whuffie Factor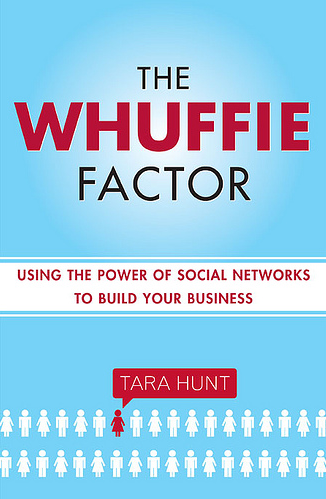 "The Whuffie factor" catches the crest of Web 2.0 and shows how any business can harness its power by increasing whuffie, the store of social capital that is the currency of the digital world.
Everyone knows about blogs and social networks such as Facebook and Twitter, and has heard about someone who has used them to grow a huge customer base. Everyone wants to be hands-on, grassroots, and interactive, but what does this mean? And more to the point, how do you do it?
While "The Whuffie Factor" will traverse the landscape of Web 2.0 and show how to become a player, it is not just another book about online marketing. The book provides business people with a strategic map and specific tactics for the constantly evolving, elusive, and, to some, strange world of on line communities. By connecting with your customers through community interaction, you'll raise your social capital, create demand, and sell more product. Consumer loyalty is a direct result of whuffie. With great stories of online business successes and cautionary tales of major missteps, Tara Hunt reveals how social networking has more influence over buying decisions than any other marketing tool and how your business can tap into the vast world of Web 2.0 to build an unshakable foundation for 21st century-style online success.
You can buy this book on Amazon for $16.50 or less.
—————————————————————————————————————————
17. The New Rules of Marketing and PR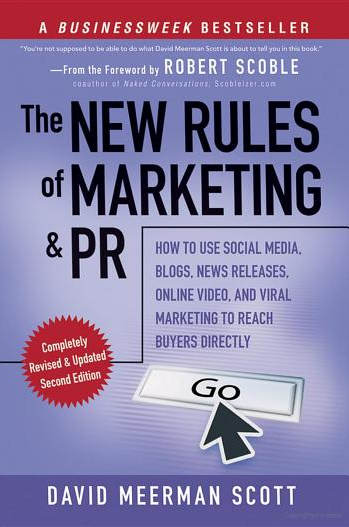 "The New Rules of Marketing and PR" shows you how to leverage the potential that Web-based communication offers your business. Finally, you can speak directly to customers and buyers, establishing a personal link with the people who make your business work.
This new second edition paperback keeps you up-to-date on the latest trends:
New case studies and current examples are included to illustrate the very latest in marketing and PR trends
Completely updated to reflect the latest marketing and PR techniques using social media sites such as Twitter, Facebook and YouTube
Includes a step-by-step action plan for harnessing the power of the Internet to communicate directly with buyers, increase sales and raise online visibility
The 2nd edition of the "The New Rules of Marketing and PR" gives you all the information you need to craft powerful and effective marketing messages and get them to the right people at the right moment-at a fraction of the price of a traditional marketing campaign.
You can buy this book on Amazon for $10.96 or less.
————————————————————————————————————————–
18. A Survival Guide to Social Media and Web 2.0 Optimization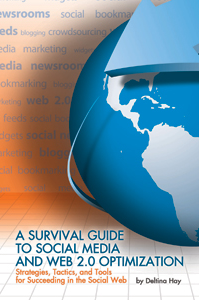 It's no secret that the future of the Internet is the Social Web, and that the future is this very instant. Millions of people and businesses are interacting, sharing, and collaborating on social networking sites, media communities, social bookmarking sites, blogs and more.
"A Survival Guide to Social Media and Web 2.0 Optimization" will show you how to use the tools of Web 2.0 to build a successful Web presence. From Squidoo to YouTube, Facebook to WordPress, wikis to widgets, blogs to RSS feeds, business owners, authors, publishers, students, PR and marketing professionals can learn to apply and integrate these tools by themselves. Gone are the days of relying on Web developers! This book arms you with the nuts and bolts of the new, open-source Internet through hands-on, real-world examples. And, the companion CD is packed with links to other resources, directories of social websites and fillable forms and worksheets to help you map your strategy.
You can buy this book on Amazon for $16.47 or less.
————————————————————————————————————————-
*Note: The descriptions that are under each book cover have been taken from the original sites or authors and have been slightly modified/reworded.