By now, it should be quite obvious that the future (and current state) of the Internet is the Social Web. Therefore, it should come as no surprise to know that there are literally 130 plus books and probably an equal number of eBooks that have been written about Social Media thus far.
In my effort to present you with a few insightful books on the ever-so popular topic, I decided to split the article in 3 parts in order not to end up with a mile long post :)! Like I said, there are many good books on the topic, so feel free to add on or contribute to this list.
*See Part 2 of 18 Great Books on Social Media
*see Part 3 of 18 Great Books on Social Media
[Books 1 to 6]
1. The Social Media Bible
"The Social Media Bible" will show you how to build or transform your business into a  social media-enabled enterprise where customers, employees and prospects connect,  collaborate and champion your products, your services and your way of doing  business.
Using the systematic approach presented in this comprehensive guide, you'll learn how  to:
Increase your company and brand value by engaging people in new forms of  communication, collaboration, education, and entertainment
Determine which social media tactics you should be using with your customers and  employees
Evaluate and categorize the tools and applications that constitute the rapidly evolving social media ecosystem
Make social media tools like Facebook, MySpace, YouTube, Twitter, blogging, podcasting, and hundreds of others a part of your business strategy
Do a social media analysis inside your company to improve internal operations and outside your company to create and monetize relationships with customers and prospects

Implement social media micro- and macrostrategies to give your business the competitive edge it needs to survive and thrive
You can buy this book from Amazon.
—————————————————————————————————————————-
2. Trust Agents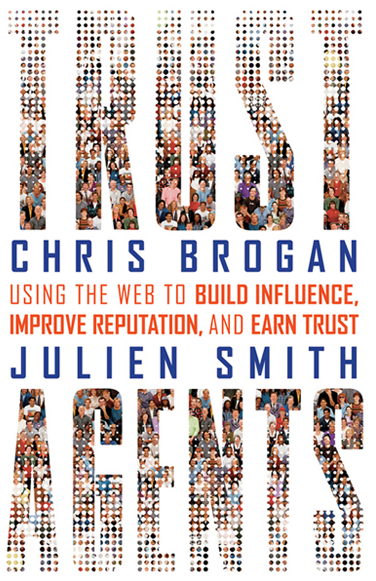 In "Trust Agents", two social media veterans (Brogan and Smith) show you how to tap into the power of social networks to build your brand's influence, reputation and profits.  Today's online influencers are web natives who trade in trust, reputation and relationships using social media to accrue the influence that builds or brings down businesses online.
The book explores how people use online social tools to build networks of influence and how you can use those networks to positively impact your business. Because trust is key to building online reputations, those who traffic in it are "trust agents," the key people your business needs on its side.
Part career advice, part communications management, and part technology know-how, "Trust Agents" aims to deliver high level theory, actionable next steps and stories and case studies to bolster the opinions and experiences of the authors.
You can buy this book from Amazon.
—————————————————————————————————————————-
3. The New Community Rules: Marketing on the Social Web
The explosion of social media can present a great challenge to marketers. By reading this book, you'll understand how social web technologies work and learn the most practical and effective ways to reach people who frequent social media sites.
"The new Community Rules" cuts through the hype and jargon to give you intelligent advice and strategies for positioning your business on the social web, with case studies that show how other companies have used this approach.
This book will help you:
Explore blogging and microblogging, and find out how to use applications such as Twitter to create brand awareness;
Learn the art of conversation marketing, and how social media thrives on honesty and transparency
Manage and enhance your online reputation through the social web
Tap into the increasingly influential video and podcasting market
Discover which tactics work – and which don't – by learning about what other marketers have tried
Tamar Weinberg is an expert in social media and viral marketing as well as an Internet Marketing Consultant and prolific blogger. You can follow Tamar's work at her very insightful blog Techipedia.
You can buy this book from Amazon.
—————————————————————————————————————————-
4. Six Pixels of Separation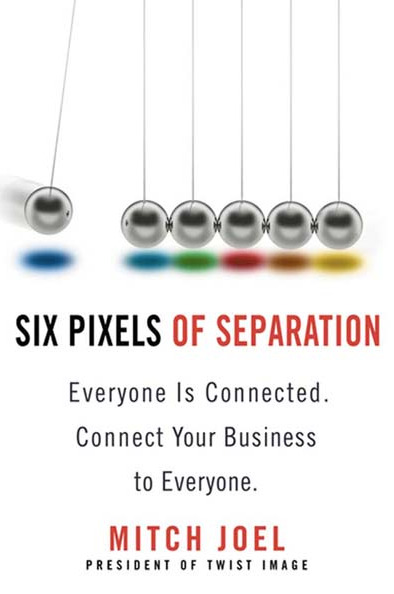 A digital marketing maven who parlayed a podcast into a thriving career, Joel extends the notion of human interconnectedness by six degrees to the virtual world. With abundant Internet social networking sites and mobile texting, we are all intrinsically connected.
This book integrates digital marketing, social media, personal branding, and entrepreneurship in a clear, entertaining, and instructive manner that everyone can understand and apply. Through the use of timely case studies and fascinating stories such as one Gary Vaynerchuk of Wine Library, who transformed his parents' New Jersey liquor store from a $4 million business to a $45 million one in five years by connecting to Facebook and Twitter and creating a video podcast to lure customers, "Six Pixels of Separation" offers a complete set of the latest tactics, insights and tools that will empower you to reach a global audience and consumer base.
You can buy this book on Amazon.
—————————————————————————————————————————-
5. Social Media Marketing: An Hour a Day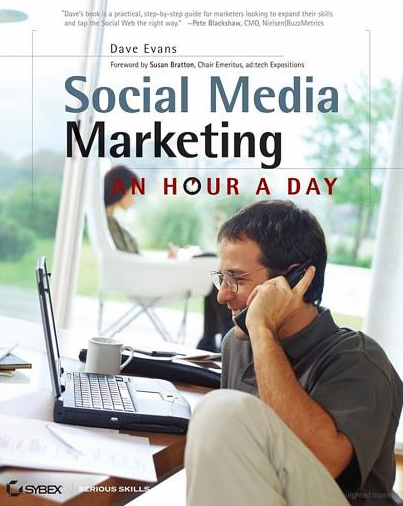 Written by a social media marketing expert, this book eschews theoretical surveys of social media marketing to focus on practical, how-to advice for understanding social media, developing a social media marketing strategy, implementing the campaign and then measuring results.
"Social Media Marketing: An Hour a Day" is filled with interesting case studies, step-by-step guides and hands-on tutorials. It is written in the popular Hour a Day format, in which intimidating topics are broken down into easily approachable tasks.
If the idea of starting a social media marketing campaign overwhelms you, the author of this book will introduce you to the basics, demonstrate how to manage details and describe how you can track results. Case studies, step-by-step guides, checklists, quizzes and hands-on tutorials will help you execute a social media marketing campaign in just one hour a day. In addition, you will learn how to integrate social media metrics with traditional media measurements and how to leverage blogs, RSS feeds, podcasts and user-generated content sharing sites like YouTube.
You can buy this book on Amazon.
—————————————————————————————————————————-
6. Socialnomics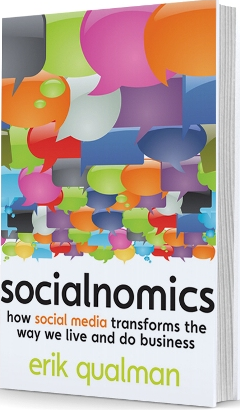 "Socialnomics" is an essential book for anyone who wants to understand the implications of social media, and how businesses can tap the power of social media to increase their sales, cut their marketing costs and reach consumers directly.
Brands can now be strengthened or destroyed by the use of social media. Advertising is less effective at influencing consumers than are the opinions of their peers, making direct-to-consumer marketing messages less valuable each day. But savvy companies are using online networking sites as massive focus groups and as an efficient means of communication with consumers. If social media isn't part of your business strategy, you've already fallen behind the curve-and your competition.
In "Socialnomics", Erik Qualman offers a fascinating look at the impact of social media on business to reveal what the future holds and how businesses can best take advantage of it. He explores how social media is changing the way businesses produce, market and sell products; how it eliminates inefficient marketing tactics and middlemen; and how businesses are connecting directly with their customers through  popular social media platforms.
*Note 1: The descriptions that are under each book cover have been taken from the original sites or authors and have been slightly modified/reworded.
*Note 2: Part 2 will shortly follow in the next post with another 6 great books on Social Media.