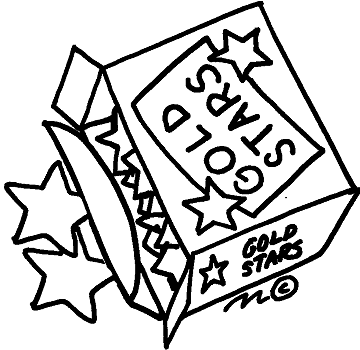 Hello My Lovelies,
Yes, it's SuperPost Sunday on a Monday. But if I were to give my same lame-ass excuse about my lousy internet connection you'd yawn of boredom and maybe even tear a little (like me) from irritation. So I sucked it up and said what the hell. I'll publish my Sunday post on Monday and everything will be Aokay!
Why?
Cause it'll be just as good and loaded with goodies worth reading!
Pheww!
Okay, now that that's off my chest, let's start over…
Hello My Lovelies,
Happy Belated Father's Day!
I'm hoping you all had a great weekend and are ready for that dreadful day of the week they call Monday. Sigh…
I actually feel bad for Monday. I think it's the most hated day and all the other day's probably gang up on it. I mean seriously, you start thinking of Monday on Sunday and all of a sudden the pressure starts to build which automatically changes your mood.
That said, I think Monday mostly affects those folks with 9 to 5 day jobs. If you're self-employed such as myself, John falchetto and countless others, than your Monday might be no different than a Tuesday or Friday. It all depends on your deadlines or client meetings and so forth. Heck, there are times I work on weekends till 5 am and do nothing during the week. They might be rare these days, but trust me, they do happen!
Bill Dorman – My Top Commenter for May
Anyhow, I think this little reminder of mine just caused you to like me a little less so I'm gonna' stop while I'm ahead and instead tell you about last month's Top Commenter and Friendly Stalker here on nittyGriddy. Don't freak out – no one is following me home or breathing heavily into the phone or anything like that. I gave the term "friendly stalker" a whole new meaning when I featured Marcus Sheridan and Davina Brewer as the April winners.
Clap, clap clap and give it up for the NOT so invisible blogger, and my friend – Bill Dorman – who alone left a total of 57 comments during the month of May.

WOW – that's pretty frickin' impressive! I think Dorman just nailed the 4 D's of (commenting) success. For Pete's sake don't look so confused! I'm talking about Desire, Drive, Dedication and droll. NOT troll…DROLL as in amusing and agreeable! Sheesh!
As you can see, Bill won by somewhat of a landslide leaving Mufasa and Davina in 2nd and 3rd. What's really incredible though, is that combined, my top 5 commenters left a total of 160 comments. Now that's what I call being engaging!
It's no secret that people here like to compete (amicably and in a healthy fashion) for the medals and for the top spot. But what I love is the enthusiasm and fun that they display while going about it. And Bill is no different.
Now, I'm pretty sure many if not most of you, know Bill. But if for some reason you don't, then I suggest you head over to his blog and connect with him on Twitter. He's most definitely one of a kind and someone you want to call a friend.
If he likes you, your blog and your community – he'll surely turn your comments section into one of the most pleasant places to hang out online. Not only is he loaded with humor, but he's just about as friendly as they come…not to mention thoughtful, genuine, appreciative and clever.
I first met Bill when he was simply commenting on blogs –  including this one :D. At the time, he didn't have one of his own, but reading his thoughts and conversing with him here and elsewhere was like a breath of fresh air. He exuded honesty and humaneness in everything he said. So of course, I did the only thing that seemed reasonable…I (as well as many others I'm sure) pestered him until he started his own blog lol.
Why?
Because his comments were like blog posts of their own (cough) and his friendly nature and knowledge would undoubtedly go a long way in this blogging world of ours! And on top of that, I was interested in what he had to share.
In  a matter of a weeks, Bill managed to build an engaging and loyal community. And to tell you honestly, it's no surprise. This man makes such an effort to get to know those he likes and admires that it's only natural to want to get to know him back. Much like Davina and others, he brings new meaning to the term "join the conversation" – for he doesn't simply join it, he takes it to another level.
I could go on and write a small eBook about this wonderful fella' but instead, I'd rather you visit his blog and read some of his posts. see for yourself why Bill is one of the most likeable people I've come across online!
Check out 3 of his most recent articles:
Time for the Goodies…
And now, without further ado and blah blah," here are this Sunday's rockin' SuperPosts on all things Social Media, Blogging Tips, SEO, Internet Marketing, Traffic Building, Online Money Making Tools and more…
We are now entering an era of sociopolitical influence, a framework for governments that influences and is influenced by its constituencies through real life interaction and now, new media. Some may say that this…
Want to learn more about social media for marketing your business? Then you've come to the right place – the following are the top authorities in social media and online marketing, as ranked by the Adage…
Since the regime changes in Tunisia and Egypt, and other popular uprisings in Middle Eastern countries, there has been a lot of discussion about the importance of social media in mobilising protesters…
A lot of people, including me, spend a lot of time talking about what social media engagement is. I mean, some people even do a whole series based on that subject (heh heh heh). But I think sometimes it's important…
Last year I created a list of 25 Women That Rock Social Media for 2010 which was well received and appreciated. Most of the women listed I've come to know through involvement in the Public Relations…
Facebook fan pages have emerged as a universal lifeline to customers. The number of brands sharing news, addressing customer service issues or fostering discussion in these passionate communities is growing…
Sometimes the path of least resistance unwinds into a far more complicated and arduous journey than we anticipated. In times of change, taking the path less traveled, although initially daunting, proves easier and…
A lot of times in the online world, you see "best of" lists for women. And that's cool. I think that in a lot of instances women are woefully underrated in comparison to men, still. However, this does not mean that we…
We all want to do well on Twitter, we all want to reach out to maximum people out there. Higher influence can help you in ways more than one. Traffic to your website, help you gain publicity, get you noticed…
Many B2B marketers approach Facebook with the knowledge of how to maintain a personal profile, but still shake their heads at how to get results from a business Page for their B2B company. There are two basic…
I've written previously about the way some social media gurus are totally clueless when it comes to anything, other than building impressive looking social media followings. Well, even though influential…
I was along for the ride on one of the most contentious (according to comments) blog posts ever, and based on "Popular Posts" tallies in his sidebar the highest-number-of-comments (250) as of this moment…
Don't you just love it when you put everything you've got into every post you write just to see it buried in the archives a couple of weeks later? Rhetorical question, I know… All is not lost however. You CAN find other…
When you're blogging for business it's easy to get caught up in writing compelling content, ensuring you have proper calls to action on posts where it makes sense, and sharing your content on every social network…
Is your blog on track to succeed? Regardless of whether you're a blogging newbie or have been blogging for a while, it's a good idea to check to see that you're blog's on course to achieve the goals you set for it…
The Law of Attraction is a multi-billion dollar industry that has as many critics as it does fans. Its fans rave over its benefits, while its critics point out flaws in its approach and its inability to be measured…
There's an old and overused quote in business that says "nothing happens until someone sells something". While it's obviously an oversimplification, there's something to say for sales being the very core of your…
Only few weeks ago I was against installing a commenting system on your blog and many of you agreed with me. However, I see more and more great blogs installing them and changing from the default commenting…
There's an interesting thing happening online at the minute – people are beginning to see through crap and filter out inane. Long-term fans and advocates of bloggers and social media "leaders" are looking at them…
Hello. I'm a potential new customer and I just landed on your Web site for the very first time. I'm taking a look around and I think I may like what you're offering. In fact, your services/that pair of shoes/that quirky…
I asked this question on LinkedIn in a couple of groups I am in. Here are some of the awesome responses people gave me. Read them and let me know your favourite ones…
Last Friday. 5:45 am. I just read and commented onDanny Brown's post about Marketing and the Emotional Connection. The airplane doors closed. I am on my way home to Idaho for the week. I dutifully shut down…
I have been really chewing on this post for a few days now.  There are just so many good lessons here for bloggers in general, but especially for the small business blog or even the entrepreneur's blog. Blogging got…
Benjamin Franklin was one of the Founding Fathers of the United States of America (USA). A famous polymath, Franklin was a leading author and printer, political theorist, politician, postmaster, scientist…
I don't know about you, but I sure as hell wasn't born to be mediocre! I wasn't born to be average either. Average might be normal – I get that. But in the grand scheme of things, it's not for me and it shouldn't…
[image credit: by Mark A. Hicks – Clip art licensed from the Clip Art Gallery on DiscoverySchool.com]