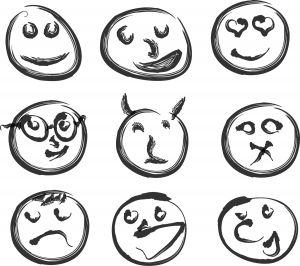 I'd like to think that all blogs are made up of friendly and respectful communities of like-minded individuals. I know mine is :D.
But I also know that isn't always the case.
There's many kinds of commenter personalities and I've taken a shot at describing  9 of them for you.
Why 9 not 10? Well…I'm counting on you for the 10th one. And if you've got more, go crazy!
Profiler: 9 Different Types of Commenters
1). First are the Legitimate Commenters – these are the peeps every blogger hopes for – the kind who have something thoughtful to share and add to the conversation – regardless of whether they agree or not. And when they disagree, they'll do so in a smart and respectful manner all while adding value and making friends along the way. I'd like to think that this is where I fit in and if you know me, I'm quite certain you'll agree.
2). Second are the Starstruck Commenters or the you're the best and I will always agree with everything you have to say regardless of what I honestly think – to be fair, many of us have been this person at one point or another – usually early on in our journey.
There are times when we honestly agree with something someone wrote and have no valid reason no to. All we have to share in our comment is how much we agree, how it might pertain to us and how much we like the author. And that's totally cool. I'll be the first to admit that I've done this many times and continue to do so – but when I do, it's because I mean it! I'm not much of a butt kisser and when I have something to say, you can be damn sure that I'll say it.
Then there are those others who are afraid to voice their true opinion – maybe of fear that they might be judged, or that they may be wrong, or that they don't have enough evidence or personal experience to support their counter-views, or maybe simply because the author is well known and respected and what he or she says must be true. Whatever the reason, the non-opinionated commenter will refrain from disagreeing with you. It could be intimidation or a lack of confidence or personality. Or it could just be laziness. But whatever the reason – it's there.
Often times these folks are just looking to make some kind of connection with the blogger.
3). Next are the Sneaky Link Spammers – who hope to generate traffic to their sites through irrelevant comments. But believe it or not – they're getting smarter and smarter and it's often difficult to distinguish the genuine from the fake. I've seen quite a few of these folks here and I'm embarrassed to say that I've been duped once or twice before. Alright, maybe 3 times ;).
4). Then there's the ever so popular Tactless Trolls – who will pretty much criticize anything and everything and often play devil's advocate just for the sake of it – they're not always rude although they can be.
Believe it or not, the trolls sometimes make valid points which are worth listening to – but their lack of tact in presenting their opinion leaves you with a negative impression. As for those who make no plausible arguments and are just there for the hell of it – their efforts are usually a sad attempt at gaining some kind of self validation.
The more you feed these people, the hungrier they become and the higher you boost their self-esteem. I have the perfect example in mind, but I'm too much of a lady to kiss and tell ;).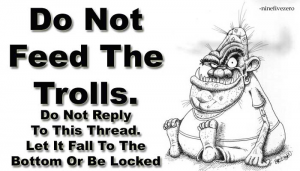 5). Not to be forgotten are the Lazy Skimmers – these guys will skim through your post and read parts of it or maybe just a few sentences and base their entire comment (or argument) on that. If it makes sense – then props. But very often, they'll draw on false conclusions and embark on an embarrassing rant.
6). Every girl wants a Knight in Shining Armor but some blogs get them whether they ask for them or not – don't get me wrong, these are kick-ass peeps to have on your side. They're your personal defenders who come to your rescue and they'll stick their neck out for you when you're being hammered by a troll. These folks have your back and won't hesitate to tell your enemies off – often doing a better job than you could have yourself.
Heck, I'd love to have my own army of these guys and I'd like to think that the day I need my friends, they'll be there for me the same way I would for them.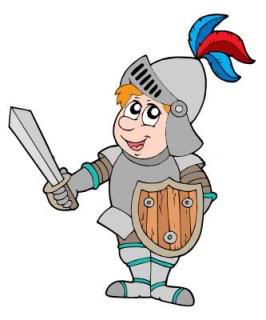 7). Everyone's come in contact with a Big Headed Boaster at some point or another – whether in your life offline or on. This is the person who drops by just to show off the skills or the material possessions they have. This is the guy who owns 2 Ferrari's and "supposedly" makes a million dollars a month online.
He's also the guy who's dated supermodel's and actresses like Gizele and who only eats caviar for breakfast and sushi off a naked woman's body in his pied-a-terre penthouse suite IN JAPAN!
8). Always challenging – in every sense of the way – are The Illiterate who come from a global tribe known as "The Illiterati". Although the term sounds fancy and powerful, kinda like the infamous Illuminati's – I guarantee you, they're not!
I fully realize that English is not everyone's first language. Heck, it's not mine either (shocking, I know). And I know how difficult it can be to express yourself in another language that you aren't fluent and proficient in. But there are limits! There's only so much my eyes can handle.
I'm not talking about silly typos and minor grammar mistakes. We all make them. If you were to go through this post, I'm sure you'd find quite a few although I'm hoping you don't lol. But I also know that my writing – with its faults and all – can easily be understood. Basically – my readers know what the hell I'm yappin' and musin' about!
I'm talking about those comments that you need a dictionary, a thesaurus and a translator to decipher. I'm talking about the one's that look like they've been typed using an iPhone (with sticky fingers) while in an inebriated state at 4 am. Actually, make it a Blackberry – those keys are even smaller and more prone to WTF?! kind of errors.
9). And finally, you've got the Inappropriate Sex-driven Peasants otherwise known as perverts or as I like to them – Dickwads (not so lady like of me, I know)! I've unfortunately faced a few of these pervs myself (God bless our profile pics eh lol), and though I'm not quite sure what they're hoping to gain – except attention and the push of the delete button – you can imagine the kind of obscenities they leave for comments (and emails). They're quite the creative bunch.
Some are ballsy enough to leave their name and others do the anonymous thing – either way, they get no replies from me.
It's quite remarkable though cause these folks have such a way with words when describing their genitals that it's almost a pity they waste their 'growing' talents on comment sections when they could do so well in the R-rated film industry. Script writing maybe? If there was ever an emoticon for sarcasm, this is where it would go!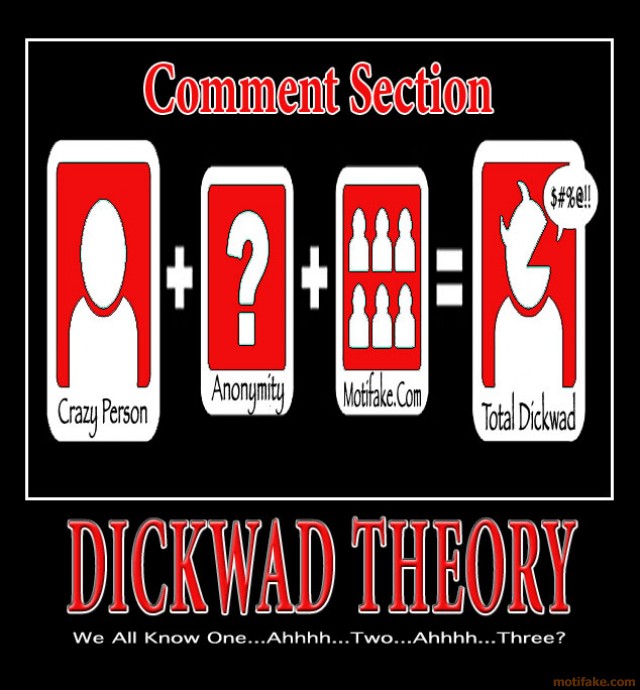 Okay…you know as well as I that I could go on here with at least 4 or 5 more examples if not more. But as it is, I cleared 1000 words about 200 words ago (go ahead and count Gini lol) and I'd much rather read the profiles you've encountered or have in mind.
Have you met any of these commenters? On your blog or elsewhere?
What other types of commenters do you know of?
Which of these categories would you fall into? I'm hoping it's not number 10 lol.
[image credit: (Many Faces) via Blogging for Dot Info]