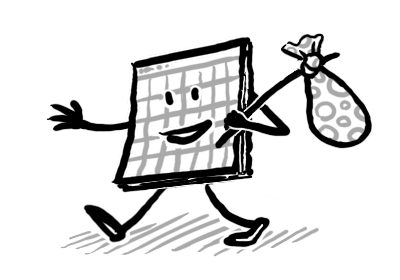 Hello My Lovelies,
I'm gonna' keep my musings to a minimum this week.
I know, I know! Some of you are in complete disbelief and besides yourself and others are sighing in relief.
Gini – I know you're smirking at this – so go ahead, let if out if you must lol. I'm thinking you're here too Mufasa, so if Aunt Gini says anything, I'm counting on you to back me up okay? Good!
Oh, and Gin – in case it's the mane who pokes fun at me, then I'm counting on my VBFF gal pal to be my CEO in shining armor lol. But if it's both of you, then I'm pretty much toast ;)!
There's only ONE thing I'd like to tell you this week before I leave you to enjoy all the great reads I have in this SuperPost.
The Mega Guide to Blog Posting Schedules
This past Wednesday, I did a little something different with Bring IT! I sent out a call to all bloggers who'd like to be listed in a Mega Guide to Blog Posting Schedules. I'm still trying to think of a better name for it so if you have ideas, let's hear 'em!
We read a ridiculous number of blogs each week – at least I do. And it would be great to have some sort of a guide to tell us on what days new posts are being published.
So I took it upon myself, with the help of my good friend Brankica (Sharpy), to round up that information from each blogger who was kind enough to leave a comment. Of course, I will be replying to those comments for the rest of 2011 ha! Seriously though – WOW and thank you!
I'm thrilled that so many people were as excited as I am about this and I'm sorry to have kept many of you waiting for a reply. Bare with me, I'm on it!
So in case you missed the call, make sure to head over to that post and leave the information I requested. This is your chance to pimp your blog like there's no tomorrow. But you MUST do so before 7 pm EST Tuesday, April 12th (2 more days). Anything after that time will be excluded.
Sorry guys, but I had to put a deadline. As it is, Sharpy and I have our work cut out for us – and deciphering some of these comments is like looking for DaVinici's Code. I'm hoping she doesn't already regret agreeing to helping me out with this little idea that came to me at the wee hours of the night.
The guide is scheduled to come out on Wednesday, April 20th. Yes, I gave myself a 2 day extension so I can Bring IT! with a bang. Just one of the perks of being my own blog boss I guess ;). Should there be any other changes in dates, I will make sure to update both the original post and this one.
Here's a little recap of what I need from you in order to list your blog in the guide.
Your full name
Your blog's name
Your blog's direct URL
Your blog's tagline if it has one
The days you publish new posts – if you don't have a set schedule – then just say so and it will be listed as that
You MUST RT the post and share it any other way you like – tell me what you did in the comments
One last thing – please leave your information here and make it as clear as possible. I'd really like to have everything in one place so that the men in white jackets don't come for me. Thanks a lot!
That's it for today folks.
And Now for the Goodies…
"Without further ado and blah blah," here are this Sunday's fabulous SuperPosts on all things Social Media, Blogging Tips, SEO, Internet Marketing, Traffic Building, Online Money Making Tools and more.
Social Media
As I sit here this evening with a smile on my face I feel a tremendous sense of satisfaction and anticipation with today's article. You see, when I started this blog 18 months ago I knew that it would attract many…
I knew I wanted to work in social media for quite a while before I actually started my job. I envisioned what a social media job would entail and quite liked what I came up with. A combination of creativity, people…
Blogging is definitely not easy, and that's something that even Hitler finds out about in this video I put together...
Have you ever heard of that old saying, "You can take the 'x' out of the 'y', but you can't take the 'y' out of the 'x'"? It implies to social media a lot. How many people do you know have Facebook? Or Twitter? Or even that old-time…
What is the thread that ties together the rapid rise of companies as different as Facebook, Zynga, Twitter, The Huffington Post and Quora? Wedbush Securities, a brokerage firm that analyzes the valuations of private…
I often get calls from potential customers looking for the secret ingredient to make them "successful" in social media.  I got a call yesteday from a gentleman looking for help with his Facebook Page.  How did I quote him…
As social media takes firmer hold of marketers' attention and budgets, favored social channels, their primary uses and their individual strengths are becoming more evident, according to a new study byBtoB…
On Wednesdays all over the blogosphere some post an image with no words to explain it. I never really understood this, probably because I prefer to express myself with words. But then I often agonize over the right…
New Google CEO Larry Page, who stepped into the job this week,believes that Google needs to go "social" to compete. To that end, he sent out a company-wide memo last Friday, alerting employees that 25%…
Can social Q&A sites really help you build your professional reputation? And if so, how can you use them effectively? I've taken a look at three sites that offer similar Q&A functionality, yet are vastly different…
Blogging Tips
There's a peculiar paradox in the social media world. Take a look around and you will see creative individuals kicking butt and taking names.  They are writing amazing content, organizing humanitarian aide…
Perhaps it is only because a Crosby Stills Nash song that I could not turn off was on a radio shortly ago, but I am feeling kind of reactionary…no,revolutionary today.You may not be aware of it, or maybe you are…
Internet Marketing
One of the allegations I've heard about StumbleUpon is that it's great for a quick traffic boost, but many people visit once and never come back. That's not the kind of romance we're looking for…we want repeat visitors…
There's no doubt that people are spending increasing amounts of time with digital media (the web and mobile devices) and decreasing amounts with traditional media (newspapers, magazines and radio). The numbers prove it…
SEO
Since discovering SEO at 15 years old, I've relied on search engines to enable me to make my living online. Like many internet marketers, I make the majority of my income with affiliate marketing…
SEO mistakes and myths have become a rising trend with all the pseudo-intellectuals of the internet marketing era . This post is not only intended to let you evaluate if you are commiting those SEO…
MishMash
Do you remember the time you had that revolutionary idea that was going to make you rich? You were all tingly and awash in visions of telling your boss to take a hike and speeding off in your Ferrari…
I don't know  Snooki. I can say with confidence that I would prefer to be beaten about the head and shoulders with a block of hardened, aged, Gouda, than to watch "Jersey Shore." And yet, I feel like…
It's a very vivid memory. Sitting in the conference room at Fleishman-Hillardwith our Ocean Spray clients. There are five or six three-inch binders full of media placements sitting in the middle of the table…
He was one of the most memorable orators of modern times, delivering a forceful speech from beneath a great mane of hair. His voice rose to a roar and fell to a growl as he extolled a hard-won virtue at a time the planet…
It was a hot and muggy day. I had been working from morning to night on multiple projects at less than half my rates as a favour for a few friends. My own work had fallen behind, and I had just a little over $200 left…
This is a bit of a different post today. It begins with a letter. Dear CEO, I know you're happy at the recent, positive, publicity for your organization that your PR team has been generating. And I know you're hoping…
[image credit: via JB Winter]