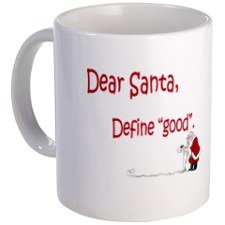 Ho ho ho my lovelies,
For those of you that celebrate – MERRY CHRISTMAS!
I hope you had a joyous time with your families.
I'm hoping that the fat, white-bearded man stuffed your stockings with tons of health and wealth. If not, call 1-800-BEENBAD collect, and have a chat with one of his elves. Those little green gatekeepers have all the reindeer pull you'll need.
As for me, Santa was awfully generous this year. But then again – he usually is.
I've either been especially good or he decided to overlook all my little imperfections and occasional sprees of naughtiness ;). Either way, thank you St. Nick and THANK YOU my wonderful family of amazing elves. I'm truly blessed.
I actually hesitated to publish this week's SuperPost. Seeing the holiday festivities, I figured that about 4 1/2 people will be reading this. Plus, the roundup – although kick ass – is rather thinner than my usual ones – especially compared to last week's gigantic collection.
My excuse for the lack of length and wit today is not laziness, but rather a little BIG thing they call CHRISTMAS HOLIDAY :). So, you're either sighing in disbelief or devastated at the fact that today's ramblings have been restricted to a bare minimum – either way, oh well ;)!
But in all honesty, I love writing this roundup and therefore decided that regardless of all the pleasant factors, I would publish it anyways cause the articles listed are well worth the read!
And so…
"Without further Christmasy ados, ho hos and blah blahs," here are this Sunday's awesome SuperPosts on all things Social Media, Blogging Tips, SEO, Internet Marketing, Traffic Building, Online Money Making Tools and more.
HAPPY READING AND HAPPY HOLIDAYS EVERYONE! WISHING YOU ALL A FANTASTICALLY FESTIVE WEEK AHEAD.
PS: DON'T FORGET TO CHECK BACK TOMORROW FOR A NEW AND COOL INFOGRAPHIC AND THURSDAY FOR MY SPECIAL SOCIAL MEDIA RESOLUTIONS POST :).
Social Media
Is your company's social media strategy really working? Could it stand for some improvement? Whether you feel that you've maxed out the potential of your current social media efforts or you feel like nothing you do is really helping…
Social media is often misrepresented by numbers. Followers, website traffic, Facebook  friends, community members, blog subscribers, etc. all contribute to a self-imposed goal that really yields nothing in return. The numbers that are important…
Blogging Tips
Albert Einstein has made many amazing contributions to the scientific world, including the theory of relativity, the founding of relativistic cosmology, the prediction of the deflection of light by gravity, the quantum theory of atomic motion…
About six weeks ago, I knew it was time for me to write another article for this blog. I started getting some ideas down on paper and brainstorming like I always do. A week passed. Richard asked me what the status of my article was…
Blogging is like music you need to play several instruments at the same time, and to get a good sound, you must play them with harmony and coherence. You're the person in charge of the orchestra – the director and your unique style reflects…
MishMash
This morning, I'm off on a jet plane to San Francisco for a last-minute pitch with my friend and colleague, Merredith. As I zipped over to drop the dogs off for a day of doggie fun and a night of boarding, I poured my car into the glowing pink horizon…
Technology is meant to better human lives. Unfortunately, it doesn't always work out that way; and a perfect case in point is the recent WikiLeaks scandal. I will refrain from debating the legalities and moralities of WikiLeaks as that's a sensitive issue…
When I was growing up, I was afraid to speak up and barely knew right from left or how to maneuver through the hometown I grew up in. But I was quietly adventurous and used my mind and creativity…
I am not a PR professional. I've been exposed to, and used, PR professionals in a variety of ways: * As the owner of a growth-oriented business, * As an author and speaker, and * As a marketing and sales advisor to my clients…
Life — it's what we do between the time we get here and when we go. We only get one, and despite what other folks might suppose, it's ours to determine what to do with it. We don't measure life in hours and minutes. We measure life in memories and moments…
[image credit: Cafe Press]