Ever wonder who's in the lead when it comes to the thousands of different Facebook Applications and Pages? What social games are the most popular? How many people play Mafia Wars? Who has the largest number of fans on their page? How many users play Zynga's Texas HoldEm Poker on a daily basis?…
If you're curious about any of the following questions, then you're in luck – cause I have the answers for you right here! Thanks to All Facebook, Nick O'Neill's very informative and detail-oriented blog, you can remain updated with pretty much anything and everything that has to do with the social networking giant – from new applications to general news, it's all there!
So, once you're done reading here, I recommend that you visit All Facebook. Take a look at some more mind boggling stats and learn about all things pertaining to Facebook, including insightful analysis about the company's [bright] future.
Top 10 Facebook Fan Pages (in numbers)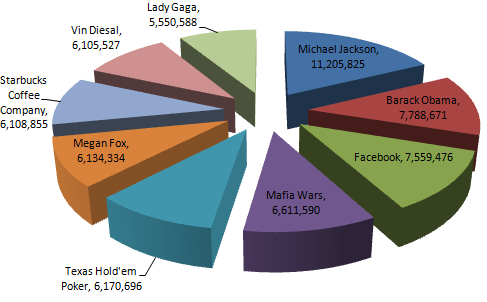 Top 10 Facebook Applications (by users)
[image credit (All Facebook logo): www.allfacebook.com]
[source: information compiled from www.allfacebook.com; charts created by Ingrid Abboud]