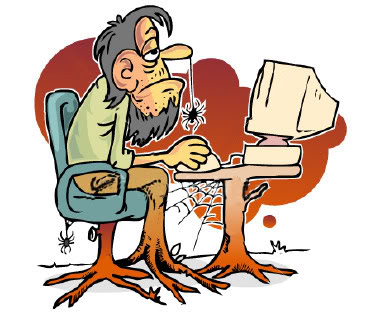 Hello My Lovelies,
Welcome to week 30 of SuperPost Sunday!
Wow – to think that I've been doing this roundup for 7 and a half months is pretty insane! And I have yet to miss a Sunday :D!
This whole "time flies" thing is but a massive understatement. Seriously!
Anyhow…I know I don't need to tell you about all that as I'm sure you know exactly what I mean.
Where Time & Telecom Stand Still
A few of you have heard me make some snarky remarks in the past about the internet connection we have here in Lebanon. For a country that's so hip and advanced in numerous things, the telecom industry is still stuck in the effin' ice age!
I'm not kidding folks! You'd shoot yourself right after smashing your computer to the ground if you had to deal with the connection I have.
Okay…it's not like it's dial-up or anything like that, but it's about a hundred times slower than the one YOU have at home. Oh, and wait till you hear the best part…
If it rains, the connection gets slower – and if there's lightning or thunder, they'll shut it down until it calms – and if you're using it during peak hours, it slows down even more – as if that's even possible!
For someone who pretty much lives online (in a roundabout sort of way), I seriously wonder how I'm not popping Prozac pills or repeating "Mmmm…Namaste" all day long!
But wait…I'm not done!
Would you like to know just how fast mine is?
512 KB for download and 256 KB for upload! Alright – you can close your mouth and stop laughing hysterically now cause there's more.
Would you like to know how much I pay for this "thunder bolt" connection?
50 USD per month! Oh, come one – don't gasp just yet – there's MORE…
With those 50 bucks you get 2.4 Gigabytes of upload and download – then you pay extra for each Megabyte you go over!
You should try keeping Twitter open all day long and see how fast you go through that. I'm thinking 3 days tops! Or better yet – try loading a YouTube video during peak hours and see how long it takes – just for kicks!
But lucky for me, I've got some kind of sketchy deal with my sub-providers so that my upload and download are unlimited and my connection is much faster at night. But that's just at home. Needless to say, my "internet guy" is on my speed dial for every time I sneeze and the internet stops working for some retarded reason!
Of course, a faster connection does in fact exist – though "faster" is a pretty big word here. If you're willing to pay an extra hundred dollars or so per month, you can up your speed to like a whole Megabyte. WooHoo – sound the bells of joy and victory!!!
Don't you just love the feeling of getting screwed (insert fat-ass sarcastic emoticon here)? Ha!
Actually, here's nice snapshot of what my internet speed was while writing this post…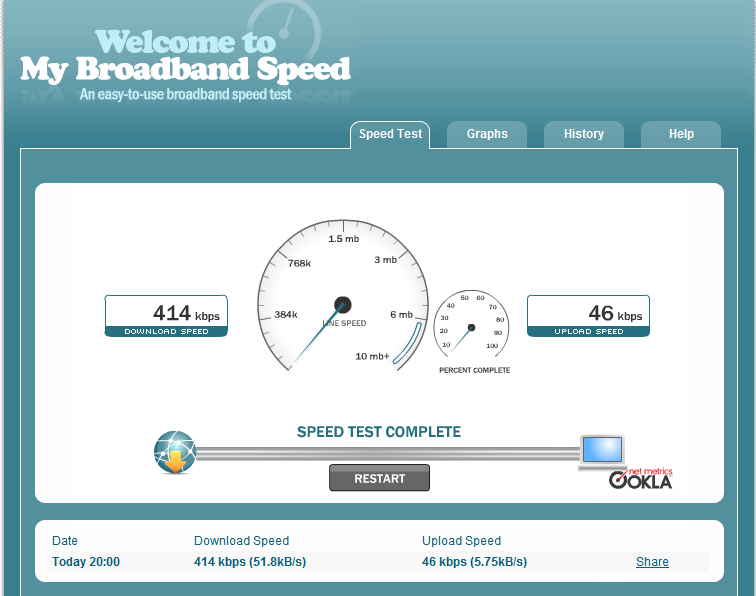 You're jealous aren't ya? Admit it!
Now don't get me started on our smartphone connections. Same bill, same speed, but you get a 100 MB limit per month and then it's an extra dollar or so for each megabyte you go over. Yes…I've teared and developed sudden cases of Tourette Syndrome many a times upon receiving my phone bill!
But hey, all this is but the gist of it.
There's obviously many ONE reason for why our Telecom industry is the way it is. MONEY! That's right – money, money, money!
There's just too many pockets that need to be filled and those sorry-ass (insert vulgar un-lady like word here) don't give a crap about putting the economy of the country before their personal bank accounts!
But don't take my word for it!
I'd love for you to read this fantastic article on the state of the Lebanese Telecom industry by my friend (IRL) Imad Tarabay, Chairman and CEO of Cedarcom. It'll definitely shed some light on why all this is and what could be be done to change things around.
You might learn a few things as well – I sure as hell did! Like who has the fastest internet connection in the world? You'll be just as surprised as I was.
I WANT to hear your thoughts on all this so don't be shy. Put your comfy clothes on and meet me and my awesome community at "Central Perk" – otherwise known as the comments section. Gunther will be waiting to bring you cookies and coffee ;).
Alright – I think I've talked enough!
Time for 26 Goodies…
"Without further ado and blah blah," here are this Sunday's rockin' SuperPosts on all things Social Media, Blogging Tips, SEO, Internet Marketing, Traffic Building, Online Money Making Tools and more.
Social Media
There are some blogs I feel bad to neglect, yet delighted when I make time for them. They are the blogs where I intend to be more active, and I want to share some of those with you. These are blogs by people…
Facebook recently published a PDF document giving businesses a guide to best practices for marketing on the massive social networking site. The 14-page document, titled "Best Practice Guide: Marketing on Facebook"…
I do not want you to use social media to sell stuff and make money. I do not want you to use social media to attract clients and fill a practice. Sure, it works for those things. And I talk about that often because that's what people…
When there are more choices and conversations to spend time on, one can easily become distracted. Social media as an industry has created many distractions — some of which are enjoyable, some not — that can easily…
When I look at social media I don't see a way to lower your cost of marketing, increase ROI, or grow your brand. What I see is access to a global networking of inspiring people. You see, the benefits of blogging, tweeting…
Companies love to share their successes with social media. How it's allowing them to "engage with fans and customers", and how they're "being part of the conversation". Like it's something new and wild and golly gee…
Blogging Tips
Sometimes you're just flat out of ideas. It's not a matter of talent — you've written great stuff in the past. But lately, when you go back to the well for a fresh idea, it's coming up dry. This happens to the best of us…
It's possible I'm going to cause a riot here. In fact, in writing this post, I'm going against something I believe in strongly – blog post regularity. I think posting regularly keeps your blog viable. It's like in-person relationships…
Everyone tells me blogging is a relationship.You interact with such a wide variety of talent; get to know them through their blogs, listen to their say, read their takes on issues, find out strategies and basically have…
How to get your name on the blog of your choice is a topic much discussed already. But instead of speaking in abstracts, my focus in this post will be speckled with my own personal examples and past guest-posting histories…
One hundred and fifty-four million, four hundred and forty thousand blogs go completely and utterly unread. Let me write that number out for you so you can really take it in: 154,440,000…
Is your blog the best in the world? Often when we want to blog, we can struggle with what we see in the blogging universe. These blogs are doing better than our blog. Why is that? This blog has more followers on Twitter…
Internet Marketing
The web has truly shaped what used to be a controlled and very one-way messaging system into a completely real-time dialogue with millions of people. Social networking sites like Facebook, Twitter, and YouTube…
Want to know a secret? Your website or blog is your business. Whether you make a few dollars a month on that site or thousands, it is still your business. Even if you don't have it monetized, it is your PR campaign…
When you were a child you didn't think about building websites. You never thought about market research or product creation. Pay-per-click campaigns on Google and Facebook Ads didn't exist. Even if they did, you wouldn't…
Good morning! It's an amazing day here in Chicago. It's Sunday May 1st and I'm decompressing from a terrific SOBcon this past weekend. SOBCon stands for Successful Online Business Conference. It's hosted by the incomparable…
SEO
About to Publish A Post? STOP! Read This – by Lisa Barone, outspokenmedia.com
It used to be that it was just us writer people that were responsible for publishing blog posts. But, my, how times have changed. As business owners, marketers, and social media mavens, we're all responsible for…
Online Money Making Tools
Do you want to make money blogging? As of late, I've been enjoying an increasing level of income from Site Sketch 101. I'm thrilled and excited to announce that I'm truly beginning to make money blogging, and today…
Online business is all about action; let's skip the fluffy intro and get right into it …Why do you want to start an online business? Before you begin kicking up ideas for your grand, online empire let's think of this question…
MishMash
How do you feel about marketing yourself? Does it feel too self-focused, conceited or arrogant? Whenever I write about personal branding, self-promotion or anything along those lines – I feel like I'm coming off…
Creative disagreement is a meme that seems to be doing the rounds at the moment.  If you want some backstory then read my post here: Is It Time For Comment Love-Ins To Stop? And read Danny's post over at his Firepole…
I hate censorship. We live in an age where we don't need to be part of an elite to have a voice. Dino Dogan is right when he says the age of social media superstars is over. I recently bolted at the flagrant redacting…
Over the past few weeks I have seen several posts talk about listening; either how to be a better listener or how to totally 'suck' at it. I apologize my blogging friends, I would link you if I could……a basic site indeed…
It's been a long time since you went out with this one friend of yours, so when she asked if you wanted to hit this concert she was going to, you went ahead and said ok. You didn't really know a whole lot about the group…
Have you ever written a blog post and within a few minutes or hours of publishing you just knew it was something special? In the beginning days of TSL, back when it was me and the crickets, I used to write blog posts…
Many of you know by now that I'm a mom. I also consider myself to be an entrepreneur. I jumped into running my own business four years ago, with a brief interruption to have baby #2, then got back in the saddle…
[image credit: via  megsy_62's album]