Hello My Lovelies,
I hope you all had a terrific weekend.
Mine was pretty much the same…relaxing but tiring, hectic yet lazy, fun although nothing special. I guess it depends on the hour, right? 😉
Well, I've got quite the SuperPosts for you this week. 26 of them actually!
Don't gasp, you don't HAVE to read all of them – although if you've got some time to kill, I'd recommend that you do.
Plus, it's not my fault really. I'm not looking to give myself more work or anything. It's just that I came across some valuable reads and I couldn't possibly keep them from you.
But before you go ahead and skip to the links, I've got a couple things to tell ya…
Disqus Adds New Conversation Booster
I know many of you are fans of the ComLuv and Livefyre commenting systems – as am I. But for some reason, I'm still using Disqus. And to my surprise, they've just added a fabulous new option which was one of Livefyre's trademark's to being with; the @mention.
That's right – in case you haven't noticed from blogs such as mine, Aaron Lee's, Mark Schaefer's, Social Media Examiner's…you can now inform those folks you've mentioned in a comment that you have. It works the same way as Livefyre and in all honesty, I think it's great. It should further encourage the discussion and entice people to stop by the blog in which they've been mentioned.

Now all I need them to do is add the real time feature (for free) and the link to last post option (like ComLuv), and I'll be the happiest blog commenter ever!
It's something I've been thinking of a lot of lately and I was actually having fun working on a little comment system project of my own which would incorporate all the popular commenting systems into one – a three in one if you like. But of course – the name I came up with is way cooler ;)!
Anyhow, make sure to give it a go here so that you can call your friends to come over and hang at the Grid house ;). And speaking of the Grid house, last week Mufasa and Dino brought up similar points in which they said this blog's comment section was like a "chat room" or Monica's apartment in "Friends" where everyone comes to hang out and talk.
It's funny cause that's sort of how I see it too. A kind of "Central Perk" for smart and like-minded folks who like to mingle about meaningful things all while having a fun time learning from and about each other.
I know it may sound silly but if you think about it for a minute – you'll see that it makes a ton of sense. Now all I need is a "Gunther" to bring you guys coffee and cupcakes while you're here ;).
On Being a Lifestyle Entrepreneur…
Speaking of coffee, I'd love it if you grabbed a cup and headed over to my friend Troy Claus's blog where I published my latest guest post. Some of you may have already read it, but if you haven't, I promise that you won't be bored.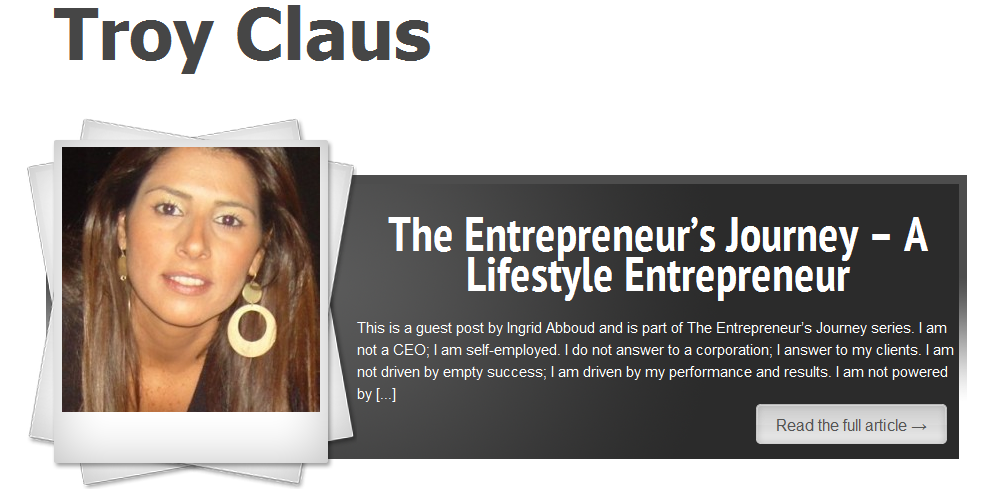 It's my personal story about being a Trep and the things I've done to get to where I am today. It might not be very far, but it's somewhere to start with nonetheless.
Before you start thinking that I've left you with a 3,000 word novel…I haven't! I made all 1,600 words nice and spicy for ya and even talked a little about Trekkie's ;).
So if you're like me and believe in profit from passion, you might agree with some of the choices I made and the things I said. And if you're not – I still want you to join the conversation and share your thoughts and story – because I know you have one.
Alright…I've done enough yapping talking. I think you're much more interested in the article selections I have for you.
Time for the Goods…
"Without further ado and blah blah," here are this Sunday's WOW SuperPosts on all things Social Media, Blogging Tips, SEO, Internet Marketing, Traffic Building, Online Money Making Tools and more.
Kathryn sat at her desk watching her Twitter stream on TweetDeck.  There were a couple of people talking about a movie; she hesitated to jump in, because she had been watching for while. It always stressed her out, to feel like a lurker…
AOL and Nielsen recently released a report with some interesting numbers regarding gender and communications styles in social media. The report is concerned about how gender should be best addressed in social media marketing…
My blog is often inspired by things that happen in my real life. It is easier to tell something from experience than to make things up. Sometimes those things which happen in real life make me want to scream…
You have a great product, a great start-up that can do wonders, a real prospect, now how do you promote that? Social media experts will tell you to post it on Twitter, and then millions of people will flood…
A movement exists to quantify everyone's social media strength across diverse social networks and blogs. This widespread strength is a sign of true influence, argue social media gurus. Perhaps from a mass consumer…
A little over a week ago I finally caved and joined the Empire Avenue bandwagon.  The site is similar to a stock market, in that the idea is that you 'invest' in others by buying and selling shares in them.  As is always the case…
This is my 500th blog post. It snuck up on me. I'm sorry that I don't have anything particularly profound to say to commemorate this milestone, but I thought I would address a question I hear constantly…
Blogging in a crowded niche is tough, but that doesn't mean it's a bad idea to start a blog in a crowded niche. What it does mean is that there are lots of people interested in the subject and that you can potentially make money…
Site Sketch 101 has slowly been evolving into the beast that you see here today. During its nearly two years of existence, it's acquired about 4,000 subscribers. That hasn't happened by accident, but rather, from an intentional…
I ran across an amazing fact the other day. Most people quit blogging in the first 2-3 months. That crazy statistic smacked me right between the eyeballs. At last count, there were 31 million blogs in the U.S…
You can read all the blogging advice in the world, but none of it matters unless you take action. To set your blog up to be a massive success, you have to ruthlessly focus your efforts on things that work…
It was only a few years ago that I had it all TWISTED. Not with blogging, but with life. I identified success by the amount of money I made. Call me crazy, but I'm keeping it real with you. I was a fool! I'm not materialistic…
"Success doesn't happen overnight – especially when it comes to Blogging, but simply going out there and 'being consistent' isn't going to get you anywhere. Not if you don't have the right focus, the right drive…
Growing a successful blog takes hard work. But is hard work enough? As a blogger today one of the best things you can do to help your blog succeed is being able to adapt, adapting to new tools, new ideas, new behaviors…
I can remember well in Nov of 2009 just how I felt when I published my first blog article here on TSL. It was without question such an exciting and invigorating experience. With boundless enthusiasm, I could see massive…
How often are you commenting on blogs? I took a little break last few weeks, because I was too busy, but I am back to blog hopping as much as I can. So I noticed stuff that I don't really like. And I want to make…
I recently found the most incredible service to help me automate the mundanely exciting task of pinging backlinks, and like many of the tools and services I use in my Link Building campaigns, it is completely free…
Some of you reading this aren't going to agree with me.  What normally happens on blog posts is that people who don't agree with the post generally hop to another blog without leaving a comment. Please don't do that…
It's been said, that the hardest words in the English language are I love you and I'm sorry. Last week a colleague no-showed for a scheduled conference call. It wasn't really that big of a deal, because I was at my desk…
When you start blogging, you usually do it for one of two reasons – you have something to say and want to share it, or you read other blogs and enjoy how they can be used for growing a brand; a business…
I was pissed. It was 1998.  I was 14.  I had just put the finishing touches on my 90?s style bangs, sculpting and spraying them into the perfect 360 degree fan – you remember the kind where the top half curls backward…
Do you consider yourself a perfectionist? How much information do you gather before making a decision? How much more information do you need before taking action on that decision? Are you afraid of being as successful…
I just had my first piece of press written about the Roller Coaster Tour thanks to the Muskegon Chronicle! Muskegon is where I'm beginning the tour so I naturally contacted them first. I got some interesting…
The most wonderful relationships can run their course; the greatest love affairs can go sour; the sweetest friendships can meet a bitter end and even the most invincible people may leave each other through death…
Opportunity is swimming all around us. It brushes your nose as you walk down the road, it floats around your head like a ring of Saturn. It never leaves you alone, always poking away, reminding you of those dreams…
[image credit: Flash-Screen]