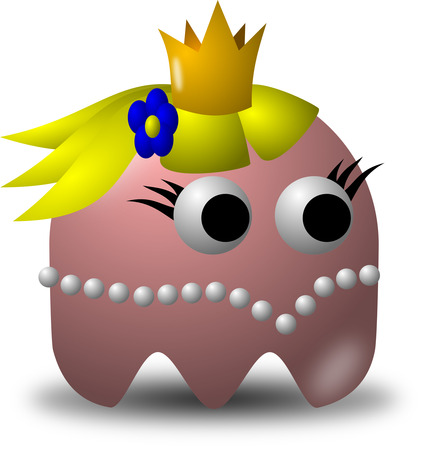 Hello My Lovelies,
I take it you're all fed up of hearing about the royal wedding so I have no intention of dragging the little big fairy tale any longer.
I know there were many different opinions about the whole shebang and each is valid in it's in own way, I suppose. So let's just all agree that we wish them luck, love and happiness as we would any other newlyweds.
#thatisall I have to say about that!
Moving on…
I'd like to give a big phat shout out and congratulations to our favorite Aunt Gini D. from Spin Sucks for crushing the 40 mark on AdAge's Power 150 list. As of today, Gini's kick-ass blog is ranked #36. That's pretty amazing if you ask me!
Watch out Danny Brown! You're only 5 points ahead and I think Gini's coming after ya with a vengeance – an amicable one, that is lol ;)!
Spin Sucks Pro is a Day Away!
Speaking of Gini and Spin Sucks, you might be aware that Spin Sucks Pro is finally launching tomorrow, May 2nd. Here's my nerdy WooHoo and my best southern attempt at a Yihaaa ;)!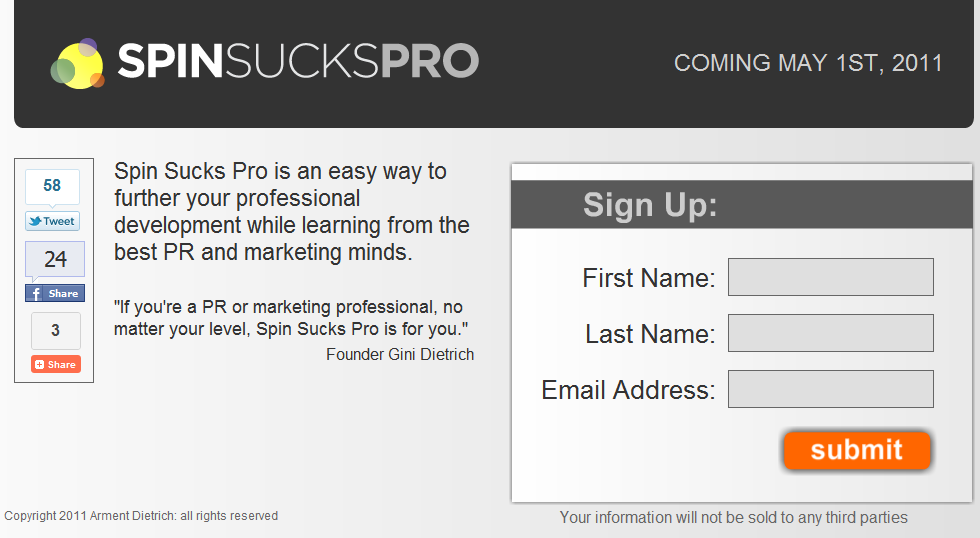 Gini and Lisa Gerber have been working their butts off to bring these Premium PR and Marketing courses to you, so I strongly encourage you to look into them further and sign up if you want to learn from real industry pros. And believe me when I tell you that Gini and her top-notch team over at Arment Dietrich are as good as they come!
To get a better idea of what Spin Sucks Pro is and what to expect, make sure to read this article as it will explain how you can further your professional development regardless of the level you're at.
Here's the thing folks…
I will rarely – if at all – recommend something or someone to you that I don't believe in or that I haven't tried myself. If you know me at all, you know that I treasure my integrity and reputation both online and off. So although I may not have seen the content of Spin Sucks Pro yet, I do know Gini Dietrich and her highly informative and popular blog, Spin Sucks. I read it everyday as many of you do too.
Not only is Gini a good friend, but she is someone I respect and look up to. She's smart as hell, honest, genuine, kind and beyond hard-working – and so is her team. I know to expect only the best from her and her firm and I'm sure that many others will agree with me. So I will blindly put my money where my mouth is this time round and tell you that I have no doubt that Spin Sucks Pro will be beneficial to any and every PR and Marketing professional that's out there.
But whether you're interested or not, please make sure to head over there at some point this week and congratulate her and her team on the tremendous effort, work and knowledge that they've put into this project.
Alright, I think we're ready for your weekly dose of Griddy's fantabulous SuperPosts :D!
Time for Some Goodies…
"Without further ado and blah blah," here are this Sunday's fantabulous SuperPosts on all things Social Media, Blogging Tips, SEO, Internet Marketing, Traffic Building, Online Money Making Tools and more.
Growing up, Oprah Winfrey was a staple in our family. My grandmother taped Oprah's show every day religiously at 4 o' clock. So I got lots of 'Oprah Time'. I was generally just an innocent bystander – but my grandmother...
Blogging is dead. In fact, if you ask some people, it was never really alive. Sure, there are a gazillion blogs out there, and sure, some of them have tons of followers and make lots of money. But let's face facts…
Here I go again: Klout does not equal Clout. And while it may in the future, it certainly does not right now. Yesterday Klout introduced "the new Klout.com." I saw a tweet about it, and I can't remember…
Time to talk about social business planning again. My mother always told me, you have to "walk before you run" and as it turns out, the same is true for organizations looking to move from social media as a set of un-connected…
Hell has frozen over! Oh wait. The Cubs haven't won the World Series yet. Never mind. But it does seem that way, doesn't it, with all the changes in technology? You run a business. You don't have time to keep up…
Today's Focus Friday is dedicated to all the restaurantpreneurs (restaurant entrepreneurs) in the industry. This post was inspired by a tweet I had read a few days ago, Don Power from Sprout Social shared an interesting…
I love watching infomercials, but not for the normal reasons. Yes, I love the bad acting and the ridiculous vignettes, but what I really enjoy is trying to figure out how quickly I can find the truth in the advertisement…
Just because your company doesn't have a heavy consumer focus doesn't mean you're immune to social media attacks. Negative social media interactions can be kicked off by people outside your fan community…
As someone who has been tasked with monetizing social media continuously since 2005, the single most important thing I've learned is this: The biggest problem with monetizing social media is that the content is too engaging….
Wanna get on the Problogger List of Bloggers to Watch? It's easy. Get my attention. Let me explain. Writing a list post is hard work. The 2011 edition took 80 hours, and that's despite asking my friends for help…
Blog commenting is taught as a way for bloggers to advance their blog by gaining traffic, building backlinks, creating relationships that might lead to guest posts and JVs and so on. And there's lots of bloggers doing it…
My love of blog comments is well documented. Find my comments almost anywhere, you'll see some love for comments: how they build networks, inspire new posts, make you laugh, learn and think….
At {grow} we spend a lot of time talking (sometimes arguing) about the intersection of social marketing and smart business. In almost every situation, publishing a blog is an excellent strategy. A blog creates a new…
Your readers are starved for time, which unfortunately means there's no time to give you lovingly detailed critiques about why they don't like your blog. People aren't finding what they're looking for on your website…
The holy grail of marketing is to create a viral marketing campaign that brings exponential exposure to your site or blog – but how do we do it? The theory of how to create one is pretty straight-forward, with four…
If you intend to one day make money blogging then PAY ATTENTION! Because this is the most important post you will ever read! OK maybe that's a bit presumptuous of me, but hear me out, because what I propose is a blueprint…
Viral. It's been been the goal of marketers and website owners since the days of "RE:FW:FW:RE:You gotta watch this" emails, which made videos and images spread across the globe. Today, email is the last place to try…

There are way too many SEO tactics to cover in a single article. Instead, we'll focus on aspects of search engine optimization that could be devastating to your blog's search ranking. This article will explain…
Online Money Making Tools
After I asked you what you need help with, when it comes to making money online, and receiving some really interesting comments and e-mails, I have decided to go with Google Adsense today. I have been using it…
It's hard to believe that 2 years ago today I registered the domain The Skool of Life. Sometimes I think it's gone by in a blink  and some days it feels like a life time. The story of what I'm up to here at the SKool of life seems…
How the Internet has created a culture of plagiarism, why it's a good thing—and the secret to copying and being copied without going under. In September of 1993, version 1 of the program dubbed "the Internet's killer app"…
First of all, let me say Happy Easter everyone. It's a great time of the year and one that hopefully you're spending with close family and friends.  But before I jump into today's article, I need make two quick announcements…
[image credit: by iVECTOR from Clipart Of]