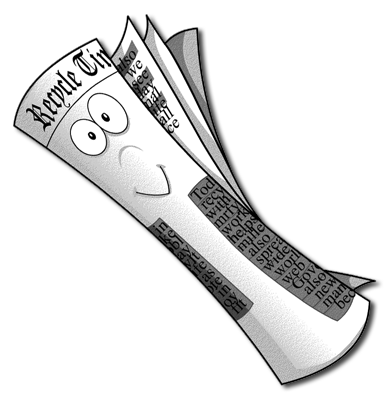 This is a new kind of post that I'm starting here at nittyGriddy as part of a weekly series known as the Weekly Roundup.
Every Sunday I will publish a post called "Link Luv – Weekly Roundup # X" – a wrap-up of links and snippets of 10 or so kick-ass articles from around the blogosphere. In general, they will have been published within that week – but, that's not to say that I won't include older one's that I stumble upon. After all, blogging is about sharing so, "if I read it and luv it, I'll share it!"
These links will include articles pertaining to Social Media, Blogging Tips, SEO, Marketing, Traffic Building, Online Money Making Tools… and so forth. But that doesn't mean there won't also be occasional humorous or off-the-wall one's!
I'm well aware that "weekly roundup's" generally use the same image in every post. It's almost like a kind of repeat advertising in order to ingrain the image/content association – in a Pavlovian sort of way. Does that even make sense to you? Because I totally know what I mean. Anyways, who cares…My point is, I'm not gonna' do that – for now!
And here's why IF YOU REALLY MUST KNOW…
I

get bored of seeing the same image over and over – except for my logo and my own reflection in the mirror – and even that one changes 😉

I got so excited about starting this weekly series, that I've already compiled a plethora of uber cool images to last me a year

I hate having to choose just one, when I can use them all (the downside to being a spoiled 30 something year old child)

I'm just indecisive and can't seem to pick one that I like best to use over and over – although I know I should

Oh yeah, the most obvious reason of them all…"My Blog, My Rules!"

But the real reason is: I fully intend to customize/design an image especially for 

nitty

Griddy's

Weekly Roundup (soon)
Okay, enough of my rambling!
Here are the links to this week's roundup. They are in no particular order and they're all great reads!
One of the best sources of new traffic for your blog may already be lurking in the background, in the form of an old, forgotten, blog post. Even if your blog is just a few months old…
You're house hunting. You 're excited! You arrive outside a possible new home. It looked good on paper…You get out of the car and walk up to the front door. Ermmmm… peeling paint, dead plants in cracked pots, dirty windows…
For a sector as forward-thinking as the fashion industry, the reluctance with which it has ventured into e-commerce and other digital platforms–particularly social media–is more than a little perplexing…
Unless you can get people to click your "Like" button, your Facebook strategy will be as limp and lifeless as Matt LeBlanc's post-Friends career…
I'm not gonna beat around the bush. I'm simply not the 'you follow me, I follow you' kind of Twitter gal! If you like what you see and want to follow me, my tweets and blog, then by all means…
You have enough passion to melt the moon, and a burning desire to build a kick-ass online presence.  But you are confused: You don't know what you stand for and what makes you unique…
Are you looking to get your blog highly ranked on Google? Would you like some tips to help your blog appear for specific keywords? If so, keep reading…
Last week I launched the manifesto 18 Months, 2 Blogs, Six Figures. I released the guide for free, with no opt-in or anything required. It's simply a PDF download that is freely available to anyone who stops by…
Having a lot of comments on your blog has a lot of advantages including social proof, however, many people find it difficult to get comments on their blogs, this post will be listing 12 ways to get more comments…
Stories have the power to break hearts and break homes. They can start wars – or stop them. They can free prisoners or free nations. They turn water to wine and rags to riches. They've saved lives, spared hands and started revolutions…
Before I begin, let's reset our clocks a little: 1. Nothing says "I'm a rock star" like spending 15 hours a day on twitter and blogging about blogs. 2. Best new pick-up line in a bar: "Want to google my tumblr?" 3. Fact: iPad is the new Porsche…
[image credit: via cmsweb2.loudoun.k12.va.us]