In general, there are 2 big questions that bloggers ask themselves.
How can I promote my blog?
How can I monetize my blog?
And though the two are closely linked and often dependent on each other, there are many ways to do both.
There are a plethora of sites out there to help people promote their blogs. Many of you may have heard of ones like BlogEngage, Entrecard or Adgitize; not to mention the big players like Technorati, Twitter, Facebook, Digg, Reddit, StumbleUpon…although the concept is rather different.
Well, now we can add another blog promotion site to the list. A few days ago, I came across SeededBuzz.com; a site whose mission is to help bloggers promote themselves. It's a global online community of bloggers that write good content and that want their work to be read by a wider audience – in turn growing their network, blog traffic and popularity on the net.
As explained in the About Us section of their site, "SeededBuzz is a community of bloggers where members with similar interests and goals are connected with each other, content ideas shared and relationships formed. The benefit of these friendships and cooperation is increased backlinks, subscribers, followers and revenue." And as the name itself suggests, there are two parts or actions involved: the Seed and the related Buzz.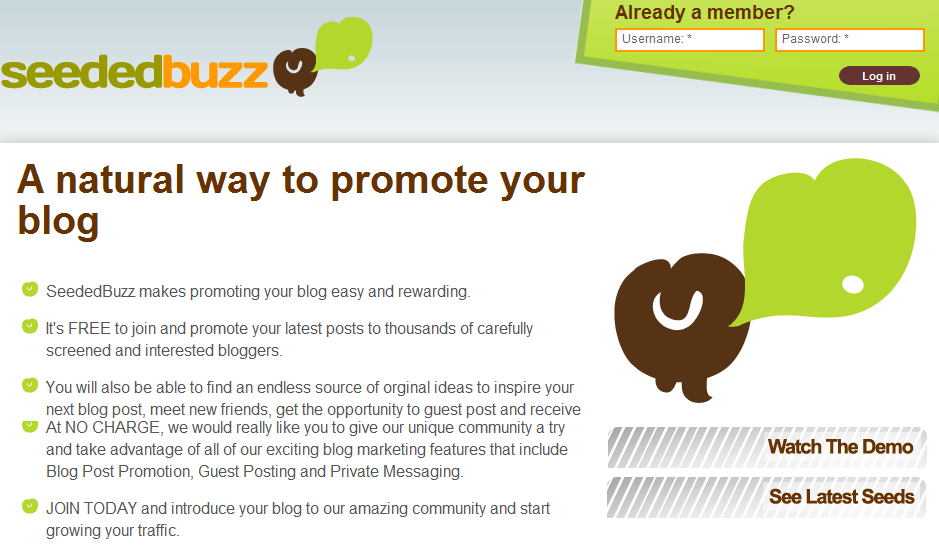 The concept is this:
Bloggers can promote their post by what are referred to as Seeds; summaries of a blog post that have been written about a topic that other bloggers may like and in turn pick up and mention in a blog post of their own. The basic idea is that once they are inspired and eventually write a similar post, they then insert a link back to the original post. And the blogger that has written about the Seed can submit their post on the same page as the Seed that inspired them, under what is referred to as a Buzz.
I know it can sound a bit confusing at first, bu the concept is actually really simple. You plant a Seed; others see it; if they are inspired by it, they write something relating to it; they then link back to your post, and Buzz it!
The result: the more Seeds and Buzz, the more traffic and links to your site. Needless to say what great PR this is for bloggers. Simply put, good bloggers can create one heck of a Buzz for themselves and others.
According to a recent interview with The Blog Herald, Matt Roberts, founder of SeededBuzz.com, stated that his "motivation and inspiration for SeededBuzz was simply the realization that starting and growing a blog is not easy and most fail. SeededBuzz was created in response to this and is designed to make it much easier for bloggers to promote themselves by helping them to replicate the strategies and thought processes of really successful blogs."
Although anyone can become a member of the SeededBuzz community, there is an application process. All blogs will be reviewed before being accepted. This is done in order to ensure and maintain real, high quality content that will inspire others to write. Membership is subscription  based, but is as low as $4.95 a month. A free 30 day trial is also available with all the site's features included in order to give bloggers an actual feel of the site's benefits and potentials.
For a more complete explanation of SeededBuzz and how it works, visit the About Us and FAQ sections on their website. You can also watch this very helpful 5 minute video which will get you on your way to Seeding and Buzzing in no time!
Are you a member of the SeededBuzz community? Post your comments.