Before anything else:
In case you're wondering whether the 3rd "b" in the title is a typo, let me assure you – it's not! It's just the way Dribbble creators, Rich Thornett and Dan Cederholm from SimpleBits wanted to spell the word. Okay, now that that's out of the way, let's move on to what Dribbble actually is!
According to the site's FAQ, Dribbble is: "show and tell for designers, developers and other creatives. Members share sneak peeks of their work as "shots" — small screenshots of the designs and applications they are working on. It's also a place to talk design, give and receive feedback and iterate toward better work."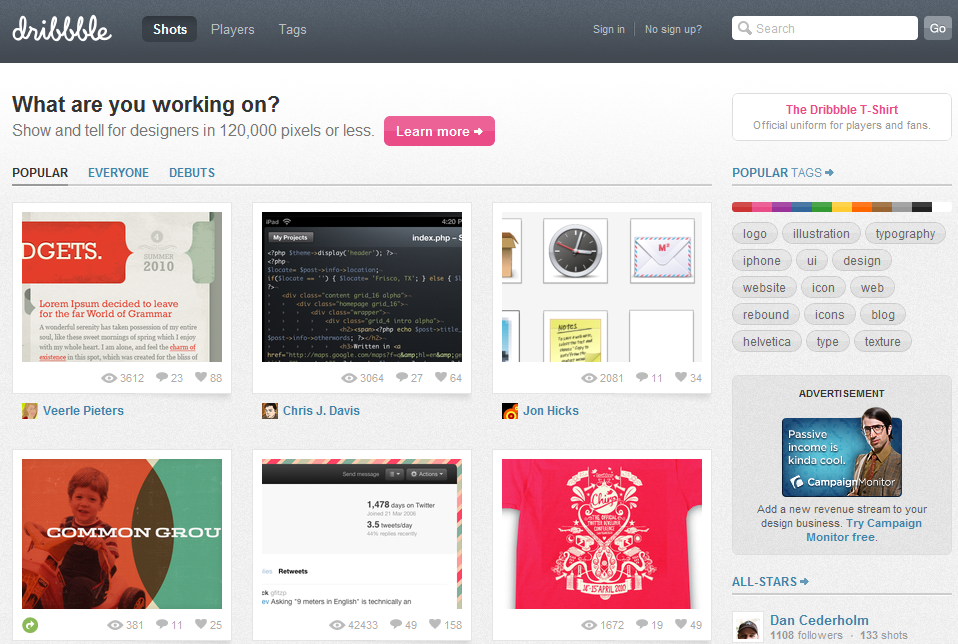 Dribbble, as the name implies, uses basketball analogies for the diverse actions or activities that its' members can do. For example, members are referred to as "players"; uploaded designs are called "shots"; to "draft" someone means to invite them…
Here's how Dribbble works:
Players of this creative community upload small screenshots (300 x 400 pixels max) of their work in progress – such as web and logo designs, typography experiments, animations, sketches and so forth. These shots, which are limited to 24 per month for each player, are categorized by tags in order to simplify and filter the search process. Players can also follow other players (Twitter style), whose work they can either like, link to, tweet or rebound to show a progression of work.

[image credit: SimpleBits]
Although Dribbble membership is free, it is available by invitation only (a concept similar to that of asmallworld). In an effort to maintain high quality design work and preserve the ethos of Dribbble, a person must be drafted by an existing player. If you're interested in joining this network of talented and elite creatives [where well known designers such as Jason Santa Maria, Doug Bowman, Jeffrey Zeldman, Shaun Inman, Dan Cederholm, Veerle Pieters and more are present] keep your eyes open or more like glued to your social graph. For as the company itself advises, "we routinely issue invites to existing members. When this happens, members often announce on Twitter that they are looking for folks to draft. If you're interested, be sure to have a URL handy to show off some of your work."
Are you a designer or developer? Is Dribbble something you would be interested in? Post your comments.