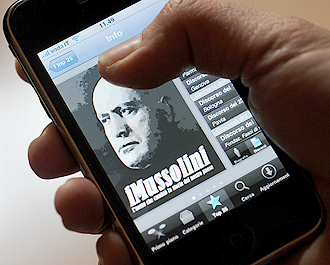 The iPhone application, iMussolini, containing 100 of Fascist dictator Benito Mussolini's speeches, recently became the 2nd most downloaded item in Italy. The application, which can found at Apple's online store for 79 Euro-cents, was created by 25 year old Luigi Marino and includes speeches and videos from 1914, before 'Il Duce' came to power all the way until 1938. As of this past January, the application has seen over 1000 downloads a day.
Needless to say the amount of negative comments iPhone Italia has received and the overall controversy this application has caused, both in Italy and internationally.
In an effort to thank his supporters as well as defend the idea behind the rather "touchy" application, Luigi stated the following:
"This was a delicate phase of our history and the application offers people the chance to examine and listen for themselves to what Mussolini said. It is not an application that eulogizes Fascism or Mussolini…I am amazed at the amount of downloads and I am aware that there have been complaints to Apple but as I say, it is not an application in praise of Mussolini but simply a tool of history."
Due to the amount of angry commentators, iPhone Italia shut down the comments page and issued the usual disclosure-like statement saying that the views and comments expressed were not those of iPhone Italia bla bla bla…
Unsurprisingly, I just came across another article dated February 4th of this year – from ABC News Australia. It states that the iMussolini developer, Luigi Marino, decided to take down the application from the Apple online store due to copyright issues. However, I had no problem opening the application's page on Apple. To see the much talked about iMussolini, click here.
What do you think? Post your comments.
[image credit: via The Straits Times – Photo: AFP]
[sources: www.dailymail.co.uk]
"