Yesterday, March 21st, or today – depending on what time zone you live in – marks the 4th year anniversary since co-founder Jack Dorsey posted the first ever tweet: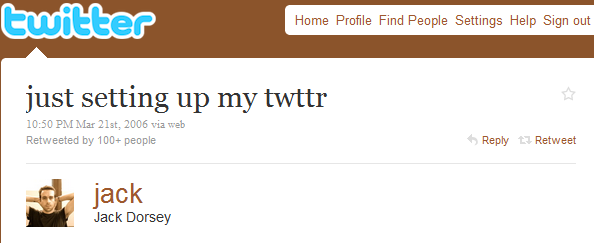 It was just 4 years ago, in 2006, that Twttr [as it was originally called] was an SMS service/micro-blogging platform with less than 1,000 users. But today, Twitter has grown to become the 12th most visited site on the internet according to the web information company, Alexa. Not only that but last summer, it was announced that Twitter would enter the Collins English Dictionary and just last month, Twitter hit 50 million tweets a day. The achievements don't end there however; the list is endless and the success story even longer.
To see a nice and colorful round up of Twitter's key moments from 2006 till today, visit TechXav's blog. You can also watch co-founder and Creative Director Biz Stone tell the Twitter story at the 2009 Alumni Reunion Conference at UC Berkley's Haas School of Business.
For updated statistical information about Twitter, twitterers and tweets, visit Pingdom.
Although this little bird is all grown up, it's wings continue to thrive.
Happy Birthday Twitter!!!