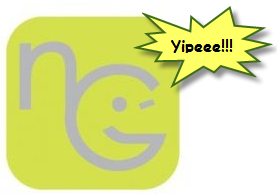 So, I just got some news tonight that put quite a big smile on my face :)! No…I didn't win the lottery (although that would have been nice too ;)) nor did my long lost childhood pet guinea pig [Snuffaluffagus] find his way home and crawl back into his cage!
…nittyGriddy was selected as "Blog of the Week" on Lebanon Aggregator!!!
From Lebanon Aggregator:
As the blogger "Ingrid" herself put it:
Its a type of social media journal that covers net news and more. there are numerous categories such as humor, entertainment, social media, culture, news, tech talk, health/science, art/design, mishmash and so forth.
Okay, my take? It's very nice to see a blogger group under one blog so many information, articles, ideas, anything you might think about it, or actually not think about it!

What's also impressive is how serious Ingrid takes her blog, and you can notice that form the quality of the blog itself, logo, sections, categories, divisions, menu etc..

So dear readers, please meet Ingrid (twitter), and do check her blog NittyGriddy.com
This news is the kind of news a blogger wants and likes to hear. It's the kind of news that makes you realize, that all the endless hours spent researching, reading and writing are well worth it! You see, I already know it's worth it for me, because I love writing in this blog – regardless of how many people read what I have to say [although the more, the merrier] – plus, I've become somewhat of a walking talking encyclopedia of random shit knowledge. But, it's also encouraging and nice to know that your hard work is appreciated by others – that's a pretty big reward in itself!
On that note, I would like to thank Liliane and Lebanon Aggregator for this really cool mention! I'm truly flattered and psyched about the awesome news! I look forward to continuing publishing articles and keeping you [my readers, fans, supporters, friends, fellow bloggers…] interested and entertained!
Merci Buckets,
Griddy