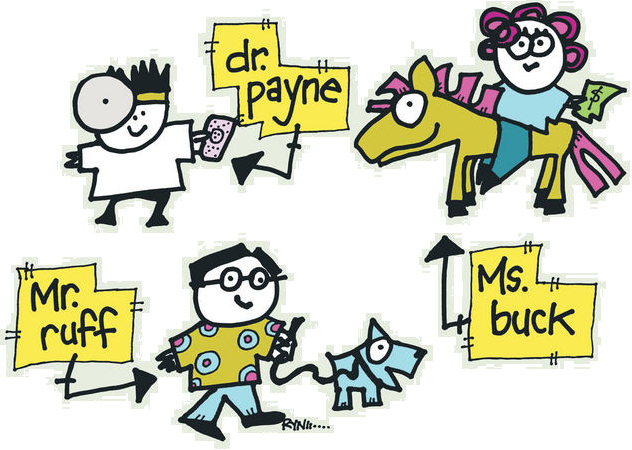 What a title! It kinda sounds like a tongue twister. It was either that or "Madoff Made Off with Much of My Money." But then I realized, who cares?! Cause this post has nothing to do with tongue twisters or that scum bag!
I've come across several versions of this title on the internet, and it got me thinking, how truly perfect Bernie's name suits his former "profession" of: swindler, thief, crook, low life…so I became curious and did a little digging to find out what other famous people had names as such and whether there was a term to describe it.
A little bit of research led me to the concept of nominative determinism; the theory that "a person's name is given an influential role in reflecting key attributes of his job, profession or general life." Very similar to this are Perfect Fit Last Names (PFLN) or aptronyms; a word coined by American newspaper columnist, Franklin P. Adams that refers to "a name that matches the occupation or character of its' owner, often in a humorous or ironic way."
Timeless author, Charles Dickens, was famous for *'aptro-naming' characters in his novels. His best friend and biographer, John Forster said that Dickens made "characters real existences, not by describing them, but by letting them describe themselves;" e.g. Ebenezer Scrooge, Edwin Drood, Pecksniff, M'Choakumchild…
John Bunyan's 1678 novel, "The Pilgrim's Progress" is another example, as it includes fictional aptronyms such as Mr. Talkative and Mr. Worldly Wiseman.
Other great examples of famous names that illustrate these 2 ideas (nominative determinism and aptronyms) are:
William Wordsworth – poet
Sally Ride – astronaut
Usain Bolt – Jamaican sprinter and Olympic Gold Medalist
Russell Brain – neurologist
Marc Rich – billionaire financier
Bob Rock – rock music producer
Anna Smashnova – tennis player
Larry Speakes – Whitehouse spokesman under president Ronald Reagan
Dallas Raines – meteorologist
Lord Justice Laws – a judge in the Court of Appeal
Alan Ball – English football player
Layne Beachley – Australian world champion surfer
Lake Speed – former Nascar driver
Margaret Spellings – Education Secretary under George W. Bush
Chris Moneymaker – accountant and winner of the 2003 World Series of Poker
Chuck Long – former NFL quarterback
Martin Short – actor/comedian
Thomas Crapper – sanitaryware manufacturer
Mi Suk Yang – prostitute arrested in Georgia
Ok, I think you get the idea!
Do you know of any others? Post your comments.
*Note:'aptro-naming' is not a real word.
[image credit: www.tucsoncitizen.com]
[sources: Wikipedia, David Purdue's Charles Dickens Page, Hubpages]