Feb. 27 at 3:34 am (local time):
Click on image to enlarge.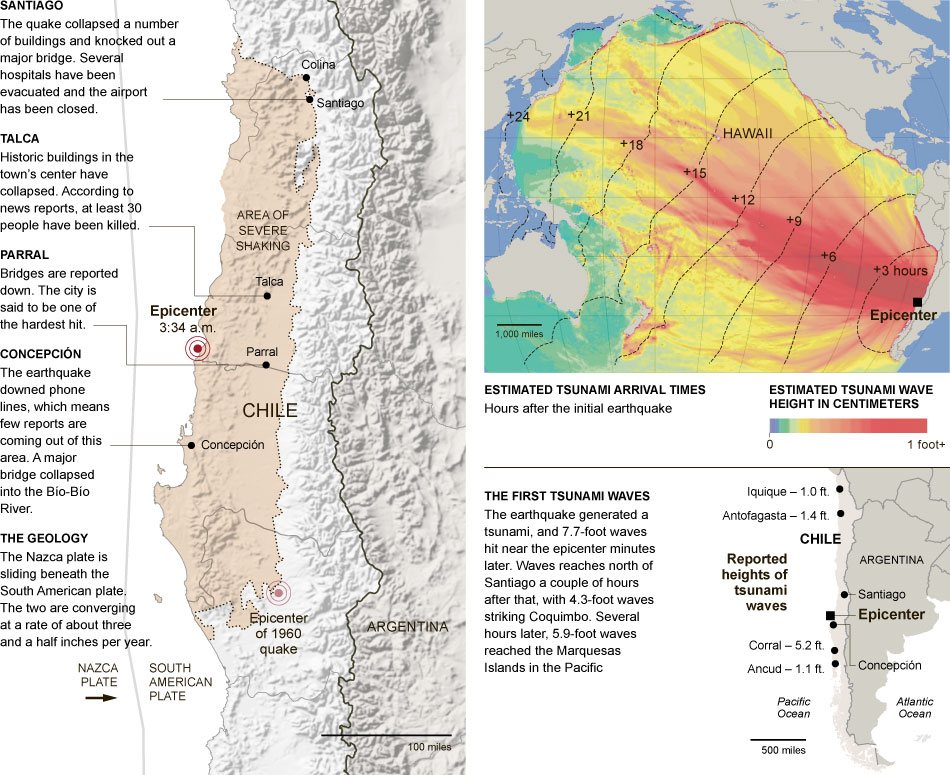 Another devastating earthquake has struck; only this time, it's Chile. The 8.8 magnitude quake, one of the strongest ever recorded, shook the country for about a minute and a half causing widespread damage and triggering a tsunami warning across the Pacific [most of Central and South America].
The US has already started evacuating the shoreline communities of Hawaii as a Tsunami is probable to arrive within the next few hours.
According to Chile's national emergency office, at least 120 people have been killed so far. Although the force of this earthquake is about 800 to 1,000 times stronger than the one that struck Haiti last month, the destruction and death toll [by early estimates] seems lower.
Boston.com's "The Big Picture", has collected some incredible yet disturbing images of the aftermath. You can see the full gallery of images here.
nittyGriddy would like to express it's deepest sympathies to the families and friends of those who were killed in this tragic event. My thoughts are with all those who are suffering and have been left homeless. God Bless.
[image credit: The New York Times – Maps by: Erin Aigner, Joe Burgess, Alicia Desantis, Xaquin G.V., Sergio Pecanha, Archie TSE and Charlie Williams]
[sources: Times Online, CNN, BoingBoing]
*Update: Authorities have cancelled the tsunami warning in Hawaii after waves appeared much smaller than expected.