Being relatively new to the blogosphere, I tend to discover and learn new things about blogging everyday. Not only that, but the amount of random knowledge I've accumulated over the last couple of months (from researching), is simply ridiculous; in a good and valuable sort of way. The best part though, is that I come across new and different blogs all the time; some, I quickly scan whereas others, I deem worthy of reading and sharing. This post is the first of many to come – about blogs that I think are worth blogging about!
On that note, I would like to share with you 3 blogs that recently grabbed my attention. They're extremely different from one another and each is unique in its' own way. However, they do have one thing in common; one degree of separation. Each one led me to the next through either a post or a blogroll. You can even say that it was somewhat of a domino effect.
YallaStartup

I was in a casual meeting last week with a few of the folks over at Cre8mania [one of the top-notch multi-media design studios I know and have worked with], when one of their 'techies' showed me YallaStartup;  a site which "aims to foster early stage entrepreneurship in the MENA region." They focus on knowledge sharing, community building and mentorship as well as assist you in finding fruitful investments.
My Opinion:
A useful and instructive blog with a comprehensive and interactive Q&A section as well as several "ask the expert" posts – with guest authors answering relevant questions.
To learn more about entrepreneurship, click here.
Maya's Amalgam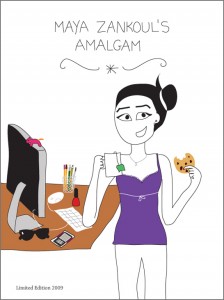 While reading bits and pieces of YallaStartup, I came across a blogger they mentioned, Maya Zankoul, whose fantastic art work was showcased in one of their most recent posts. This super talented 22 year old girl is a Lebanese Graphic/Web Designer and Illustrator whose knack for artistic expression and creativity is simply wonderful. Her colorful and comical sketches are interpretations of her personal life occurrences which I dare say ring true for many of us.
My Opinion:
Extremely entertaining and artistic. If you're looking to hire a freelance designer with a sense of humor and originality, don't waste any more time – Maya's your girl!
To check out Maya's [awesome] Amalgam, click here.
Qifa Nabki

While going through Maya's list of blogs she likes and supports, I came across Qifa Nabki; a blog about Lebanese politics, history and culture that is run and written by Harvard PhD student, Elias Muhanna. Qifa Nabki is very well written and thought-provoking with numerous controversial topics.
My Opinion:
"An excellent source to learn more about Lebanon's political system, situation, conspiracies and players – including insightful coverage and opinions on current events from a highly informed and educated standpoint."
To read intellectual articles on Lebanese politics, click here.
That's all for now folks, but stay tuned for more Blogs to Blog About!

*Note: I would like to thank Elie from YallaStartup, Maya from Maya's Amalgam and Elias from Qifa Nabki for sending me their respective logos for me to include in this piece.