it's real and it's here! if you've opened a paper, a magazine, the internet or simply been  breathing the last few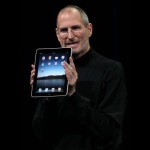 months – then you've heard about the 2nd coming in the technology  world. what we thought at one point could be called the 'islate' is in fact the 'ipad' – apple's newest gadget. the revolutionary device, announced a few hours ago by apple ceo steve jobs at a news conference in san francisco, has been designed as a multimedia tablet style computer – or something to fill the gap between the mobile phone and the laptop. since pretty much every blog (even the one about underwater basket weaving), news outlet and tech geek has covered this story, i figured i would get straight to the point and give you the highlights of the ipad. and i apologize in advance to twitter – who experienced some delays earlier on due to the 177,000 tweets in the first hour alone of job's announcement – for feeding it yet another ipad tweet.
0.5 inches thin  
1.5 pounds
9.7 ips screen
16 gb, 32 gb or 64 gb of flash solid state storage
accelerometer, compass, microphone, dock connector
bluetooth 2.1, 802.11 n, wifi and 3g access on high end models
10 hours battery life, 1 month standby
ibooks, i book store, itunes for books (yikes for kindle!)
unlocked
regular models – $499 for 16 gb, $599 for 32 gb, $699 for 64 gb
3g models – $629 fo 16 gb, $729 for 32 gb, $829 for 64 gb
for more information about the ipad, you can pretty much just type in ipad on google and you'll be served on a silver platter – sorry, i meant iplatter! but just in case you want a direct link to a comprehensive 'all about ipad' site, click here.
ok, now i can say it…i gotta' get me one of those! anyone else?
[image credit (top left): the huffington post]
[image credit (bottom right): techie buzz]