ever had to deal with the nightmare that is customer service? well, i assure you i have – and a few times! for the record – if you're gonna' put me on hold for 10 minutes (that actually feel like days) with crappy background music that stops every minute giving you hope that an actual human being may come on the line, but instead, it's the brainwashing message to remind me of how important my call is to you – do not, and i repeat do not refer to me as 'maam' when you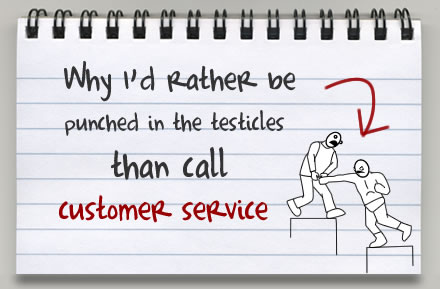 finally do take my call – it's only gonna' make me want to beat you senseless with a 10,000 page grammar book from this century – i'm not saying it's rude or anything like that – on the contrary, i'm sure you mean it as a sign of respect but on top of it sounding annoying (at least the way cs folks say it) it also insinuates that i'm old(er) – and i'm not!
the worst part about waiting on the line is that you keep thinking that they're gonna' get to your call at any moment – so you don't dare hang up or even go to the bathroom for that matter – heaven forbid you miss that man (or woman) located somewhere on the other side of the world who speaks 12 words of english – cause let's face it, it's not like you can put them on hold! you're scared to run to the kitchen and make a sandwich, you're scared to answer the door, you're scared to turn up the tv, you're scared to pick up the other line…basically, you're scared of not getting to talk to someone you don't know that you already want to poke at with an ice pick, so you just hang on to that phone with everything you've got, switching it from ear to ear.
alright! enough with my ranting about how i loathe dealing with customer service. i would rather show you – and i've found no better way to do so than by directing you to the talented mr. matthew inman. his piece on customer service as well as the rest of his creative artwork can be seen on his blog the oatmeal. this guy's topics and illustrations are quite original and pretty great; at least i think so.
[image credit: matthew inman from the oatmeal]