earlier this month, at the consumer electronics show (ces) in las vegas, sony revealed their new touchscreen pocket device for surfing the web – otherwise known as dash. it looks like just about everyone is trying to compete with apple's upcoming tablet – rumored to be launched tomorrow at a press event under the name 'islate'. although very impressive so far, i don't think the dash will pose as competition to the 'big apple's' touchscreen tablet.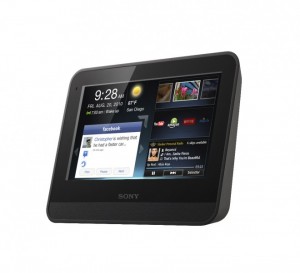 here are some of the highlights of sony's personal internet viewer:
will hit stores in april – priced at $199
7″ lcd touchscreen color display
usb 2.0 interface
accesses wireless home network to continuously deliver internet content
access to 1,000+ free internet apps from chumby industries inc. –
online photo access and sharing
built-in stereo speakers to listen to internet radio or mp3's
can run multiple sources of content simultaneously
can be placed in upright or flat positions
read more about the dash at crunch gear.
[image credit: www.wired.com]