Is  Facebook watching me? Does the social networking giant know about every profile I visit, every image I view, every private message I send, every person I poke…? Can employees access anyone's account? I'm sure that every single one of you on Facebook (meaning all 500 million of you) has wondered at one point or another, how much Facebook actually knows about you and what you do when you're logged on.
Well, according to this 'supposed' interview with a facebook employee published by Phil Wong from The Rumpus earlier this month (I say supposed because at this time there is no actual proof that the interview ever took place or that any of its contents is true) the answer to every one of these questions is…YES! Facebook knows all and sees all!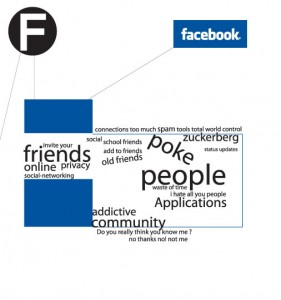 Here are some of the highlights of the 'supposed' interview which took place last summer between Phil Wong (a name we don't know to be real or not) and a female Facebook employee:
There are upward of a trillion photos stored on facebook's servers.
There are between 200 and 220 million 'active' users – the other 100 million or so are either fake, inactive…
Facebook records data on everything you do on the site – it knows how many times you've click on your friends' profiles, which photos you've viewed and more.
The data recorded has been used to streamline search (your 'best' friends show up first in your search instead of in alphabetical order)
There was at some point a master password that gave employees access to any account.
At least 2 facebook employees have been fired for snooping at ordinary members' profiles.
Although the master password has been deprecated, employees still have access to profiles through a special tool – but they need to provide a reason for why they are accessing an account.
Note: To see the full details of the interview, click here.
Although this interview may very well be a complete fabrication by a made up source – an opinion shared by many due to several inaccuracies – it does get you thinking. Let's face it, would you be surprised if these 'facts' were true? It does make sense that they if they wanted to, they would be capable of tracking/recording your every move.
After all, we already know that there is no way of completely deleting your account to the point where you never existed – you can deactivate it – but your information remains stored. Go ahead and see for yourself.
What are your thoughts on this? Do you think this interview is real or fake? Is facebook equivalent to our social networking FBI? Post your comments.
[sources: Techcrunch, The Rumpus & CNET]