Don't you just love it when you hear about dumbass counterfeiters?
Serious advice to all crooks, counterfeiters and co.:
"Please research the currency and value of the money you wish to copy, clean, cut…whatever"!
I would hope that by now everybody and their mother knows that the largest US bill in wide circulation today is $100 – and it has been for quite some time now.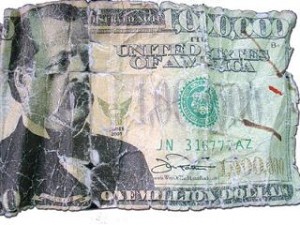 It turns out that Malaysian police have arrested a lebanese man after he tipped a hotel housekeeper with a $500 note. Now you would think that the housekeeper immediately noticed the value on the bill but, no…she actually went to a money changer to convert it into the local currency! It wasn't until then that hotel staff alerted the police who went on to find bundles of $1 million, $100,000 and $500 notes in his hotel room. Read more…
[image credit: via blog.filmjabber.com]