i always said i wanted a border collie! it seems that every time an incredible dog story appears on the news, it involves a border collie – a race known for its' superior intelligence. and this time, it's no different.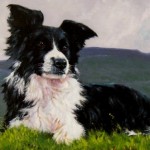 7 year old betsy from austria has amazed scientists by being able to recognize over 340 words – whereas most dogs are capable of recognizing no more than 15 commands. watch this incredible video made by bbc's science program horizon, as part of a study to show how canines are giving scientists a greater understanding of human behavior.
click here to see the video directly on the bbc website.
[image credit: www.web-dvm.net]