A laugh out loud emoticon would not do justice to what my reaction was while reading this article on the BBC News website. Seeing the self-explanatory title, I presume you have a relatively good idea of what this post will entail…yes, little Indian tails!
A survey of more than 1,000 men has concluded that international size condoms were too big for the majority of Indian men. the two year study, conducted by the indian council of medical research, found that half of the men measured – down to the last millimeter – had penises that were 3 to 5 centimeters shorter than the international standards used in condom manufacture.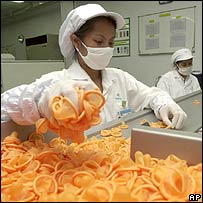 But…do not underestimate 'the petite penis that could'. For as Sunil Mehra, former Editor of the Indian version of Maxim magazine, elegantly stated,
"it's not size, it's what you do with it that matters"
And indeed he is right. Seeing India's poulation, we can conclude that they are functioning pretty well. Either the engines on those little things are quite powerful, or more likely, the condoms are just…slipping off!
Read the full story here.